New Year's Eve is all about fireworks and sparkling wines, and even though this year's celebration will be a bit different than in years past, we all are looking forward to the end of 2020. That means it's time to break out the bubbly and get excited for 2021–quite possibly the most exciting year to come around in recent history.
With all that in mind we put together our list of 10 Sparkling Wines Perfect For Celebrating New Year's Eve 2020. From Italy, France, California, and England, these sparkling wines will be sure to make sure you ring in the new year right.
So without further ado, here are the sparkling wines you should be sipping or chugging when the closing bells finally toll on 2020:
*Note: To those unaware, stop drinking your sparkling wine out of Champagne flutes and start drinking it out of white wine glasses. Thank us later.


La Gioiosa Prosecco DOC Treviso Brut
La Gioiosa Prosecco is a sparkling wine made in the Treviso area of Northern Italy from the Glera grape. It is characterized by light and delicate fruit and floral aromatics, relatively low alcohol levels, and a friendly mouthfeel.
$15
Cinzano Prosecco
High quality D.O.C prosecco made with a blend of Glera, Pinot Bianco and Chardonnay grapes from Veneto region of Italy. It has a sweet scent and a soft touch in the mouth and as such, it is perfect as an Aperitivo for everyday enjoyment on its own or in cocktails like the Aperol Spritz. Also, easy to pair with seafood, white meat and vegetables, even when citrus fruits are used in preparation. It should be enjoyed by the Glass or in cocktails such as the Aperol Spritz, Negroni Sbagliato, Bicicletta, or Mimosas.
$18
Mondoro Asti
Made from D.O.C.G. level White Moscato grapes, sourced from the Langhe hills of Piedmont. Fine, numerous and persistent perlage leads to sweet elegant flavors and a refreshing mouthfeel thanks to a fine burst of sparkles on the palate. ON the nose it is floral, fruity, and herbal, think acacia, white peach, nectarine, sage notes, and some tropical hints.
$20
Angels & Cowboys Brut Rosé
Angels & Cowboys just released their first entry into the sparkling wine category – Angels & Cowboys Brut Rosé. Employing the traditional method of secondary fermentation, the sparkling wine uses traditional Champagne grapes – 73% Pinot Noir, 25% Chardonnay, 2% Pinot Meunier. Bearing the California Appellation, with fruit was sourced mostly from Mendocino and Sonoma counties.
$24
A dry, refreshing bubbly, Avaline Sparkling is a blend of Xarel·lo, Macabeo and Parellada from Penedes, Spain, created by Cameron Diaz and Katherine Power. In the hands of the famed producer Raventos i Blanc, it is made in the traditional method and aged 18 months on the lees, doubling the minimum aging time required for other sparkling wines from this region. This family-owned winery established in 1497 specializes in the production of sparkling wines. Both the vineyards and wines are certified organic by the Competent Body of Catalonia, while the vineyards are certified biodynamic by Demeter. Sustainability is incredibly important to the Raventos family. The vineyards are plowed by horse rather than tractor, they hand-pick their grapes and have goats and sheep maintaining the farm, creating a self-sufficient ecosystem.
$26
Roederer Estate Brut NV
The Roederer Estate Brut NV's tiny bubbles make you happy and pair with a variety of foods. Expect the unexpected. It's not just for special occasions but to be enjoyed with life in general. The fruit for this current bottling is from the 2015 vintage. This bottling is produced with 60% Chardonnay and 40% Pinot Noir. It is fresh, bright, interlaced with fruit, mineral and acidity. The complexity is due to the extra time in the bottle."
$28
Ferrari Rosé NV
Trentodoc, known for it's high altitude alpine vineyards in the Dolomites of Northern Italy, produces stunning classic method sparkling wines with a signature fresh acidity thanks to the mountain air. Ferrari Rosé showcases this with a kick of strawberry and raspberry, followed by fresh brioche and biscuit flavors.
$38
J Vineyards & Winery Cuvee 20 Brut NV
The J Cuvée 20 Brut opens with nuanced aromas of toasted almond, followed by notes of Braeburn apple, dried cranberry and ginger snap. A delicate dance of bubbles leads to a soft palate with flavors of lemon meringue pie, as the wine's creaminess is whisked away by a lively finish. Pair this versatile sparkler with Dungeness crab cake or lobster roll, fresh popped white cheddar popcorn or goat cheese rolled with herbes de provence.
$38
Nyetimber Rosé NV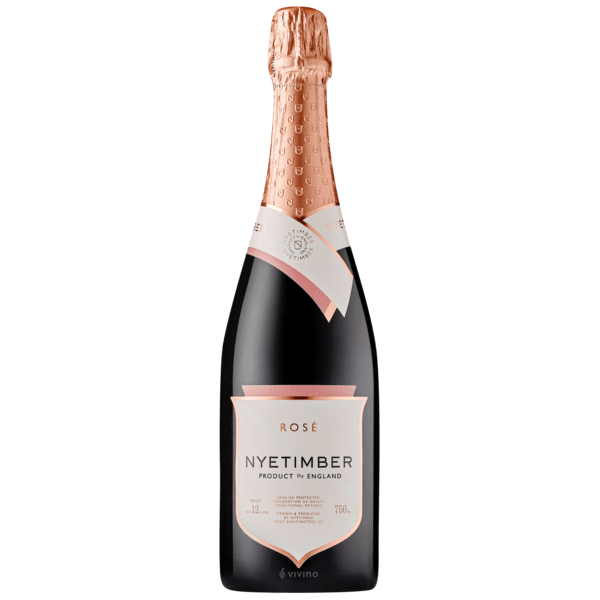 This english sparkling rosé from leading British winery, Nyetimber, has bright red fruit aromas and a flavor of shortbread and british summer fruits. From an estate once owned by Henry VIII and Pippa Middleton's wedding wine, the rosé is steeped in rich history and yet is a feat of modern winemaking.
$70
Cristal 2012
Cristal is the flagship cuvée from Louis Roederer. Created in 1876, it is composed of Grands Crus from the Montagne de Reims, the Vallée de la Marne and the Côte des Blancs. On the nose, rich and complex aromas with notes of zesty and candied fruit mingle with pollen and white flowers, roasted hazelnut and Madagascar vanilla. After aeration, the bouquet develops rich notes of fresh pastries and smoky notes from bottle ageing. A delicious, concentrated and chalky palate. It shows incredible tension and perfectly honed aromatic precision. The attack is powerful, distinctive and concentrated and reveals a silky, mouth-coating texture, characteristic of the ripe Pinot Noirs from the 2012 vintage. The finish is long and remarkably concentrated. This is the first vintage to be made from 100% biodynamic viticulture.
$249