Whether it's Memorial Day, July 4th, or any of August's Dog Days, good cocktails can make the difference between just another summer day and a great one. With that in mind, we've put together a list of mixed drinks perfect for adding that extra dash of fun to everyone's favorite season. Besides, after not being able to fully enjoy last year, we all deserve to indulge a bit, safely of course.
Spirited Zine's list of summer cocktails is filled with the drinks you'll catch us enjoying for the next several months. From mezcal mojitos to orange gin fizzes and slushy drinks with blue Curacao, these 10 cocktails will have you feeling like summer has finally arrived and served you a double.


Lost and Mojito
Ingredients:
1.5 oz / 45 ml The Lost Explorer Espadín
1 oz / 30 ml Simple syrup
1 oz / 30 ml Lime Juice
8-10 Mint leaves
Club soda
Muddle all ingredients except club soda. Pour into a highball glass filled with ice. Garnish with a sprig of fresh peppermint. Leave regular mojitos in the past.


Baileys Oaxacan
Ingredients:
2 oz Oat Milk
.25 oz Maple Syrup
1 oz Cold Brew
.5 oz Mezcal
Garnish: Lavender Sprig
Glassware: Double Old Fashioned
Build all ingredients in an Old-Fashioned glass with a 2×2 ice cube. Stir gently. Garnish and serve.


Sevilla Sunshine Fizz
Ingredients:
0.5oz Triple Sec Liqueur
1.25oz Orange Juice
0.50z Lemon Juice
2 oz club soda
Glassware: Rocks Glass
Garnish: Orange Curl
Fill shaker with ice and add all ingredients (except for garnish and club soda). Strain into ice filled glass. Top off with club soda and garnish with an orange curl.


Royal Blue Slush: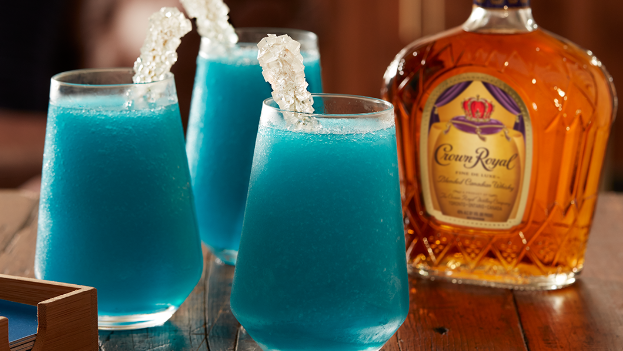 Ingredients:
1 oz. Crown Royal Fine De Luxe Whisky
2 oz. blue curaçao
2 oz. Hpnotiq liqueur
Cracked ice
Rock candy
Add Crown Royal, Blue Curaçao, Simple Sugar and Ice to a blender and blend until slushy. Pour into a glass and add a sugar stick for garnish.


Cîroc Citrus Sunrise
Ingredients:
1.5 oz CÎROC Summer Citrus
3 oz Orange juice
1 oz Cranberry juice or Pomegranate juice
Glass: Highball or Rocks
Garnish: Orange Wedge
Add the CÎROC Summer Citrus and orange juice into a highball or rocks glass filled with ice. Top off with Cranberry juice or Pomegranate juice and garnish.


Bajan Rum Punch
Ingredients:
2 oz Dos Maderas 5+3 Rum
1 oz fresh lime juice
1 oz Rich Simple Syrup (2:1)
1-2 dashes of Angostura Bitters
Prepare your Rich Simple Syrup by dissolving 2 parts cane sugar into 1 part boiling water. Let cool. Chill a Double-Rocks or Highball glass. Cut a lime in half and juice your limes. Add all ingredients to your shaker. Fill shaker with cracked ice. Shake and strain. 


Cristalino Grapefruit
Ingredients:
2 oz Roble Fino Cristalino
1.5 oz fresh grapefruit juice
.5 oz agave nectar
Shake all the ingredients with ice. Garnish with a grapefruit peel.


Route 27
Ingredients:
Combine all ingredients except blackberries. Shake with ice and pour into a highball glass full of crushed ice. Top with splash of soda and muddled blackberries.


Frankly Spritz
Ingredients:
½ oz aperol
½ oz fresh Lemon Juice
½ oz simple Syrup (2:1) or Monin Cane Syrup
3oz sparkling wine/prosecco
Garnish: lemon twist
Add vodka, aperol, lemon juice and simple syrup to a cocktail shaker. Add ice and shake for 7-10 seconds. Double strain into a champagne flute. Top with sparkling wine and garnish.


Diablo en la Pista de Baile
Ingredients:
1 1/2oz Don Papa Rum
1/2oz Reposado tequila 
3/4oz Guava juice
1 thin disc of Serrano Chili
1/2oz Lime
1/2oz Agave
Muddle chili disc in shaker. Pour in Don Papa, tequila, guava juice, lime and agave. Add ice and shake. Strain into rocks glass w fresh ice. Garnish w lime wheel.