Winter is here and we are all in good need of some cocktails to warm up our insides. Whether you're looking for some heavy flavors to keep you cozy during these dark chilly months or are looking for something to remind you of summer's toasty embrace, our list of Winter Cocktails should help make the season even more enjoyable.
Gin, Mezcal, Tequlia, Vodka, Whisky, whatever is your spirit of choice, this list of Winter Cocktails is sure to have something to give you a little cheer. Bottoms up!


Vodka Cocktails


Rembrandt's Sky… Mall With Dutch Tulip Vodka
1.5 oz. Premium Blend Dutch Tulip Vodka
1 oz. club soda
2 tablespoons Green Chartreuse
1 oz. fresh lime juice
0.5 oz. simple syrup
3 basil leaves
½ rosemary sprig
0.5 oz. pomegranate juice
Directions
Muddle basil, rosemary, lime juice and simple syrup in the bottom of a mixing glass (or jar if that's all you have). Add Dutch Tulip Vodka and Green Chartreuse and shake with ice. Strain into a highball glass filled with ice. Stir in club soda and attempt to top with a float of pomegranate juice. Garnish with a rosemary sprig just because.


Gin Cocktails


Tod & Vixen's Dry Gin Negroni 1651 (Created by the late, great gaz regan (NY))
1.5 oz Tod & Vixen's Dry Gin 1651
1 oz Cocchi Storico Vermouth di Torino
1 oz Campari
Directions
Stir with ice in an ice-filled rocks glass, garnish with an orange wedge, then serve. (Finger-stirring optional.)


Soho Lion
1.5 oz Malfy Rosa Gin
.25 oz Sugar syrup
.5 oz lemon juice
.5 oz fresh grapefruit juice
3 basil leaves
Directions
Pour all of the ingredients into a cocktail shaker and shake well with ice. Fine strain into a tumbler filled with ice and garnish with basil and grapefruit slice.


Strange But True With Fee Brothers Hibiscus Water
2 oz The Botanist gin
3 Dashes Fee Brothers Hibiscus Water
1 Sprig Rosemary, for garnish
Sparkling water
Directions
Pour The Botanist into a highball glass over a few rocks. Add a few dashes of the Fee Brothers Hibiscus Water, plus the sprig of rosemary. Top with the bubbly water. Drink deeply in acceptance of confirmed aphorisms.


Tequila Cocktails


Tanteo Tequila Sparkling Margarita
2 oz Tanteo® Blanco Tequila
1 oz Sparkling Wine or Club Soda
3/4 oz Fresh Lemon Juice
3/4 oz Agave Nectar
Directions
Combine ingredients in a shaker with ice. Stir well and strain into a chilled Coupe Glass. Garnish with a lemon twist.


The Truffle Pig (From FT33 in Dallas)
1⁄2 cup honey
2 sprigs rosemary
1 stick cinnamon
2 oz. hen of the woods mushrooms
1 tsp. ground cinnamon
1 tsp. sugar
1⁄4 tsp. salt
1 oz. freshly squeezed lemon juice
1 oz. añejo tequila
Directions
Bring half cup each honey and water, two rosemary sprigs, and 1 cinnamon stick to a boil in a 1-qt. saucepan; let syrup cool and strain. Brown two ounces of hen of the woods mushrooms in a dry skillet and then let cool. Mix 1 tsp. each ground cinnamon and sugar and 1⁄4 tsp. salt on a plate, and then cover the rim glass with a lemon wedge and dip in sugar mixture. Muddle all but 1 of the mushrooms with 1 oz. each syrup and lemon juice in a shaker. Add 2 oz. añejo tequila and ice. Shake and strain into glass; garnish with remaining mushroom.


Tanteo Tequila Cranberry Punch
20 oz. Tanteo Jalapeño Tequila
20 oz. 100% Cranberry Juice (No sugar added)
10 oz. Fresh Lime Juice
7.5 oz. Agave Nectar
Directions
Combine ingredients in a large serving bowl, stir, and top with lime slices, fresh cranberries and jalapeños.


Mezcal Cocktails


Mazanasada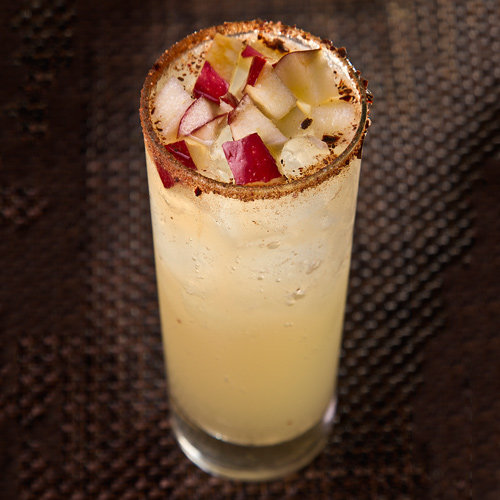 Spice Sugar
1 oz Tequila
.5 oz Mezcal
1.5 oz Apple cider
.75 oz Lemon juice
Ginger beer
Directions
Coat the rim of a Collins glass with Spice Sugar, fill with ice and set to the side. Add the tequila, mezcal, cider, and lemon juice to a shaker, fill with ice, shake, and strain into prepared glass. Fill with ginger beer and garnish with diced red apple.


The Velvet Gentleman (From Manhattan's Rotisserie Georgette)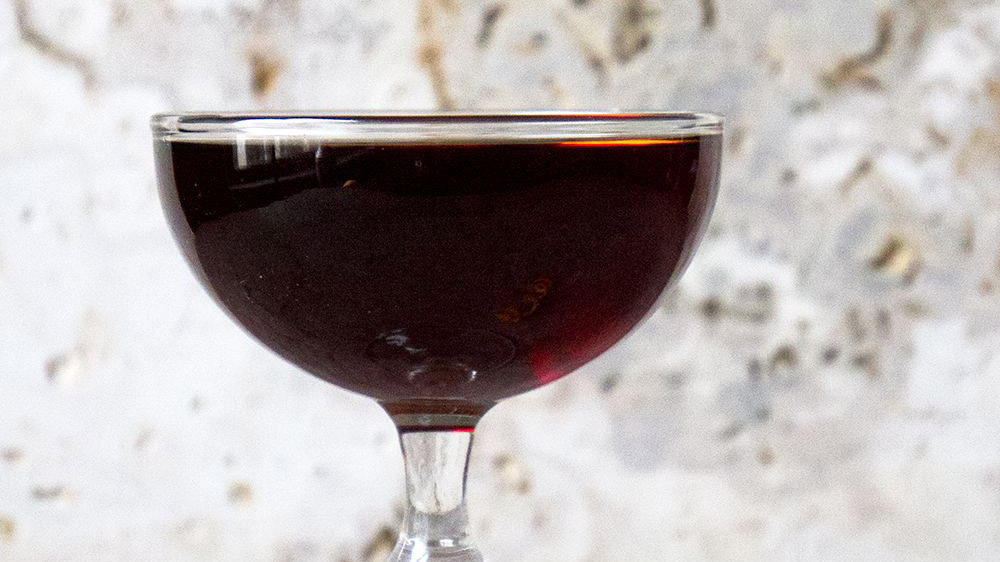 3 oz. Cardenal Mendoza brandy
1.5 oz. Cocchi Americano Rosa
.5 oz. mezcal
2 dashes grapefruit bitters
Orange twist, for garnish
Directions
Stir brandy, Cocchi Americano, Mezcal, and bitters in an ice-filled mixing glass until chilled. Strain into a coupe glass and garnish with an orange twist.


Whiskey Cocktails
Starward New World Egg Nog
Created by Tui Tekaaho, Beverage Director, Peachy's NYC
1.5 oz. Starward Australian Whisky
1 oz. Apricot Brandy
1 Egg Yolk
0.5 oz. Heavy Cream
0.5 oz Honey Syrup
Directions
Combine Starward, brandy, egg, cream and honey in a shaker with ice. Shake and strain vigorously and strain into an empty Collins glass. Top with sparkling wine and serve.


Bring Back Black Manhattan (Created by Erica Gantt Savannah, Georgia)
1.5 part(s) Woodford Reserve Bourbon
.75 part(s) Dumangin Ratafia de Champagne
.5 part(s) Barolo Cocchi Chianto
2 dash(es) 18.21 Aromatic Prohibition Bitters

Directions
Add all measured ingredients to a mixing glass. Ice should be added (enough to cover the liquid), stir the cocktail until gently diluted. Strain with a julep strainer into coupe glass. Express an orange peel over the top. Garnish with a Woodford Reserve Bourbon cherry.