Turkey day looks a bit different this year, as many won't be spending it in the presence of their friends and family. Still, Thanksgiving always needs a variety of cocktails to get you through the more awkward moments, which will still certainly happen over various zoom adaptations of the usual holiday meal.
With that in mind, we've put together a list of 14 cocktails perfect for Thanksgiving that will be sure to get you through any political debates or coronavirus denials. From nuanced plays on classics to drinks that are meant to be lit on fire and even some that come premade in surprisingly beautiful cans, these beverages will make this year's feast one to remember for reasons other than the pandemic and your uncle Steven's not so funny impressions.
So without further ado, here are our:
14 Thanksgiving Cocktails To Help You Gobble Through Your Family Zoom Dinner:
Whisk(e)y
Blazing Glory
Created by Sebastien Derbomez, William Grant & Sons Brand Advocacy Manager
Ingredients:
2 parts Hudson Whiskey Short Stack
½ part Tempus Fugit Crème de cacao à la vanille liqueur
1 Lemon peel
1 Cinnamon stick
Add the Whiskey & cinnamon stick directly into a warm sniffer glass and rest the bowl of the glass on a stand or on an old-fashioned glass so it lies on its side supported by the rim. Flame the Whiskey and carefully move the glass back to an upright position sitting normally on your work surface. Express the oil of the lemon peel directly into the glass then drop the peel into it. Pour in hot water (this will extinguish any remaining flame) and the liqueur. Stir, and serve.
Woodford Reserve Bourbon Milk Punch
Ingredients:
2 cups cream
2 cups whole milk
1 cup Woodford Reserve bourbon
¾ cup sifted powdered sugar
½ vanilla bean
Fresh grated nutmeg
In a metal bowl over an ice bath, whisk sugar, cream, milk, and bourbon until nice and frothy. Add vanilla bean and strain through a fine mesh strainer into a pitcher. Place pitcher in freezer for 30 minutes to an hour stirring on occasion. Pour into glass and garnish with freshly grated nutmeg.
Melbourne Apple Sour
Ingredients:
2 oz Starward Two-Fold Whisky
3/4 oz Fresh Lemon Juice
1/4 oz Simple Syrup
1/2 oz Egg White
Apple Cider, to top
Combine ingredients except for the apple cider in a shaker without ice. Shake vigorously to whip up the egg whites. Then add ice and shake again until very cold. Double strain into a coupe glass and float apple cider on top.
Hardtack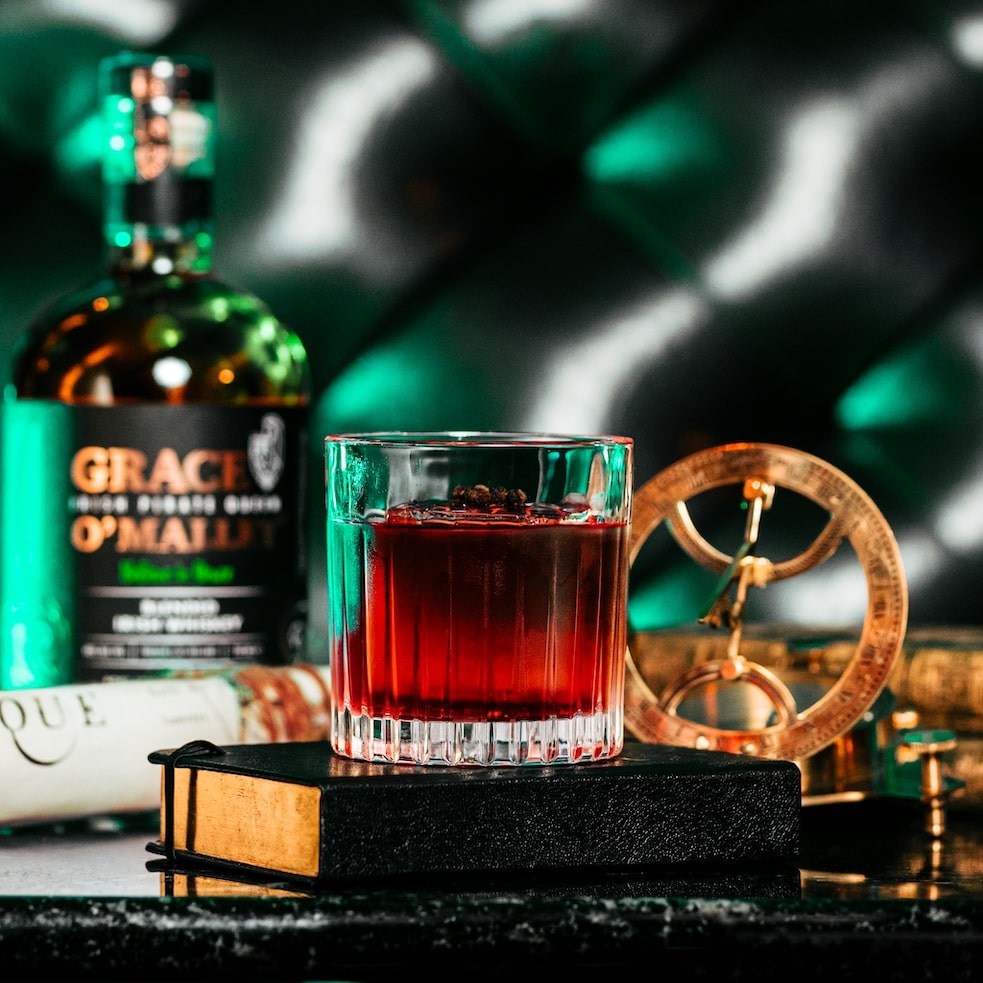 Ingredients:
2 oz Grace O'Malley Whiskey
.5 oz Homemade spiced red wine syrup – Directions: Take 1-750 ml bottle of red wine and 2 tbsp black peppercorns and reduce over low heat to half. Add 8 oz cup of sugar, stir until dissolved. Strain and store in the fridge for up to 5 days.
4 dashes of Fee Brothers black walnut bitters
Peppercorn garnish
Stir all ingredients for 20 seconds and then strain into a rocks glass with one large format ice cube. Garnish with black peppercorns.
Gin
Tod & Vixen's Negroni 1651
Created by the late, great gaz regan (NY)
Ingredients:
1.5 oz Tod & Vixen's Dry Gin 1651
1 oz Cocchi Storico Vermouth di Torino
1 oz Campari
Stir with ice in an ice-filled rocks glass, garnish with orange wedge, then serve. (Finger-stirring optional.)
Autumn Equinox
Created by Mixologist Danny Louie
Ingredients:
1.5oz Tanqueray London Dry
.75oz Almond Syrup
.75oz Lime
.25oz Passionfruit (Small Hands Food)
Glassware: Punch glass, smaller/round rocks glass, or water glass
Garnish: Grated nutmeg
Build all ingredients in a shaker and shake. Fine strain into a punch glass. Garnish with grated nutmeg.
Longitude Line
Ingredients:
1 oz. 135 East Gin
1/3 oz. Akashi Tai Umeshu
1/3 oz. Hibiscus syrup
1/2 oz. Fresh Lime Juice
1 oz. egg white or aquafaba
Dry shake (no ice). Then shake with ice. Garnish with Dried Hibiscus flower.
Rum
Tiki-Festivus Daiquiri
Ingredients:
2oz Cutwater Bali Hai Tiki Gold Rum
1oz lime juice
.5oz cinnamon simple syrup
2 dashes black walnut bitters
Lime wheel garnish
Combine all ingredients into a cocktail shaker. Add ice and shake until cold. Strain into an up glass. Garnish with a lime wheel.
Honey Breeze
Ingredients:
2oz Don Q Reserva 7 rum
¼oz Honey water
2oz Coconut water
2cm Cucumber
Muddle cucumber into the bottom of a shaker. Add rum, honey water, coconut water and ice then, shake vigorously. Strain into a cocktail glass and garnish with cucumber.
Tequila/Mezcal
Tequila Don Julio Fall Old Fashioned
Ingredients:
1 ½ oz Tequila Don Julio Reposado
1 tsp Agave syrup
2 dashes Hella Aromatic Bitters
Fresh orange peel, for garnish
Garnish: Fresh orange peel
Glassware: Rocks glass
Add Tequila Don Julio Reposado, agave syrup and bitters into a cocktail shaker and stir for 10 seconds. Peel 1 orange and fill a rocks glass with fresh ice. Pour Tequila Don Julio mixture into glass over ice. Rub the orange peel on rim of the glass for extra flavor. Drop the peel into the glass as a garnish.
Pierde Almas Citrus
Ingredients:
2oz Pierde Almas Espadín or Pierde Almas 9 Botanicals
3.4oz of Lemon Juice
1oz of Orange Juice
1.2oz of Simple Syrup
Glassware: Rocks Glass
Garnish: Orange Slice
Mix in a shaker and pour into glass.
Vodka
The Broken Wing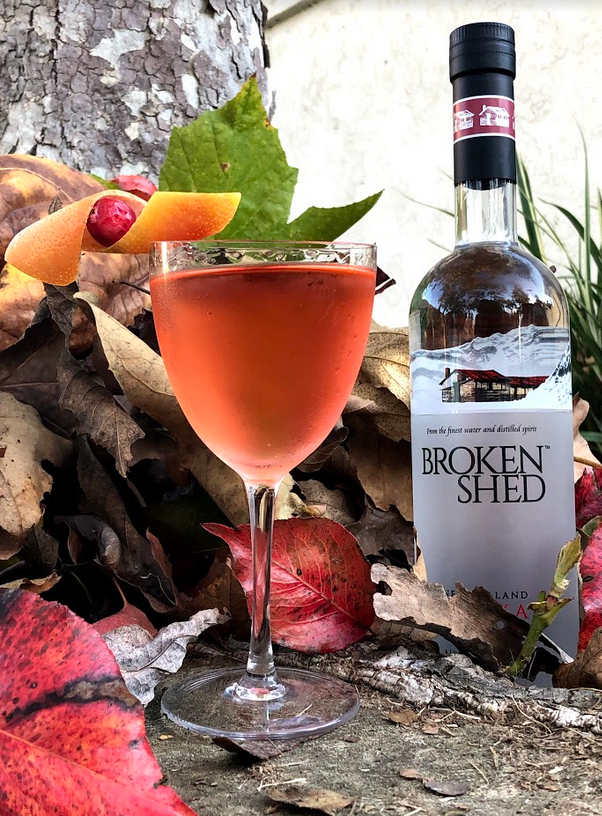 Ingredients:
3 oz Craisins-Infused and Duck-Fat Washed Broken Shed Vodka*
1 oz Mezcal Pechuga
1/2 oz Quinquina
4 Dashes Celery Bitters
Orange Peel and Fresh Cranberry for garnish
Stir all the ingredients over ice and pour into a pre-chilled stem glass. Express orange peel over the cocktail and rub around the rim of the glass.
*Craisins-Infused and Duck-Fat Washed Broken Shed Vodka: Infuse 1 part duck fat, 1 part craisins and 3 parts Broken Shed Vodka at room temperature for 3 hours in a wide lipped jar. Place the jar in the freezer until fat fully congeals. Remove from the freezer and immediately poke a hole in the fat and strain through a fine mesh strainer.
Spiced Grape Mule
Created by Cocktail Academy
Ingredients:
1.5 oz CÎROC White Grape
Splash of Lime
Fever Tree Ginger Beer
Garnish: Ginger
Glass: Collins Glass
Add CÎROC White Grape and a splash of lime to a Collins glass over ice. Top with Fever Tree Ginger Beer and garnish with a long slice of fresh ginger.
Liqueur
Velvet White Espresso Martini:
Ingredients:
1.5 oz Disaronno Velvet
.5 oz Tia Maria Coffee Liqueur
.5 oz Vodka
Chocolate Flakes or Coffee Beans
Shake and strain ingredients over ice. Garnish with chocolate flakes or coffee beans.
Canned Cocktail (aka the Ultimate Contactless Option)
Two Chicks Cocktails "Sparkling New Fashioned"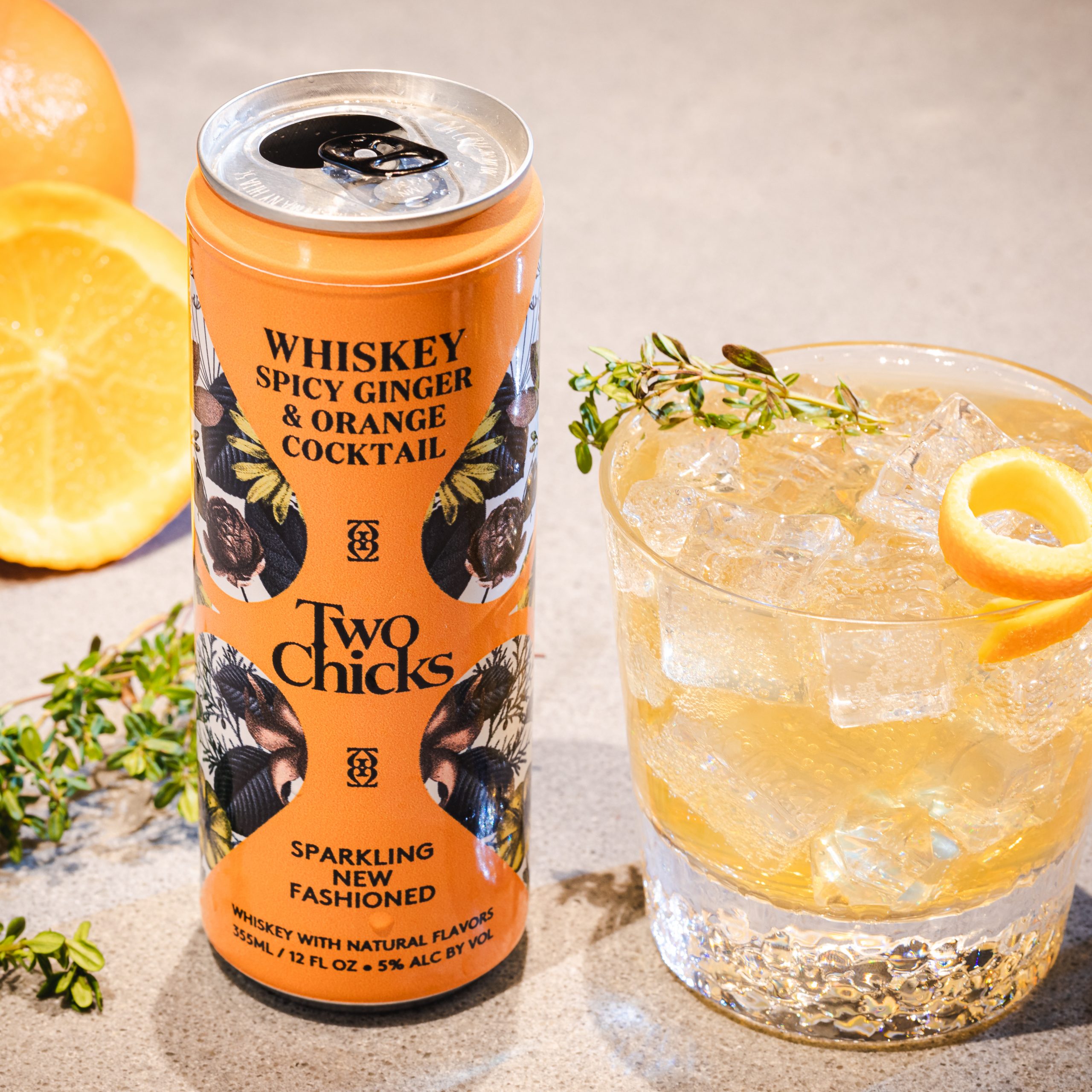 Out with the old, in with the new! Two Chicks Cocktails updates the classic Old Fashioned with a smooth taste of whiskey, spiced up with ginger and ends with a sparkling orange twist. Two Chicks's Sparkling New Fashioned is the ultimate contactless cocktail for Thanksgiving and doesn't require all the extra ingredient purchasing.