Valentine's Day is almost here and somehow you forgot to get your significant other a gift, but you're in luck, thanks to companies like Drizly–now part of Uber–you can now have spirited last minute presents delivered to your doors in under an hour. So while this year might look different than others, you can still enjoy some delicious drinks while avoiding the doghouse.
With that in mind, we put together this list of last minute gifts that are perfect for the spirits lover in your life. Whether your loved one is more into classics like chocolates and roses, a travel lover yearning to see the world after a year spent at home, or a foodie looking for the perfect complement, our Valentine's Day gift guide will make sure your significant other know you've been thinking about them.
For The One Who Loves The Classics
Mozart Dark Chocolate Liqueur ($20)
A dark chocolate liqueur without cream (vegan, lactose and gluten-free), and handcrafted with only natural ingredients, Mozart Dark Chocolate Liqueur invites drinkers to experience dark chocolate sensation via a delicately melting indulgence. Dark brown with golden reflections, it offers smoky herbal notes of cocoa beans in a dark chocolate drink with vanilla, caramel, and a hint of toffee.
Sonoma-Cutrer Rosé of Pinot Noir 2020 ($25)
Sonoma-Cutrer has been crafting wines since 1981 in the esteemed Russian River Valley growing region of Sonoma County, California. The 2020 Rosé of Pinot Noir is a beautiful and delicate example of why Russian River Valley Pinot Noir makes a wonderful rosé. The light salmon color of the wine catches the light in the glass and opens up with aromas of blueberry, pink grapefruit, cantaloupe and a light hint of rose petal. A crisp, refreshing mouthfeel accentuates the fresh fruit flavors of citrus, strawberry and blood orange. The wine finishes long and tangy.
Avaline Sparkling ($26)
Avaline Sparkling is the newest release to join Cameron Diaz & Katherine Power's line of clean wines made with organic grapes and without unnecessary extras. A dry, refreshing and effervescent bubbly, Avaline Sparkling is a blend of Xarel·lo, Macabeo and Parellada from Penedès, Spain. In the hands of the famed producer Raventos i Blanc, it is made in the traditional method and aged 18 months on the lees, doubling the minimum aging time required for other sparkling wines from this region.
For The Travel Lovers Experiencing Serious Wanderlust
Vamonos Riendo Mezcal ($59.99)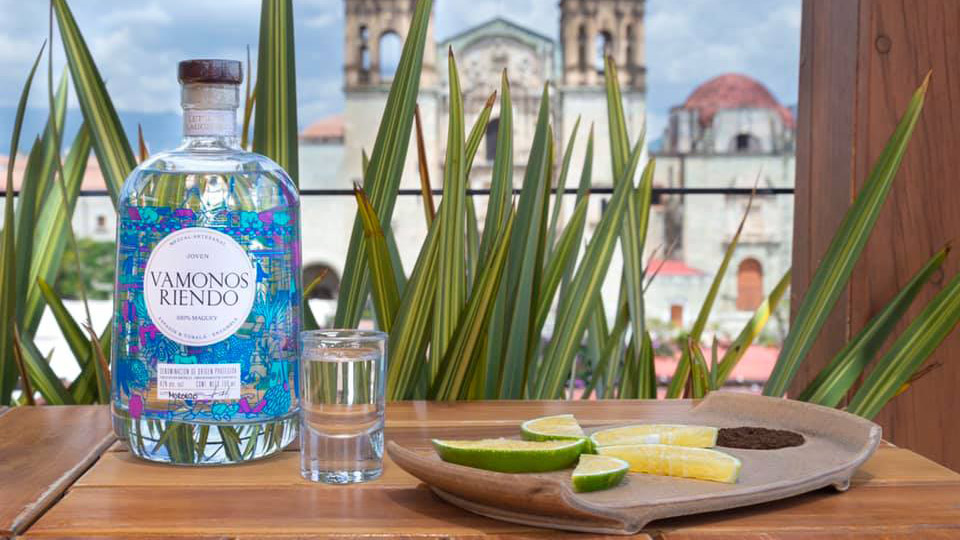 Vamonos Riendo Mezcal is a super-premium, artesanal, high altitude mountain mezcal that encourages ideas to spark, people to connect and creativity to flow. Vamonos Riendo combines both ancient techniques and imagination to create its artesanal spirit and is dedicated to sustainable cultivation and supporting the local people of Oaxaca in building a better future. A mezcal Joven, it's a small batch, handcrafted ensamble made from 14-year-old Tobala and 8-year-old Espadin. A fresh, vibrant and bright mezcal, Vamonos Riendo Mezcal is unlike any other product in the market. It boasts fresh fruit, honey and herbal aromas rounded out by a subtle black oak smokiness. On the palate, a medley of melon, pineapple, grapefruit and mandarin is balanced by the sweetness of cocoa and notes of mint and anise. The finish is velvety smooth with notes of caramel with a tantalizing citrus bite.
Novo Fogo Tanager ($34.99)
The "Tanager" expression is the first two-woods cachaça broadly available in the US and mixes the Brazilian South's two favorite woods. The cachaça is aged in re-purposed American Oak then finished in Brazilian zebrawood casks, producing a liquid with natural red color and a distinctive mountain earthiness. Its punchy flavor profile suggests tropical fruit, grass, cinnamon bark and other holiday spices, making it a perfect bottle to consider sipping alone or as the base spirit in twists of classic cocktails like the Sazerac.
Zaya Gran Reserva Rum ($29.99)
Produced in Trinidad & Tobago, Zaya Gran Reserva is an ultra-premium rum comprised of a blend of rare rums aged up to 16 years, carefully selected by the Zaya master blender to achieve a delicate balance and unique profile. On the palate, Zaya offers rich notes of vanilla, caramel, cocoa, apple, banana, and cherry and gives way to a heavy, velvety smooth finish.
Sandeman Founder's Reserve ($21.99)
Hailing from Portugal's breathtaking Douro valley, this seductive ruby Port is full of power, fruit and fire. The Sandeman Founder's Reserve is selected from the finest ""lots"" of each vintage and aged for 5 years. It can be enjoyed in a festive cocktail or on the rocks with an orange slice. But if you're looking to take more of a classic approach, we suggest pairing it with chocolate mousse.
High West Campfire ($69.99)
There's something truly romantic about curling up beside a campfire with a good bottle of Whiskey, and High West Campfire was created for just those moments. It's a blend of Scotch, Bourbon and Rye Whiskeys, which makes a distinctive and delicious offering. Best enjoyed with old friends, good looking strangers, or that special someone, it's best sipped straight or with a little water.
For The Foodie Looking For The Perfect Complement
Starward Two-Fold Double Grain Whisky ($32.99)
Starward Two-Fold Double Grain Whisky brings together two quintessential Australian grains in the bottle: wheat whisky (60%) and malt whisky (40%), which are distilled and fully matured separately in the distillery's signature Australian red wine barrels before being carefully married for bottling. The whiskies emerging from the barrels are then married for optimum drinkability, with the rich malt character balanced with the soft, rounded texture of the wheat whisky. The result is a distinctly approachable and well-rounded new world whisky.
Woodford Reserve Double Oaked ($54.99)
Woodford Reserve Double Oaked was originally released in 2012 as one of their first permanent expressions to the greater Woodford Reserve portfolio. This ultra-premium spirit is twice barreled in White Oak and matured to perfection in handcrafted barrels created at Woodford Reserve's own cooperage. The barrels are uniquely toasted and charred to create an expression rich in flavor and color. The second custom barreling process creates heavier notes of honey, cream and vanilla that are magnified alongside sweet aromatic notes making it the perfect bourbon to cozy up with throughout the winter months.
Apothic Pinot Noir ($10.99)
Apothic Pinot Noir reveals layers of bright ripe cherry and crushed raspberries with a dash of red currant. Silky tannins round out the mouthfeel with ribbons of caramel and vanilla, which lead to a delicate, lingering finish.
Ecco Domani ($11.99)
Celebrating its 25th Anniversary, Ecco Domani has been scouring Italy's best regions for expressive grapes that reflect the places where they're grown. Crafted in a modern style, Ecco Domani embodies the spirit of contemporary Italy, where you'll find an inspiring combination of style and celebration of regional character that is unique around the world. This signature wine is pale straw in hue and has delicate floral aromas with a hint of citrus. On the palate, the wine offers tropical fruit flavors and a crisp, refreshing finish. Food-friendly and approachable, this Pinot Grigio pairs beautifully with light pastas, poultry and fish, or on its own as a refreshing aperitif.