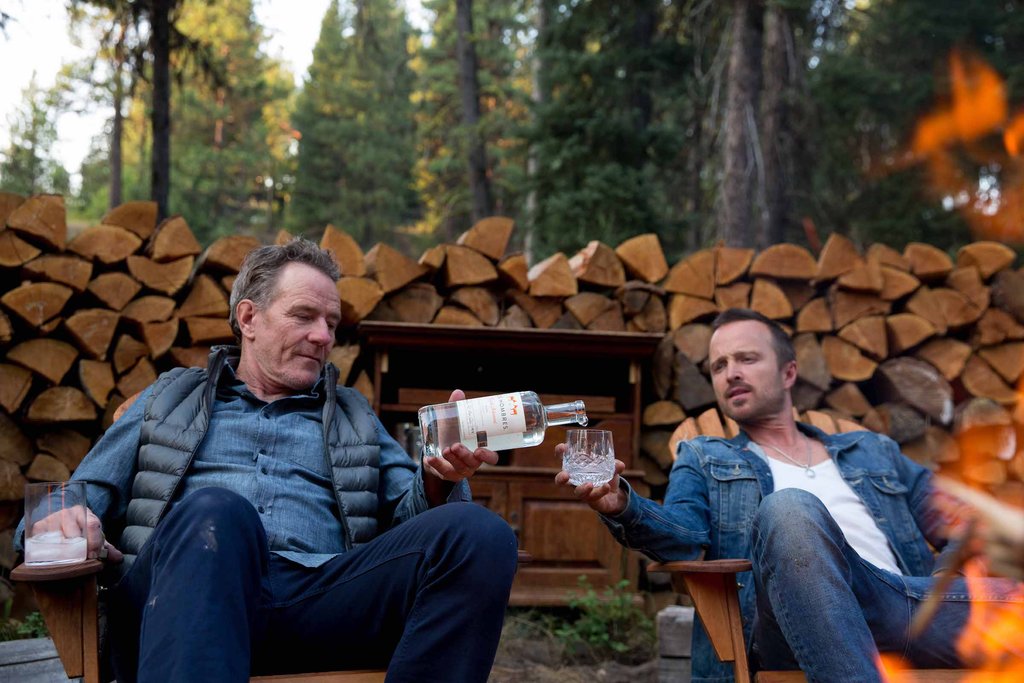 If you've ever wanted to share a drink with Aaron Paul and Bryan Cranston, here is your virtual chance. An online tasting with Dos Hombres Mezcal is being presented by Gelson's.
This virtual tasting is scheduled for April 29 at 6 p.m. and showcases the Dos Hombres Espadin Agave Mezcal ($52.99) paired with a Gelson's custom cheese and charcuterie plate ($23.99) which serves two.
Guests to the online event will experience a behind-the-scenes look at the mezcals while sipping the spirit in the comfort of their home, and just like an in-person event there will be the opportunity for all-comers to ask questions. 
Gelson's also share drinks suggestions for the event; cocktail pairings including the Dos Hombres Mule with Dos Hombres Mezcal, Fresh Lime Juice and Ginger Beer; and the Cranstonian with Dos Hombres Mezcal, Cranberry Juice, Aperol and Fresh Lime Juice.
Gelson's custom cheese and charcuterie plate is the suggested pairing for the tasting. The platter features Cicaque Cotija, Olli Salumeria Tillamook Smoked Black Pepper, White Cheddar, and Three Little Pigs Chorizo. Additional items will include Fresh Watermelon and Spanish cocktail nuts, Avocado Shrimp Ceviche and Grilled Street Corn Salad.
The Dos Hombres virtual event will take place on Thursday, April 29 at 6 p.m. and is part of an ongoing tasting series featuring carefully selected wine, spirits and beer.
Those interested in attending can RSVP and pre-pay for the cheese and charcuterie plate ($23.99) by visiting The Dos Hombres Event Website.
Dos Hombres is the product of multiple generations of proud Mezcal producers from the small village of San Luis del Rio, in a remote section of Oaxaca.
Dos Hombres Espadin Agave Mezcal is specially priced for the event ($52.99) and will be available in-store on April 28 & 29 only. Pickup will be available at Gelson's Pacific Beach, Del Mar and Carlsbad.
The last day to RSVP is April 26. Additional information and pick-up instructions will be sent via the registration confirmation email.
Dates and times of events are subject to change without notice. Always check the event organizer's website for the most updated schedule before attending.