Angel's Envy has revealed its first-ever 2023 Cask Strength Straight Rye Whiskey Finished in Sauternes and Toasted Oak Barrels and its 2023 Cask Strength Kentucky Straight Bourbon Whiskey Finished in Port Wine Barrels, which hits shelves for the 12th year in a row. These expressions mark the first releases under the helm of Master Distiller Owen Martin, who joined the brand last fall. Beginning on December 1, 2023, both expressions will be available at select retailers across the U.S., including the distillery in downtown Louisville.
"We are always looking to push the boundaries of innovation at Angel's Envy," says Martin. "It was thrilling to kick off my journey with the best-in-class team at the distillery on the 12th Annual Cask Strength Bourbon and the first-ever limited-edition Cask Strength Rye Whiskey. With my deep background in maturing, blending, and finishing whiskey, I've been able to share a unique perspective on the Angel's Envy'S award-winning Cask Strength program, and am looking forward to this next chapter with the brand."
The Angel's Envy 2023 Cask Strength Rye will mark the brand's first time releasing a limited-edition Rye Whiskey at Cask Strength, and only 5,500 bottles will be available for purchase. Owen put a special touch on this release by blending barrels selected first-hand of two rye whiskeys – one finished in Sauternes Casks and the other finished in Toasted Oak Barrels.
The limited-edition annual Angel's Envy Cask Strength Bourbon will have just 22,656 bottles available at select retailers in all 50 U.S. states, including the Angel's Envy distillery in downtown Louisville. This year's expression marks the first Cask Strength release from Martin.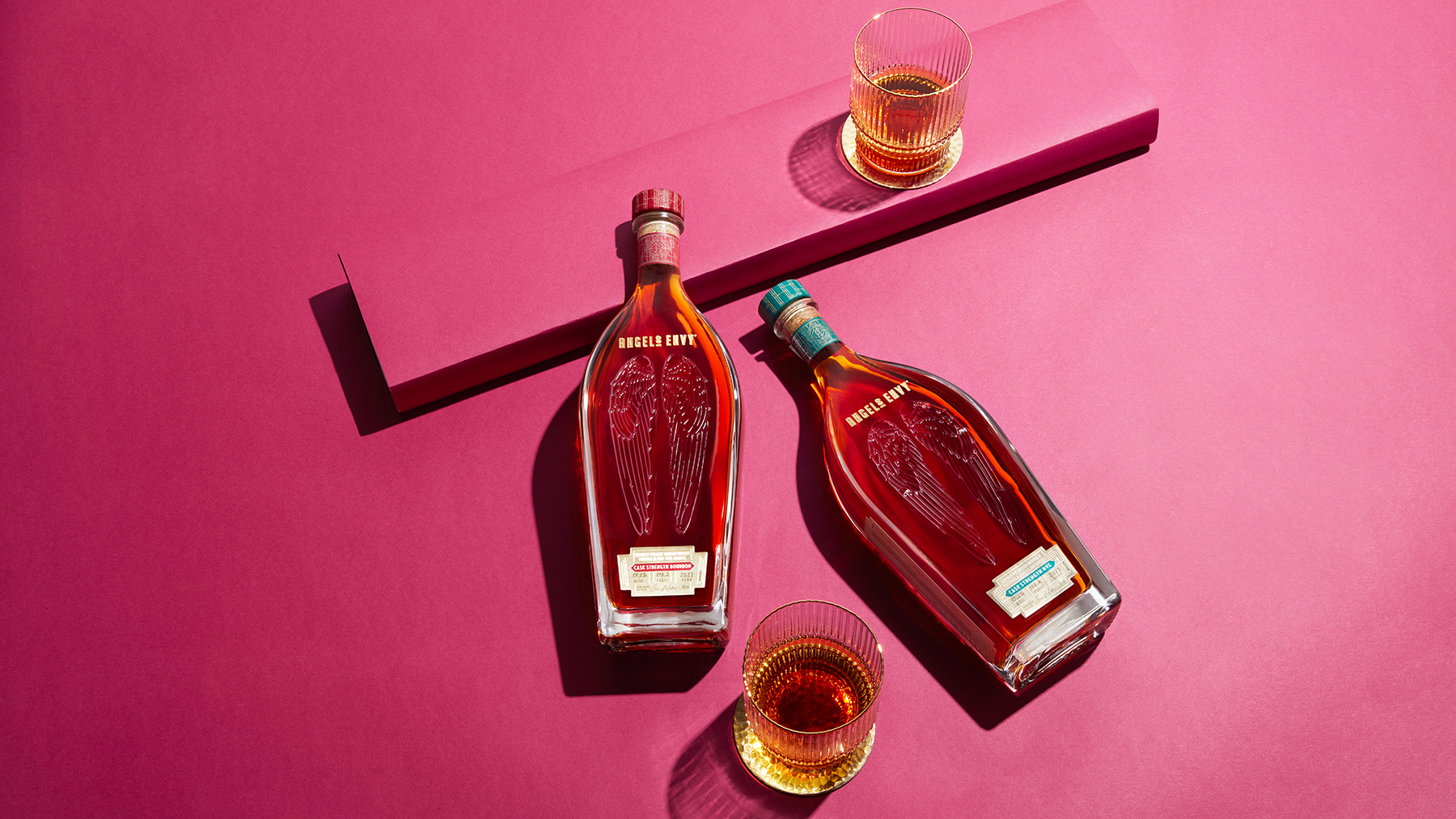 Each year, as part of the Angel's Envy Cask Strength program, the Angel's Envy team selects noteworthy barrels from its rickhouses to put through an extended finishing process in port wine barrels from Portugal. These barrels bring forward distinct characteristics in the whiskey, giving each expression a unique nose, palate, and finish.
The 2023 Cask Strength Rye features creamy notes of pears, cream, and rye spice on the palate, which lead into a finish of cream soda, black tea, and a floral sweetness. The brand recommends sipping it neat.
The 2023 Cask Strength Bourbon features a profile that, even at 118.2 proof, is creamy, indulgent, and complex. The release includes creamy notes of cherry, caramel, and marshmallow on the palate, which lead into a finish of baking spice, oak tannins, and red wine. The brand also recommends enjoying it neat.
Angel's Envy Cask Strength Rye (57.2% ABV) and Cask Strength Bourbon (59.1% ABV) are now available in limited quantities across the U.S. for $269.99 and $229.99, respectively. For more information, head over to the brand's official website.
In the summer of 2022, Angel's Envy unveiled its completed $8.2 million Brand Home expansion at 500 E. Main St. in Louisville, Kentucky, U.S. The expansion, which adds 13,000 square feet to the facility, will allow Angel's Envy to welcome an additional 64,000 visitors each year, doubling annual guest capacity.