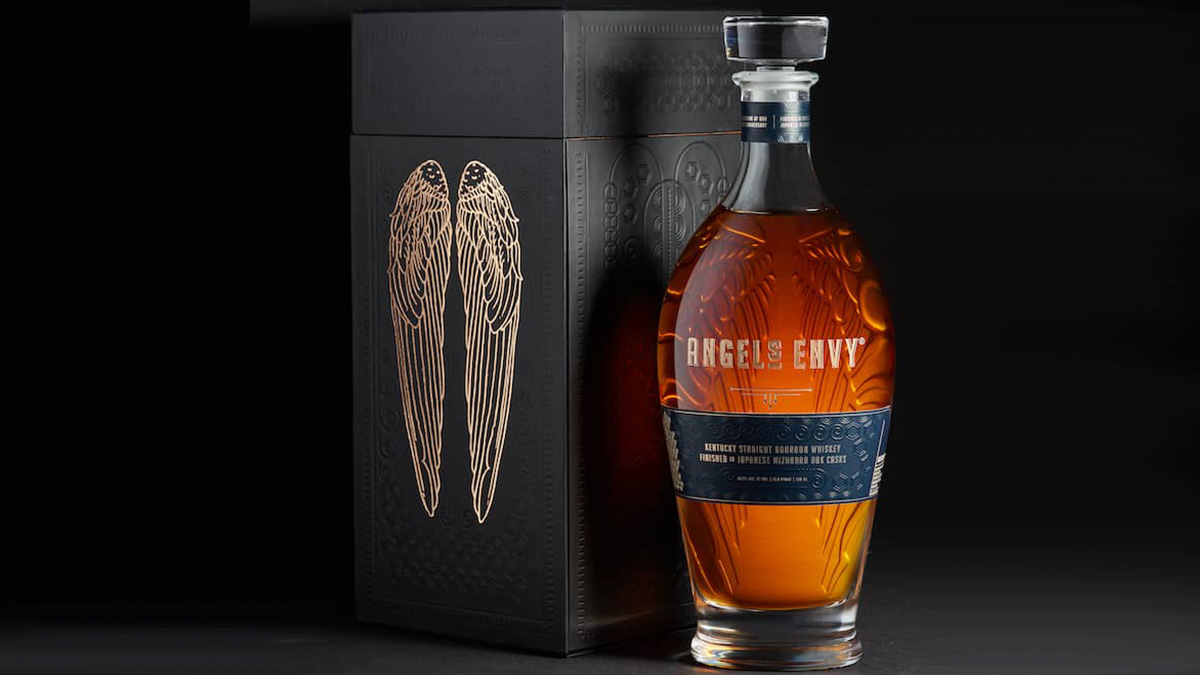 Angel's Envy Kentucky Straight Bourbon Whiskey Finished in Japanese Mizunara Oak Casks is set to be the newest release from the Louisville-based distiller. The new expression is set to be unveiled in August to celebrate the 10th Anniversary of Founder's Day.
The new Whiskey is a blend of four year old and nine year old Angel's Envy Bourbon that's finished for an additional two years in hand-selected, charred, new Japanese Mizunara oak casks. This is the first release in the distillery's new Angel's Envy Founder's Collection, a premium line which will include bottlings "commemorating brand anniversaries, special events and milestones."
According to the distillery's tasting notes, "On the nose, it offers notes of smoky wood, sandalwood, banana bread, cherry and ripe apples. On the palate, notes of vanilla, oak, rich chocolate, banana, cinnamon, apple and light black pepper are present, along with floral and fruity notes and a hint of coffee. The finish is slightly dry with hints of toasty oak and a lingering smokiness."
Wes Henderson, Angel's Envy Co-founder and Chief Innovation Officer, said in a statement, "Ten years ago today (August 19th), my dad Lincoln and I filled our first port barrels with the bourbon that would eventually become Angel's Envy. In celebration, we wanted to release something special to honor my dad's incredible legacy, how far Angel's Envy has come and our exciting future ahead.
"We chose this release for the tenth anniversary because my dad, having taken on several consulting roles in Japan during his career, always had a deep appreciation for the country and its distilling community. This release, finished in Mizunara casks made from this rare, 200-year-old wood, felt fitting for such a special milestone for Angel's Envy."
Coming in at 47.9 ABV, only 1,200 total bottles of Angel's Envy Kentucky Straight Bourbon Whiskey Finished in Japanese Mizunara Oak Casks will be made available and will cost $350 per 750 ml bottle. Members of the distillery's 500 Main fan club can sign up for a pre-sale on August 19th. Those who miss the presale will have a second chance to purchase the Bourbon at the distillery on September 1st.