Islay conjures the smell of smoke. From Lagavulin to Laphroaig to Bruichladdich, the island off the western coast of Scotland may be best known for its peaty Scotch whiskies. Still, despite the many phenol level boasts from across the lush fields and wind torn beaches, Ardbeg remains the king of smoke, firmly planting their flag atop those gray clouded hills with the release of Ardbeg Hypernova.
The smokiest whisky yet from the Islay distillery, Ardbeg Hypernova pushes the boundaries of all things peat. We sat down with Gillian Macdonald, Master Blender and Head of Whisky Creation at Ardbeg Distillery, to discuss the release and where the distillery might head next.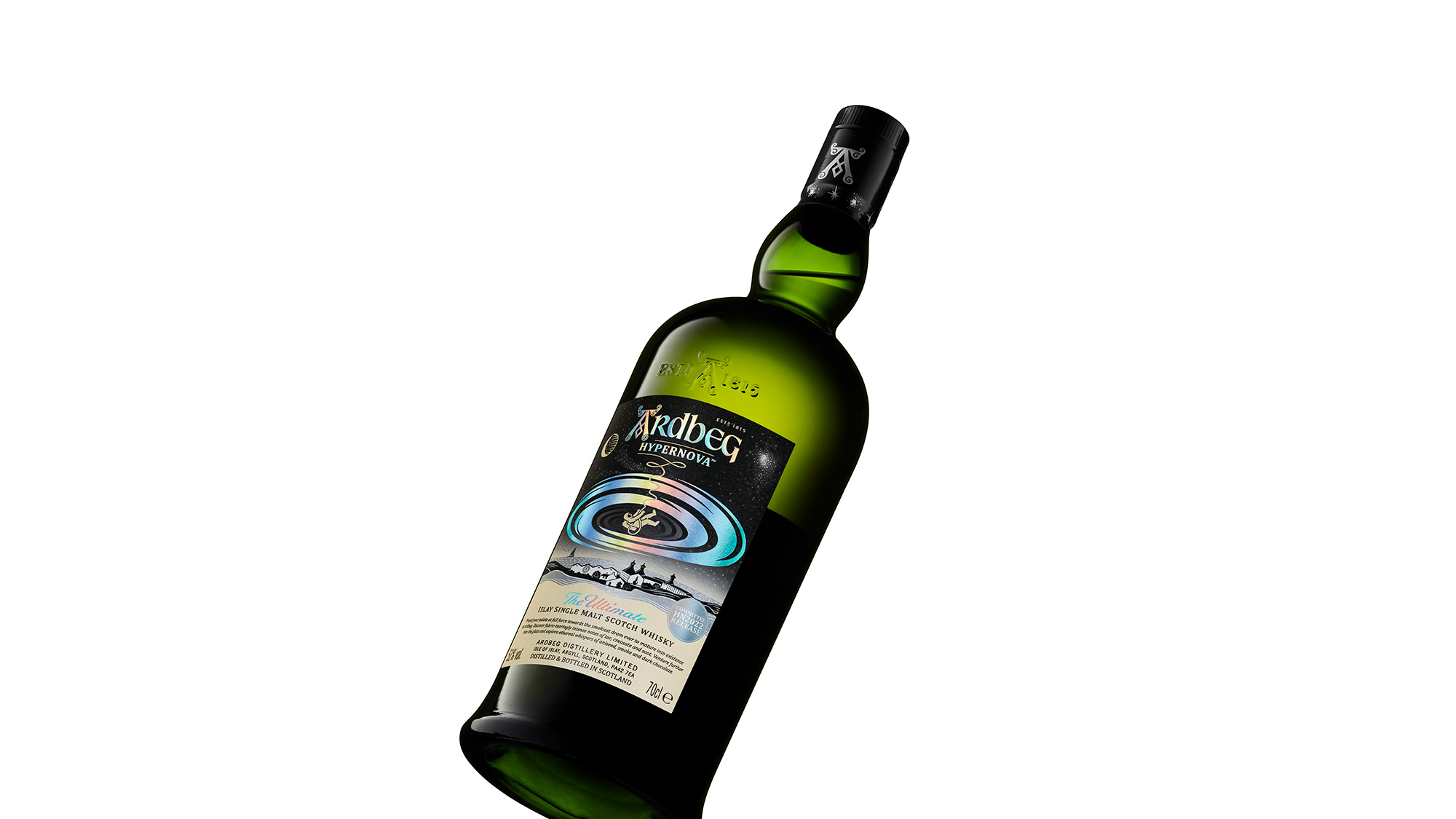 Spirited: Who came up with the idea for Ardbeg Hypernova and how long ago did the mechanisms start working to make this whisky?
Gillian Macdonald: Hypernova is an Ardbeg Committee Exclusive release – the brainchild of our experimental whisky creation team and a natural evolution to Ardbeg's highly popular Supernova series. As Islay's ultimate smoky malt, we wanted to see how far we could take our smoky flavour whilst maintaining Ardbeg's signature character. So, we completely ramped up the peat in the barley kilning process to levels never explored before – even beyond the levels explored in Ardbeg Supernova. The result is Ardbeg's smokiest ever single malt whisky – a powerful explosion of peaty, peppery, sweet flavours that haul our spirit into new depths.
Spirited: The whisky has phenol levels in excess of 170 ppm. For those who don't know, what the heck are phenol levels? And if we were to equate 170 ppm to something, what would it be–can you give us a metaphor?
GM: In a nutshell, phenols are the group of chemical compounds within peat smoke that are responsible for the smoky flavour within peated whiskies. For context, Ardbeg malt typically has a phenol level of 55ppm (parts per million) – our Hypernova expression is more than double that – so you only have to imagine just how smoky this malt is if you've tried Ardbeg before!
Typically, whisky phenol levels relate to the total phenol measurement of malt, taken after the kilning stage of the malting process. As soon as this malt starts its journey to become whisky this number is only going to go one direction from here – and that is down! For each of the following stages the phenol levels are eroded downwards so the key to Ardbeg Hypernova was getting the levels as high as possible at this early stage.
The Hypernova name was chosen specifically to represent a magnification or multiplication of the strength of a supernova. It is the difference in magnitude between being inside a building during a forceful storm and feeling drafts as people open doors, verses stepping out into it and experiencing its full force.
Spirited: How did you go about making the Scotch smokier?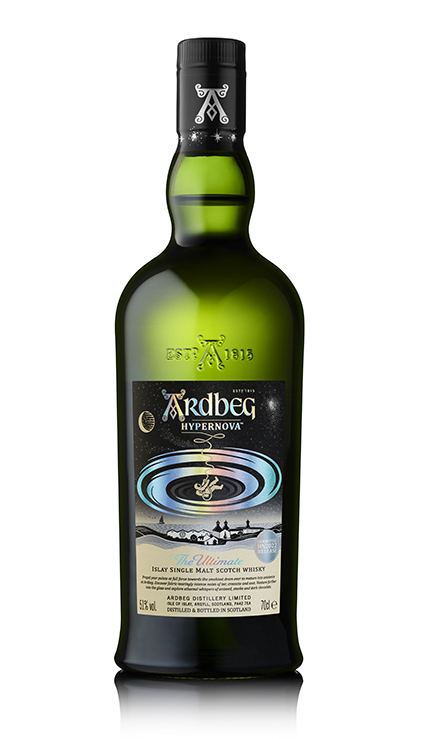 GM: We burned more peat in the barley kilning process, and for longer – the most we've ever experimented with at Ardbeg. The result is a seriously intense, surreal, and even cosmic sensory experience – on the nose, pungent notes of creosote mingle with soot and tar. On the palate, a bold peppery mouthfeel leads into a most curious juxtaposition of flavours – sweet chocolate, cooling peppermint, peat smoke, bitter almonds, and then a hugely long, lingering burst of spices like aniseed and clove. The finish collapses in on itself with enormous, heavy smoke, before returning to earthy notes of roasted coffee and smoked heather.
Spirited: Can you tell us anything about the aging process?
GM: There is no specific age statement for Ardbeg Hypernova – the ambition with this release was to create an ultimate smoke bomb for Ardbeg and we didn't want age metrics to constrain us. Hypernova was closely monitored and guided towards its full, peaty potential during maturation in American oak casks, before being bottled at 51% abv.
Spirited: Being a brand already known for producing a number of smoky whiskies, why go smokier?
GM: Following the success of the Ardbeg Supernova release, we knew our dedicated committee were hungry for even more smoke, and that's what we gave them with Hypernova. But beyond that, Ardbeg is limitless in its flavour potential, and we were extremely curious and excited how far we could go.
Spirited: Do you anticipate an even smokier release anytime in the near future?
GM: A hypernova is a solar explosion in space – even more powerful than a supernova explosion. Could we venture even further into a new smoky dimension? Who knows what the Ardbeg universe holds!
Spirited: As a brand, Ardbeg continuously pushes the boundaries. How do you keep innovating when it takes years/decades to produce many of your products?
GM: We're a very experimental team and are constantly nosing, tasting and analysing our process, spirit and cask inventory, as well as thinking up new avenues to explore when it comes to the flavour and character of our whiskies. Ardbeg distillery has existed for 200 years, and we intend to help keep it here for 200 more by constantly experimenting and producing flavour that whisky lovers, old and new, will love.