Astral Tequila has added two new offerings to its portfolio, Reposado and Añejo. The new expressions round out the brand's super-premium collection.
Aged for five months, Astral Tequila Reposado is subtly sweet and offers notes of agave, caramel and oak. The brand recommends trying the spirit in a cocktail including their signature Sun Beam Fizz.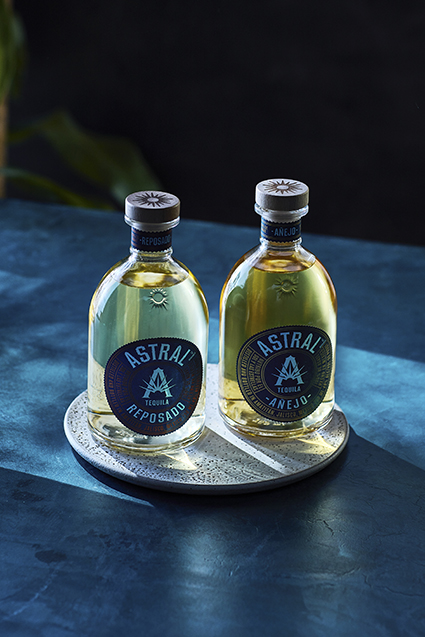 Sun Beam Fizz
1.5 oz Astral Tequila Reposado
3 oz Lemonade
1 oz Red Ruby Grapefruit Juice
Top with Club Soda
Garnish: Grapefruit Wedge with Chili Lime Seasoning

Add all ingredients to an ice-filled highball glass and stir. Top with club soda and garnish with a grapefruit wedge and chili lime seasoning.
Astral Tequila Añejo is aged for twelve months and delivers notes of vanilla, oak, and butterscotch. The brand recommends enjoying it neat, on the rocks, or as the main spirit to provide a twist on an Old Fashioned.
Astral Old Fashioned
1.5 oz Astral Tequila Añejo
1 Barspoon of Agave Nectar
2 Dashes of Chocolate Bitters
Garnish: Grated Chocolate and Orange Twist

Add all ingredients into an ice-filled mixing glass. Stir for 10 to 12 seconds. Strain into an ice-filled rocks glass and garnish with grated chocolate and an orange twist.
"We're thrilled to announce the addition of Astral Tequila Reposado and Añejo to our portfolio, providing more ways to brighten cocktails while honoring our traditional distilling process to create quality, smoother tasting tequilas," said Christina Choi, Senior Vice President of Tequila, Diageo North America. "These new variants also support our mission to uplift communities in Jalisco, Mexico by creating more bricks through our sustainability initiative, the Adobe Brick Project."
Distilled in Jalisco, Mexico, the new iterations are aged in single-use American Oak bourbon barrels and follow the brand's traditional production processes, featuring a milling process using the tahona.
Astral Tequila Reposado and Añejo is currently in available in CA, FL, TX, IL, NY, SC, MI, OH, and VA wherever spirits are sold as well as online at retailers such as Drizly and ReserveBar for $27.99 and $34.99 respectively. For more information, visit the brand's official website.
Last year, Diageo North America teamed up with astrologer Aliza Kelly to launch Astral Tequila.