Bourbon is a space for purists. Still to this day, cask finishing remains heresy to traditionalists. So how does a brand win the respect of such an inveterate bunch? Just ask Paul Tuell, president and founder of Ballotin Chocolate Whiskey, who has managed to turn these dyed-in-the-wool whiskey conservatives into passionate supporters.
We sat down with Tuell to learn about his history with whiskey, how he built a brand in such a hardened space, and find out what goes into the making of every bottle of Ballotin Chocolate Whiskey.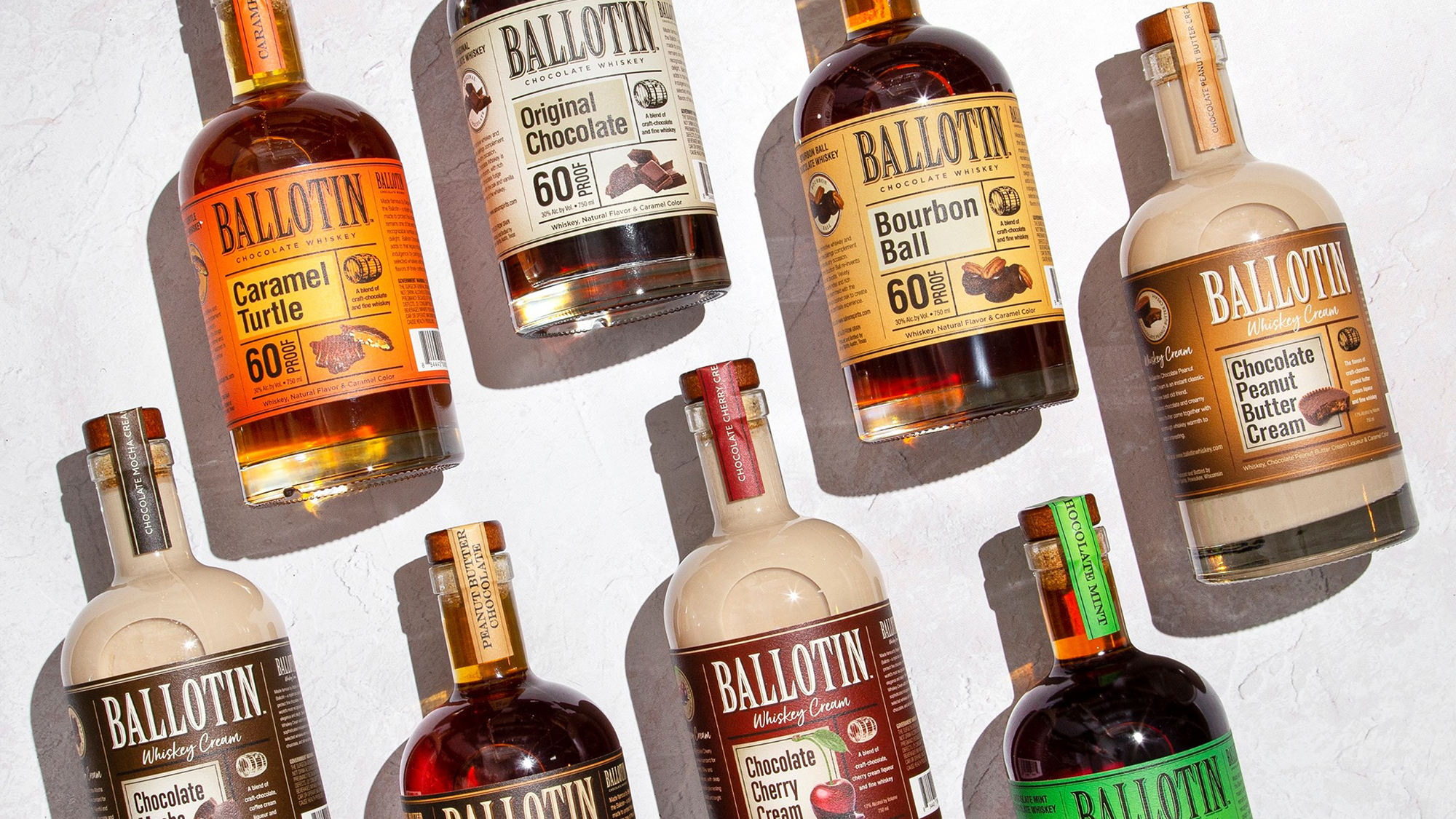 Spirited: How did you get here and why Ballotin?
Paul Tuell: Prior to creating Ballotin Chocolate Whiskey, I spent my career with Brown-Forman – the house that Jack built! (not to mention Old Forester and Woodford Reserve). So, I am an avowed Bourbon geek myself. Having said that, I led Southern Comfort and Finlandia Vodka for several years, so even at B-F, I was a "flavor guy". When we started the creative process on Ballotin, I knew we needed to go right at authentic product credibility: barrel-aged whiskey, all natural flavors, and a premium brand look and feel that would convey the confidence we had in Ballotin. Given our specific provenance – Louisville, KY – we needed "bourbon on the rocks" aficionados to be comfortable trying Ballotin (they were) and proud to have it on their whiskey bars at home (they were). We also aspired for Ballotin to be accessible to consumers who weren't yet participating in the bourbon and whiskey space. We walked a bit of a tightrope, earning, sometimes grudgingly, credibility with many bourbon purists while at the same time empowering exploration and "democratization" of the category with the many new bourbon-curious folks who were looking for their own way to experience the category.
We launched Ballotin in 2016, and have since grown our distribution to over 40 states.
Spirited: What's the story behind Ballotin Chocolate Whiskey?
PT: Ballotin Chocolate Whiskey was created to bring elegant, delicious, approachable sipping whiskeys to flavor-craving consumers. We started with the lovely, complex, fulsome flavor-spectrum that bourbon conveys, then we turned up the dial on a few of those specific flavor components we thought would best complement the whiskey-spice and charred-oak notes that our whiskey brings to the union. Always with chocolate, a true love of mine, and our secret sauce, in the forefront of our explorations. All the Ballotin expressions are a beautiful balance of whiskey and flavor and are the embodiment of our "drink what you love" ethos. At the core of it, my wife, Lisa, and I set out to craft something that we wanted to drink, something that we loved, and hoped other folks would love it, too.
Spirited: Where does the whiskey come from? And how about the chocolate? (Ingredients: What's inside each bottle)?
PT: Our goal going in was to create in Ballotin a brand that was both aspirational AND accessible. That required a very mindful approach to sourcing high quality and high value ingredients. We are really proud of – and protective of – the quality of Ballotin. That goes directly to the quality of our ingredients. Our 3-year-old, barrel aged whiskey has a high corn mash bill that complements the flavors beautifully. The base whiskey has a Canadian or Irish Whiskey profile, and (due to aging in used barrels), purposefully lacks the spikey oak and char notes of bourbons aged in new, charred barrels. Our all-natural flavor components and ingredients come from Flavorman, in Louisville, KY. Flavorman has crafted singular, proprietary flavor "recipes" for each of our whiskey and whiskey cream expressions. These recipes bring cocoa solids, nut & mint oils, vanilla extracts, etc. to the flavor party. As we say, Tasting is Believing!
Our Whiskey Creams benefit from the same fine whiskey and flavor components, with the addition of real dairy cream. The Whiskey Creams are silky, luxurious expressions that deliver a balanced and fulsome flavor experience.
Spirited: Let's talk process. Yeast, fermentation, stills, distillation, etc. How do we go from ingredients to liquid? Aging? Barrels, casks, pipes… steel vats? How long?
PT: As someone who has been in the spirits industry for 30 years, it's really exciting to see the growth of fandom and enthusiasts in the space. Whether it's bourbon tourism and distillery visits, or a growing interest in sipping tequilas, consumers are just flooding into the various categories and passionately exploring all that innovation in our industry is delivering. Ballotin Chocolate Whiskey's secret sauce is less about the "geekier" (said with true and abiding affection) aspects of process, and more about the pure enjoyment of the brand.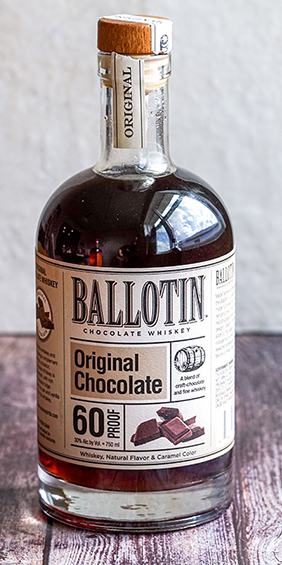 Spirited: On the nose, what are we looking for?
PT: So just on the face of it, you must admit it's hard to think of a better pairing than whiskey and chocolate, right? But it wasn't as much about combining as it was about enhancing what was already there. Bourbons and whiskeys are chocked-full of this beautiful, varied spectrum of flavors. Some are forward and prevalent, especially in bourbons – the oak, grain, and char, for instance. Other flavors are subtle and illusive; unexpected even – floral notes, fruit tones, spicy aromatics. Ballotin was created by bringing some of these more subtle bourbon flavors that everyone loves; the chocolates, nuts, caramels, mints, and vanillas, into greater prominence and balance with the complementary flavors of traditional whiskeys.
One of the things that was most important to us as we developed the Ballotin expressions was that they delivered on the promise we were offering to consumers. That is, most folks will come to the brand with some sense of what they expect "Caramel Turtle", for instance, to smell and taste like (pecan, dark brown sugar, caramel, milk chocolate). We feel like that is a brand strength…Ballotin delivers on that expectation. For each flavor, the nose starts at the essence of that expectation.
Let's talk though the Original Chocolate, as an example. As you nose that flavor, you will get rich, fudgy chocolate notes, along with chocolate's close cousin, vanilla tones. In comes a bit of spice – subtle roasted cinnamon from the chocolate, and classic, understated char and whiskey-spice from the whiskey. There is a pleasant richness and warmth that encourages a little more exploration. Nothing left to do but taste!
Spirited: How about once it hits the palate and through the finish?
PT: We say Ballotin is a perfect intersection of whiskey and flavor. It has the whiskey structure to appeal to avowed Bourbon enthusiasts but is easily approachable to anyone who is new to the category.
The flavor comes first. Again, sticking with the Original Chocolate as our example, you'll first get those lush, fudgy, brownie batter flavors of chocolate. The mouth feel is pleasantly silky and round. Then comes that beautiful whiskey warmth, with classic oak and spice notes balancing and complementing the flavor notes on the palate. At 60 proof, there is a wonderful balance of "warm not hot" essence to each sip.
The overall result is a wonderful, approachable, drinkable whiskey that tastes like a bourbon expression of your very favorite chocolate indulgences. Ballotin Chocolate Whiskey's strength is its great taste.
Spirited: What haven't you told us that we should know?
PT: There is also a little history, and of course, Chocolate, in the name "Ballotin".
In 1915, the wife of a Belgian Chocolatier invented a box that could be used to present and sell her husband's fine chocolate creations. She named that now-familiar compartmentalized chocolate box a "Ballotin" which was based on the French word, ballot, which means "a small package." Still today, over 100 years on, that chocolate box, the "Ballotin", remains a symbol of sophistication, indulgence, and love. We are continuing that tradition Ballotin Chocolate Whiskey.
Spirited: When is the ideal time to enjoy Ballotin Chocolate Whiskey?
PT: The time is now! Every time I do an event or tasting, I see consumers being blown-away when they taste Ballotin. They'll say, "these will be great for the Holidays!" They're right! All the Ballotin expressions set-up beautifully for fall and winter. The flavor ranges can be really warm and cozy and inviting, especially given the chocolate character running throughout the line-up.
All of that brings built-in approachability and "familiarity" to Ballotin cocktails. There are a lot of consumers that come into the broader consumption category this time of year – celebrations and Holiday parties – who are looking for a fun and festive party cocktails. I think one of the most important things about Holiday menus is that they be inclusive and can accommodate a wide variety of consumers with variable drinking tastes and experience. Whether your guest is a "bourbon on the rocks" type, or someone who only has a couple cocktails a year during the Holidays, Ballotin fits nicely into either comfort zone.
Our range of expressions across the brand offering, including the whiskeys and the whiskey creams, accommodate so many different recipes and styles. Anyone can find Ballotin cocktails they love. Consumers and the trade can find great Ballotin recipes on our website @ballotinwhiskey.com
For more information, head over to the brand's official website.