Bar CDMX is bringing Mexico City-inspired nightlife to Downtown Los Angeles. Created by the Pouring With Heart hospitality group (All Season Brewing Co, Arts District Brewing Co.,The Normandie Club, the list goes on), the new opening celebrates the music, art, and subculture of Ciudad de México in a somewhat secret basement bar.
Located below Seven Grand in DTLA (another Pouring With Heart concept), red lettering on a neon sign reads, "Bar CDMX" and a glowing pair of broken spectacles allude to the bar's mantra, "What you can't see can't hurt you," encouraging passersby to check out the space below.
Inspired by the team's personal experiences living and traveling through Latin America, Bar CDMX is a project years in the making that aims to echo the iconic Mexico City nightlife. Having grown up in Oaxaca and spending time throughout his life in Mexico City himself, Lead Bartender Dante Chavez looks to bring an authentic taste of CDMX to Los Angeles. General Manager Travis Baetz recalls, "While visiting Mexico City during Tales of the Cocktail, we spent evenings exploring the popular watering holes. Whether sipping concoctions with still burning cinnamon sticks at Xaman Bar or enjoying way too much Mezcal at my personal favorite, El Palenquito, we were met with such a rich warmth of welcoming that was so refreshing to experience. It's that same warmth and electrifying energy that we want to bring home to Los Angeles to help spread the culture and beauty that is CDMX."
Inspired by the freshness of ingredients found in Mexico City, the cocktail menu is bright and fruit forward with a focus on rum and agave based spirits, as well as whiskeys typically found in Mexico. The cocktail menu was curated with assistance from folks at Las Perlas and Caña, both both run by Pouring With Heart. With fresh ingredients and house-made juices throughout, menu highlights include Draft Cocktails like a Mezcal Paloma and Tropic Thunder, with Blackpool spiced rum, .5 orgeat, pineapple, lemon and ginger; and 'Clasicos' like a Mango Mezcal Margarita, with Los Vecinos mezcal, mango, lime and agave; and Carajillo, with Liquor 43 and cold brew coffee; Pineapple Caipirinha; and more. Caribbean and Latin beers will be served in addition to beers sourced from Pouring With Heart's locally owned breweries. Bar CDMX will also offer daily happy hour from 3-8pm with $2 off cocktails and beer.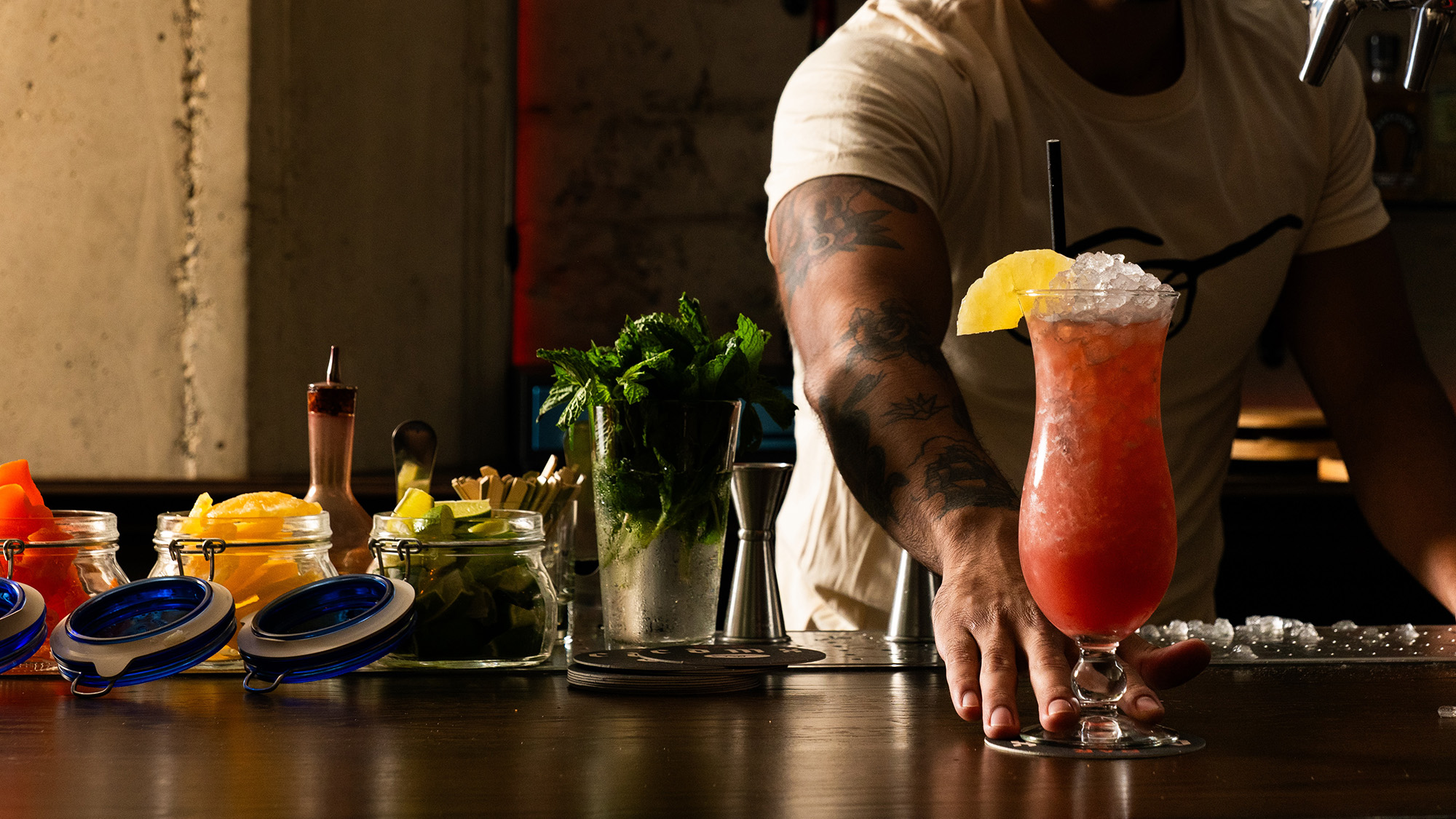 Designed by Jared Meisler (Roger Room, Bar Lubitsch, The Little Friend) Bar CDMX draws from the architecture of the city capitol, carrying all of the visual cues of Mexico City. "We wanted to create the feeling of finding a bar hiding, tucked away in Mexico City," explains Meisler, "Bar CDMX is in the basement of a 100 year old building, inheriting beautiful elements." Throughout the 3,090 square foot space, the concrete walls and columns have the type of patina that can only be achieved over 100 years, accented by art prints by Mexico based graffiti artist, Beo Hake. As a dark bar with earthy elements, simple wood booths and stools contrast with ornate Victorian woodwork, reflecting the story of Mexico and the influence of its independence.
Guests can expanded to find a surprisingly lush space equipped with a pool table as well as Spanish language versions of classic arcade games (think Ms. Pacman, Gauntlet, Donkey Kong and the like).
Bar CDMX is located at 515 W 7th Street, Los Angeles, CA 90005. The bar will soft open on August 25th with a grand opening on Thursday, August 31, afterwhich it will be open every day from 3pm to 2am. For more information, head over to the bar's official website.