For over six years, Woodford Reserve Master Distiller Chris Morris has pushed the boundaries of Whiskey creation with his Distillery Series. To celebrate 2020's Bourbon History Month, he unveiled the latest addition to the iconic Versailles, Kentucky-located distillery's limited edition collection: Four Grain Whiskey.
Bottled at 45.2% ABV, Woodford Reserve Four Grain is a blend of Woodford's four core Whiskeys — Woodford Bourbon, Woodford Rye Whiskey, Woodford Malt Whiskey, and Woodford Wheat Whiskey. The result is a unique spirit that features hints of graham cracker, caramel, baking spices, cedar, and clove.
We sat down with Morris to discuss the latest Whiskey in the Distillery Series and to learn about the creative process that goes into these unique creations.
SZ: You've been working on the Distillery Series since 2015. Back when you released the first expression in the range, did you imagine it would be going on six years later?
Chris Morris: When you create a "Series" you are making a commitment to a long term production proposition. Therefore a lot of planning, production and the resulting barrel inventory is required. We are planning on the Series releases four years out. That means that some products are laid down 6 and 7 years ahead of any potential release. These are such small productions that they have only one possible outlet – and that is the Distillery Series. So I guess this is a long-winded answer of "yes, I imagined it would continue on."
SZ: Now that it's 2020, do you still find the ideas for new directions to come easy?
CM: Yes. We have such a backlog of experiments and prototypes stored that we wouldn't need any new ideas for years to come if we were to just make them. Then along comes a new idea and you can't help but to put it into development.
SZ: Woodford is a successful brand. What motivates you to continue to push the envelope of Whisky creation?
CM: Innovation is fun! And innovation is at the core of Woodford Reserve. From our industry changing package design, creation of the Bourbon Flavor Wheel and philosophy of flavor development we have inspired the industry to evolve as the consumer has. Plus I don't believe that you can ever know it all, there is always something new to learn.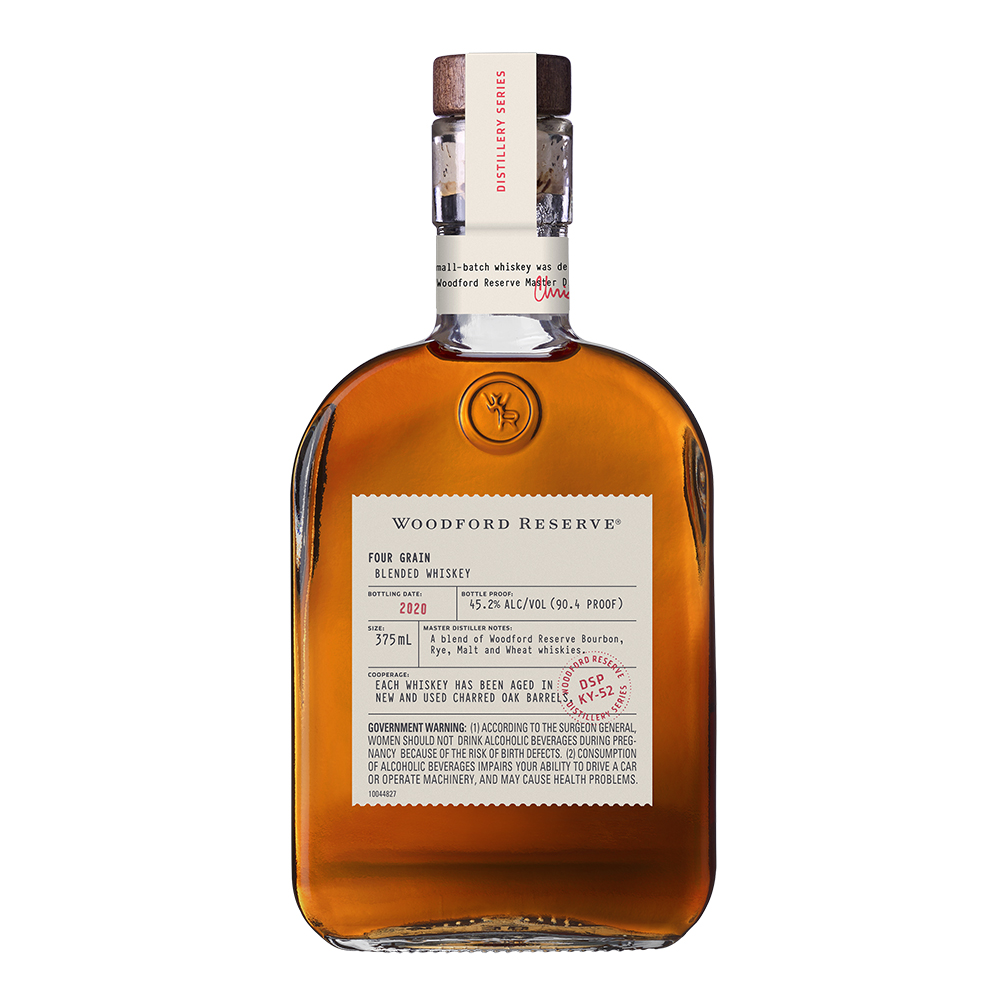 SZ: Could you describe your creative process when you begin to put together the plans for a new Distillery Series bottling?
CM: Our process is very disciplined as the resulting products must fit into our flavor focused philosophy. That philosophy is driven by the Woodford Reserve Flavor Wheel and our Fives Sources of Flavor concept. Therefore the Distillery Series expressions must fit into one of three production focuses, a grain recipe change, a maturation process change or a batching innovation. Having clear parameters to work with helps channel your creative thinking.
SZ: The newest edition Woodford Reserve Four Grain finds you blending all four Whiskeys that are part of Woodford's core range. Where did the idea come from to blend them all together? Was there a 'lightbulb' moment when the idea flashed into your head?
CM: A few years ago we gathered together an international team and had a 2 day "Blend Fest". The team was made up of Brown-Forman colleagues from our distilleries in Ireland, Scotland, Tennessee and of course Kentucky. It was a lot of fun. Each distillery contributed its full range of expressions. These we blended together in various combinations just to explore the flavor results. We did not worry about product descriptors, standards of identity, etc, because that would have stifled creativity. This exercise really opened my eyes to possibilities of batching Woodford Reserve's various expressions together. Since we are a proprietary distillery, neither buying from nor selling whisky to any other company the whiskies we batch must be of our own production. Thus we had to wait for a time when our stable of four Straight Whiskies was fully mature and ready for batching together.
SZ: Bourbon, Rye, Malt, Wheat, they all have such distinct flavor profiles. How did you go about working with them to find the perfect balance? Was one of the Whiskeys particularly difficult to fit into the blend or did it all just unfold naturally?
CM: While each of our Distiller Select range whiskies has a distinct flavor presentation they each exhibit the Woodford Reserve "house style". This is due to the fact that with the exception of their grain recipes all of the other production flavor sources are the same. We ferment with the unique Woodford Reserve yeast strain, utilize our triple distillation process and mature in the custom crafted Woodford Reserve barrel. To create the right ratio of the four to create the best flavor profile just takes patience – and lots of tasting!
SZ: Take us through the blending process. What is it like on a day to day level trying to turn your idea into an actual product?
CM: In the case of Four Grain we began with samples of the four whiskies and began to batch them together is varying amounts. Each batch's percentage was noted and the sample retained for comparison to others. Once we had the winning flavor profile all we needed to do was to scale up the volume.
SZ: You obviously put a lot of time into these Whiskies and that could easily lead to endless tinkering. How do you know when to step away and know that the Whiskey is actually perfect where it is?
CM: This is where experience comes into play. I first served on a taste or sensory panel at the Old Forester Distillery 44 years ago. Over these many years I have learned that the "grass is always greener on the other side" is a true statement. Once you have something that tastes great – "stop!". Could it be better? Maybe, maybe not – so if you like what you have then go with it.
SZ: When it comes to process, how was the creation of Four Grain different from previous releases?
CM: Processes shouldn't change. So we followed the same process that we used to create last year's Three Grain. We just added another factor, Straight Wheat, into the batching equation.
SZ: How should we be drinking the Whiskey and what should we be enjoying with it?
CM: I believe that both the Distillery Series and Masters Collections should be enjoyed neat.
SZ: Can you give us any insight into your ideas for the next Distillery Select bottling?
CM: All I can say is that there will continue to be new grain recipes, new batches (blends) and of course new wood maturation and finishing options to enjoy.