Just three months after releasing their Designed by Aston Martin Series, Bowmore and the British carmaker have unveiled the second release in its Masters' Selection series, a 22-year-old single malt. The auto brand and whisky brand launched the first bottling in the range last November.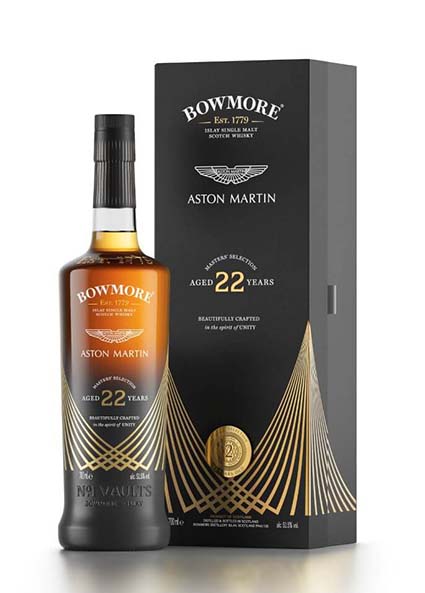 The second Bowmore x Aston Martin whisky, known as Bowmore Masters' Selection Edition 2, captures "syncronized creativity" by bringing together Scotch matured in American oak hogsheads and Sherry butts. The whiskies were distilled in 1997 and 2000 respectively.
The whisky offers aromas of honey, peach, and apricot, followed by flavors of tobacco and clove.
"We talk about shared synergies between the contrasting worlds of Bowmore and Aston Martin and this is what truly defines the relationship Marek Reichman, chief creative officer at Aston Martin, and I have formed," said Ron Welsh, master blender at Bowmore. "We have relished in the opportunity to share experiences, ideas and thoughts from each other's world's, listening and learning from the inherent skill, knowledge and creativity we both possess. In collaborating as guardians of our respective legacies, we recognise the honour bestowed upon us."
Bowmore Masters' Selection Edition 2 is available in a variety of global markets, including the UK, Germany, Canada, the US, and China, for £390 ($450 USD). For more information, head over to the whisky brand's official website.
It's been almost two years since Bowmore and Aston Martin launched their first collaborative whisky, the $66,000 Black Bowmore DB5 1964. In June, the duo released the Bowmore ARC-52 for a somewhat staggering $75,000.