Bowmore has teamed up with pianist, singer, and composer Hania Raniadded to add 29-year-old and 33-year-old whiskies to its Timeless Series. Earlier this year, the Polish musician released a piece of music "The Boat" after spending time on Islay with the distillery.
"Nature is central to my inspiration and being on Islay really amplified my own sense of natural connection," said Rani. "There is something about Bowmore because it comes from Islay, rooted in the land shaped by nature, which perfectly represents The Boat. Listening to the song, you are transported to another place as you forget about the passage of time and become immersed in the moment."
Bottled at a cask strength of 53.7% ABV, the limited-edition Bowmore Timeless 29 Year Old was created from a combination of Sherry-seasoned European oak casks and ex-Bourbon American oak barrels filled in 1991 and 1992. Rich and layered, its flavor profile features Sherry-soaked raisins, cocoa, bitter orange, cherry blossom, and liquorice alongside notes of peat and sea salt.
Bottled at 45.5% ABV, the limited-edition Bowmore Timeless 33 Year Old was made from whiskies aged in ex-Bourbon American oak barrels, Matusalem Sherry-seasoned European oak butts, and second-fill European oak Oloroso Sherry butts. The nose delivers notes of sweet honey and jasmine, leading to flavors of menthol and eucalyptus, leading to ripe orchard fruits and peat smoke.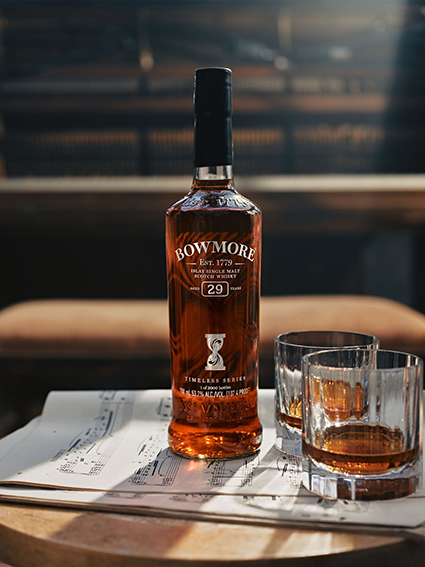 "We are pleased to introduce two very special and rare single malts as part of Bowmore Timeless Series, which we believe capture the essence of time beautifully and showcase how special aged Bowmore truly is," said said master blender Calum Fraser. "We purposefully strive for more character by harnessing the optimal conditions and protecting the precise processes used to ensure that we bring bold flavours to the front. Both the 29-year-old and 33-year-old are testament to the fact that our spirit ages like no other and keeps delivering breadth and depth of flavour as it matures."
Each bottle comes in an hourglassed-shaped black box. Inside, next to the bill, sits an hourglass, which measures the recommended three minutes to enjoy the nose.
Just 3,000 bottles of each whisky will be made available worldwide beginning in October. Bowmore Timeless 29 Year Old will retail at $1,800 USD, while the 33 Year Old is priced at $2,800 USD. For more information, head over to the brand's official website.
Last October, just three months after releasing their Designed by Aston Martin Series, Bowmore and the British carmaker unveiled the second release in its Masters' Selection series, a 22-year-old single malt.
Back in 2021, Bowmore added 31 Year Old and 27 Year Old Whiskies to its Bowmore Timeless Series. The new offering from the Islay distillery will be a Global Travel Retail exclusive.