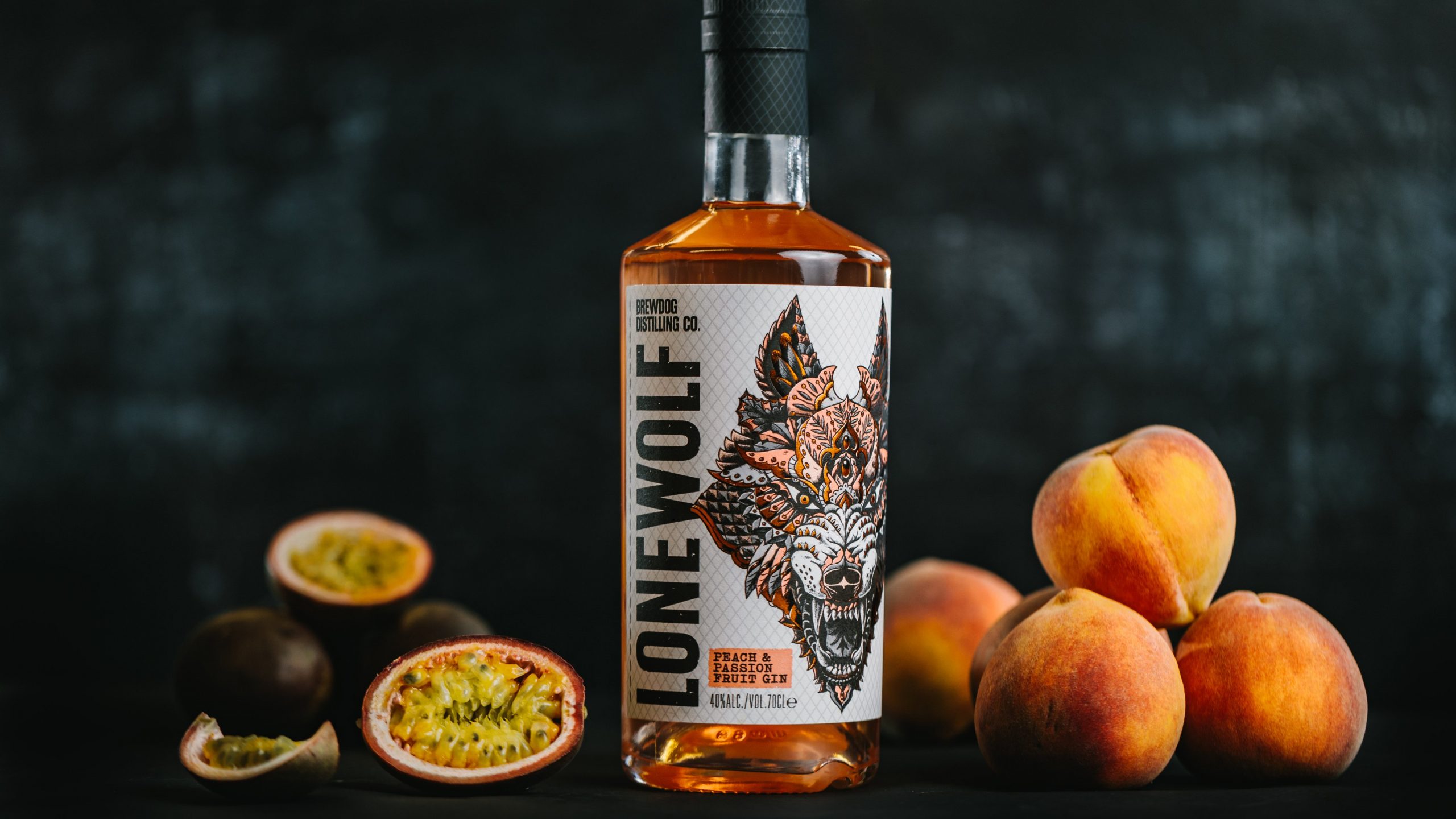 Brewdog Distilling has released Lonewolf Peach and Passionfruit Gin. The new 'tropical' addition to the Scottish brand's spirits range follows last year's cactus and lime-flavored gin.
Lonewolf Peach and Passionfruit gin uses a wide variety of botanicals, including Scots pine, Tuscan juniper, grapefruit and lemon peel, pink peppercorn, orris and angelica root, mace, yuzu, kaffir lime, almonds, coriander, lavender, cardamom, passion fruit, and white peach.
The distillery recommends serving the gin mixed with tonic water, over ice, and garnished with a slice of peach. Flavour wise, it offers "mouth-watering tropical notes" along with a "juniper bite."
Steven Kersley, head distiller at Brewdog Distilling Co, said: "Launching a peach and passion fruit gin might seem a bit of a curve ball for Lonewolf as this flavour combination takes our classic London Dry in a whole new direction.
"It came about from the success of our Lonewolf 12 Gins of Christmas advent calendar, which included a white peach gin.
"Feedback on the peach was really positive so we decided to play around with complementary flavours, finding that passion fruit added bold tropical notes and yuzu really dialled up the citrus bite alongside grapefruit and lemon peel. These all sit alongside the synonymous juniper notes of Lonewolf gin.
"The result is a serious summer crowd pleaser, best served with tonic and a slice of fresh peach. Once our Brewdog bars reopen soon we're seeing this one being a big hit."
Bottled at 40% ABV, Lonewolf Peach and Passionfruit gin is priced at £25 ($34 USD) per 700ml bottle, and is available to purchase online at brewdog.com.
Last year, BrewDog took the whole golden ticket thing to a new level by putting £15,000 ($20,260 USD) 24K gold beer cans into its 12-, 24- and 48-can bundles. The Scottish brewery placed 10 of the cans in random bundles of its Punk IPA shipped from its online stores. They also came with £10,000 in company stock (about $13,500) as well as a VIP tour of the brewing facility.