The rooftop bar at Downtown Los Angeles' Proper Hotel provides all-day drinking to visitors and locals looking to escape from everyday life below. Cara Cara offers a proper bar, a patio with beautiful views, and a pool, alongside Iberian-California cuisine and a strong cocktail menu that puts playful twists on classics.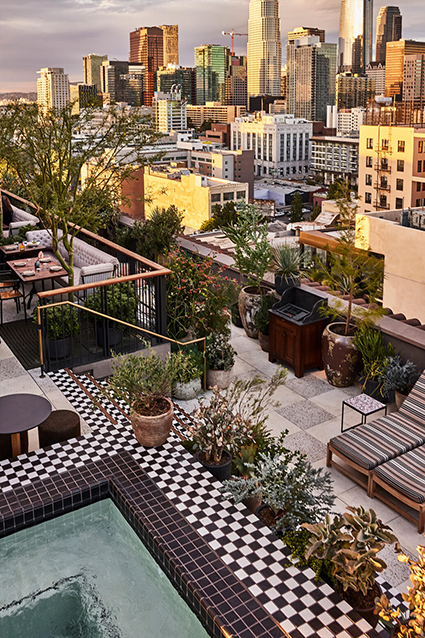 Price:
$$$
What's the crowd like?
Fashionable. As one of DTLA's many newer hotels, The Proper distinguishes itself by adding a sense of ease and electricity to its Mediterranean-esque luxury.
What am I drinking?
During the day, we usually stick towards wine, something on a lighter side: bubbly, white, or rose. Come night, dive head first into the cocktail menu. The One Night in Tulum, Three Rum Daiquiri, and Reposado & Relaxation are all excellent choices.
Is there anything to eat?
Yes. Iberian-California cuisine keeps the stomach full without weighing you down. The kitchen closes one hour before the bar.
When should I get here?
Late night or day time. This rooftop bar stays open till midnight on Fridays and Saturdays and until 11pm on Sunday through Thursday, which makes it a great spot to grab drinks and chat late into the night. Otherwise, the lunch scene is packed with LA-type meetings that can be as cringeworthy as they are worth overhearing.
Why am I here?
For the mood and the views. While DTLA is not short of rooftop bars, Cara Cara manages to make luxury feel easy, an art most other venues are still struggling with.