LVMH just opened a pop-up rum bar and restaurant in the heart of Paris, Casa Eminente. Named after the company's luxury rum brand, the casa acts as an art space, bar, and restaurant, and celebrates Cuban culture.
Inspired by Paladares–restaurants and bars in family homes typical to Cuba–Casa Eminente welcomes guests for a variety of cultural and gastronomic experiences. From antique furniture to the colors of the walls and luxuriant vegetation, the details recreate the atmosphere of the Isla del Cocodrilo. Amidst works by Cuban artists selected by curator and Havana native Laura Salas Redondo, visitors discover the culture of the island in every form as they meander through the rooms to the restaurant.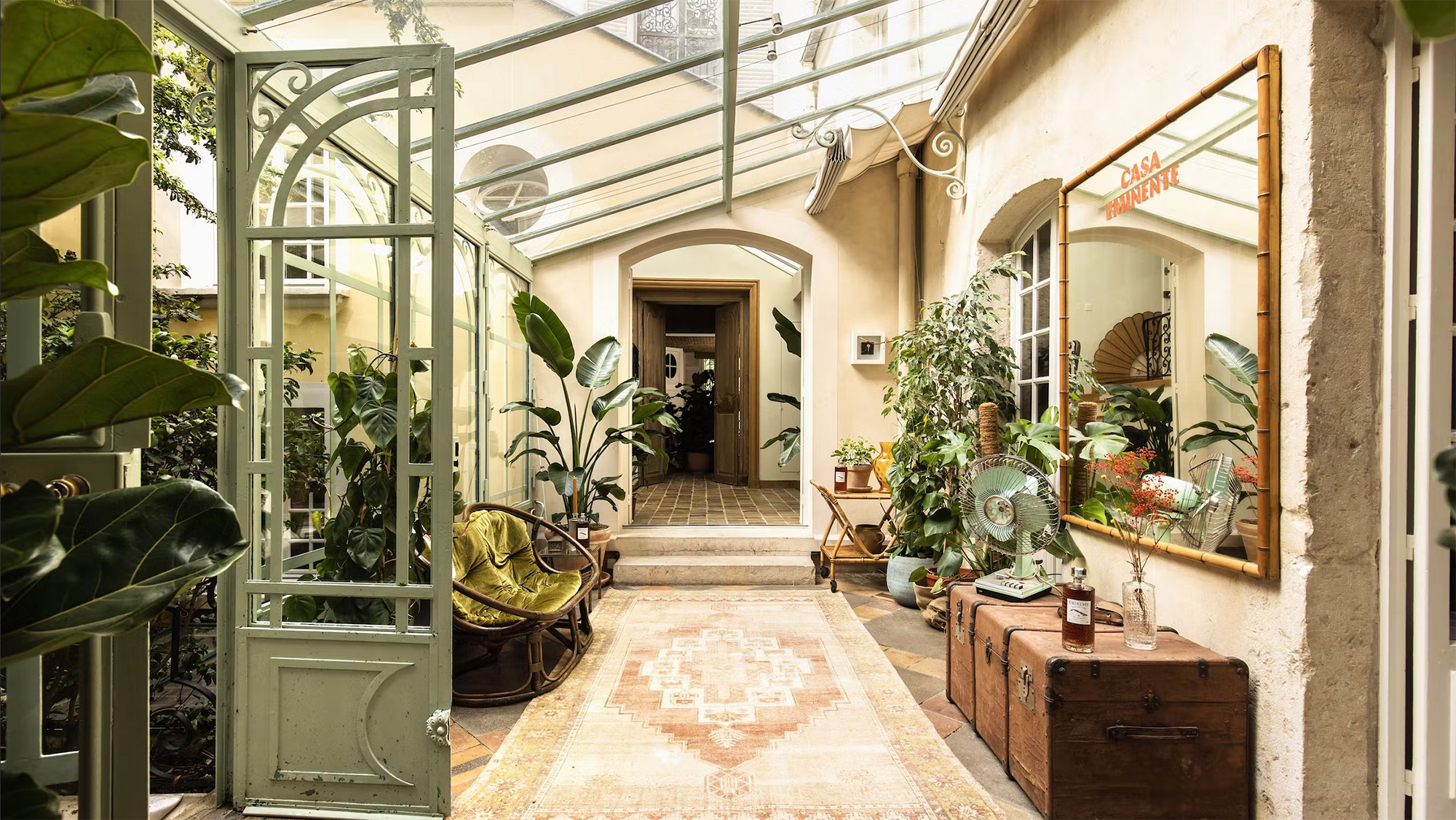 At the heart of Casa Eminente is a wood, glass and marble bar, behind which a different mixologist will propose new creations each month. These innovative talents will imagine three new cocktails for the menu during their stay. In February, Monica Berg and Alex Kratena, cofounders of Tayēr + Elementary, will unveil cocktails inspired by the scents of Havana. The menu includes Pomelo Daïquiri, a clarified daiquiri revisited with grapefruit juice, and the Eminente Canchánchara, a three-stage Cuban classic with honey, lime and Eminente rum, plus a twist of coffee.
Gastronomy will be a key part of the experience as well. Three chefs will take turns proposing their takes on the best of Cuban cuisine. Julien Sebbag, a Jeune Talent Gault & Millau winner recognized for his eco-engagement, will be first to showcase his culinary creativity, including pan-fried shrimp with cashew and miso sauce, red pepper and Cuban coffee crumble. Coffee holds a special place on the agenda, pairing perfectly with Eminente Reserva rum for the El Cafecito Eminente tasting ritual. A nod to the Cuban Carajillo tradition, a few drops of rum are added to a cup of coffee.
During the weekend, Casa Eminente – located at 6 impasse Guéménée in Paris' 4th arrondissement – will host master classes on Cuban rum and cocktail making in partnership with Les Raffineurs.
For more information, the schedule of events and reservations, head over to the official website.