In one decade, Mezcal Amaras grew from an idea to one of the most recognizable names in agave spirits. While the meteoric rise of mezcal across the globe has been nothing short of astonishing, Amaras' impact is most visible in the spirit's home nation. Take a walk around Mexico City and one name keeps appearing at almost every mezcaleria, Amaras.
To celebrate Mezcal Amaras' tenth anniversary, we chatted with Chairman & Co Founder Santiago Suarez about his beginnings in the spirits world, how Mezcal Amaras was born, and what the future might hold for a brand that's just begun to taste global success.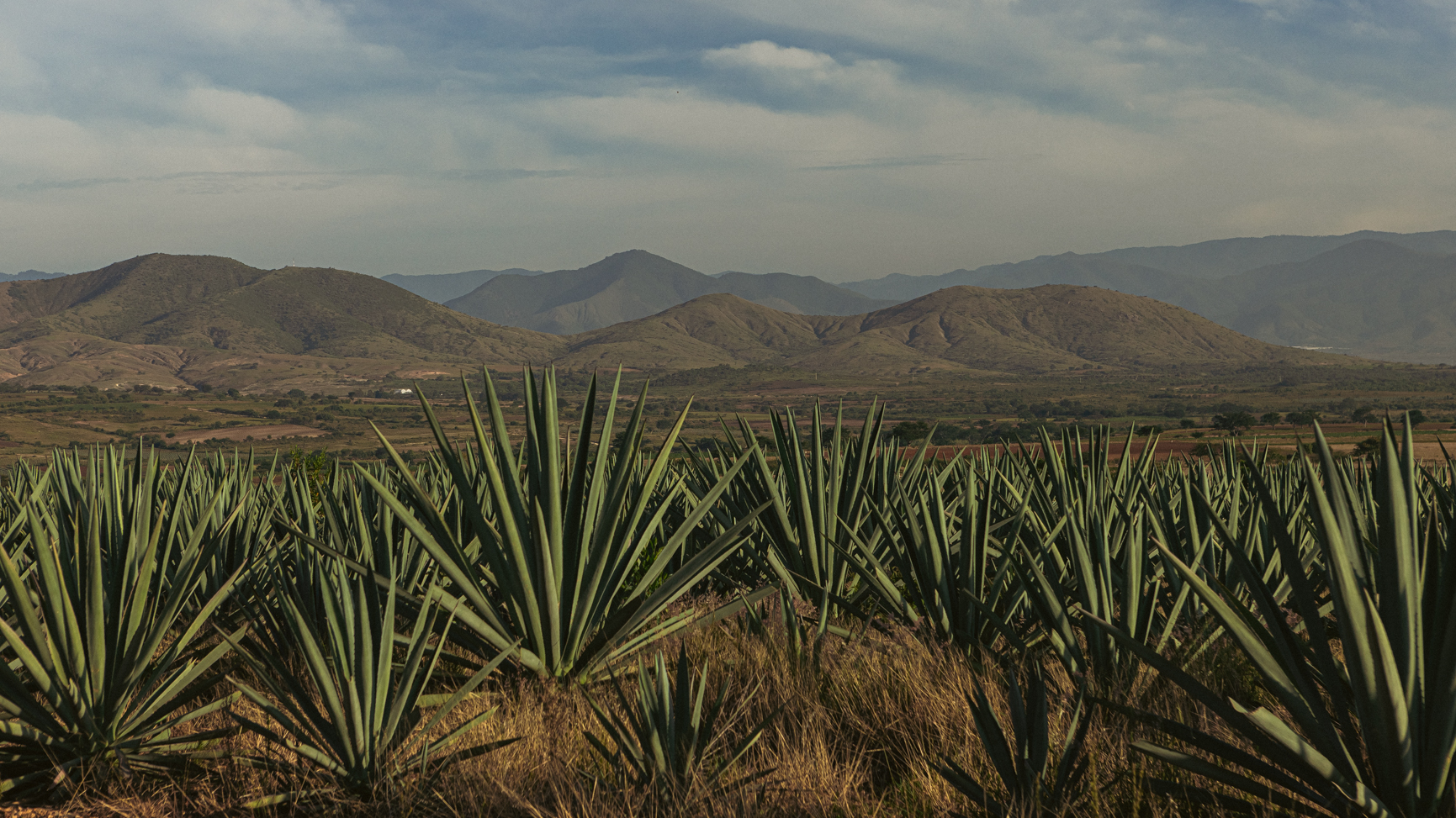 Just to start, where were you born and what were you doing before you founded Mezcal Amaras?
I was born in Mexico City, my parents are from Mexico City, I am from Veracruz. I was studying manufacturing engineering prior to founding Mezcal Amaras and was able to go and work for an NGO in the summer for 400 hours. It was an NGO that was dedicated to supporting children in developing countries. Helping with terms of nutrition, health and education. I helped them structure the whole organization.
So you aren't from Oaxaca. What brought you to Oaxaca and into the world of mezcal?
When I was living in the city of Oaxaca I was also going to bars and mezcal wasn't as big as it is today. It was more like a kind of a base drink that you'd have in a restaurant. There was less of an understanding about the different agaves. There were just a couple of mezcalerías at the time, and maybe only one that really understood the different agaves and varieties.
There's so much to learn about mezcal. How did you begin the process of learning about this vast and varied spirit?
I started learning the different agaves by going to mezcaleríasria and fortunately, I understood that tequila is one species and mezcal is more than 22 species of agave. That was very important for me and I saw a massive opportunity that unified all the different ideas that I had in terms of how to work with the mezcal community, how to create a new product, and to start elevating and repositioning mezcal. I also saw an opportunity for a fair trade business and a sustainable business. I started going a lot to Oaxaca and visiting a lot of the different distilleries, and I was very obsessed by it. I went with 40-50 different maestros mezcaleros until I found the first one that I started working with. He was one of my main teachers. Because my background was manufacturing engineering I was very interested in understanding how the mezcal was done, including the time the agave needed to grow, I was obsessed with the facts of operations, the farming. That's why It has been a key ingredient for the quality of the mezcal and everything we do.
You eventually decided to create your own brand of mezcal and met over 40 maestros while traveling around Oaxaca looking for the perfect recipe/partner. How did you know when you found the right mezcalero to work with?
It was a mix between different facts; his Palenque was very clean, He had a lot of different tools, he was highly recommended by someone we really trusted at the beginning who was from Oaxaca, he had great liquid, the liquid was amazing, it was very smooth and he was a great producer that understood a lot about mezcal.
Where did the name Mezcal Amaras come from?
The initial name wasn't amaras, it was basically Amores, we came up with the name because amaras is the future tense of amores. We wanted it to be a mezcal that you will love, so Amores or the future tense with Amaras.That unified everything that we felt about mezcal, that we were in love with the product, we were in love with the communities, we're in love with doing something cool with it, in love with doing something sustainable with it, it was very important from that day to now.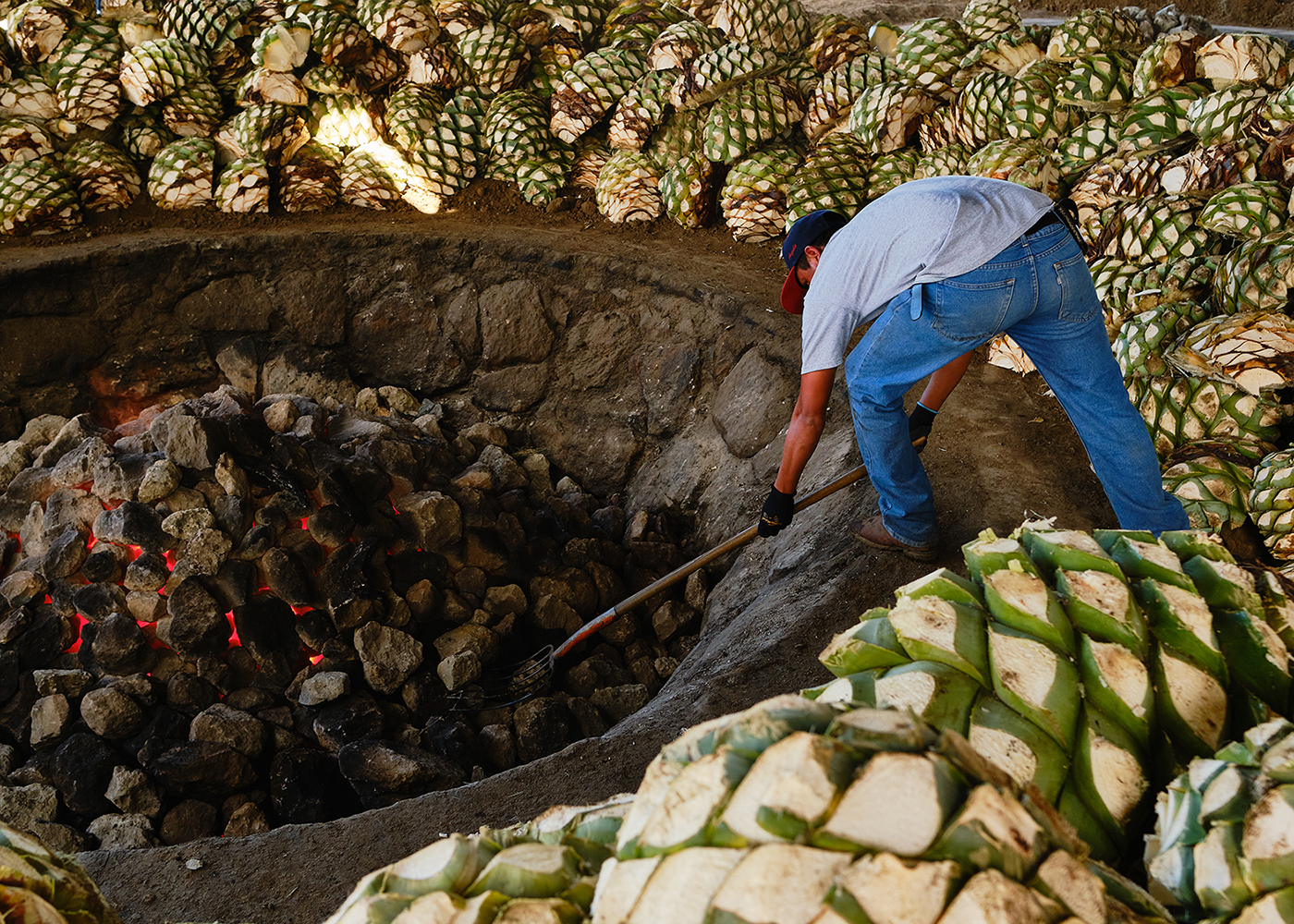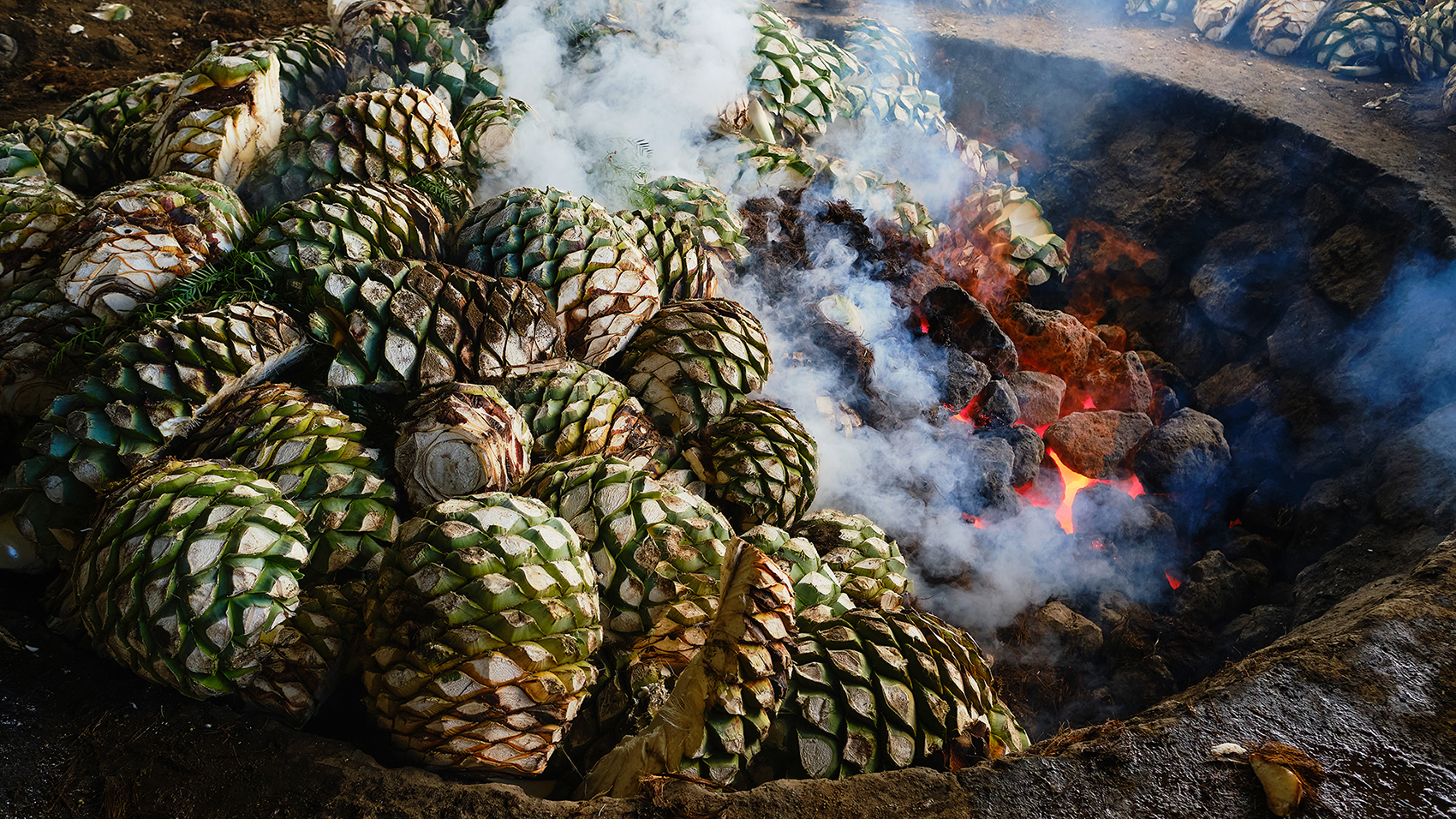 Mezcal Amaras gives 15% to the producers, community, and chain of value. How does that separate the brand from other mezcal makers?
In the last ten years we have given back more than 20% of the net sale of all the bottles that we have sold and in some years more than 30%. Some years were like 35%. That investment is basically growing the business horizontally. We focus on three main initiatives that refer to our way of working "from seed to sip" – buying mezcal from maestros mezcaleros, being carbon neutral, planting different agaves, planting different wild agaves. 20% is invested in that. We're creating jobs. We're creating the future, a sustainable future with fair trade practices for the industry. And this supports three main pillars. The first one is Community. Community has to do with everything that we do in order to empower everybody in the supply chain, including around 20-25 producers, maestros mezcaleros at this stage. We also plant agave with small agave farmers. The past two years we worked with 25-30 and this year there were around 50. We offer courses for organic plantations, teaching how to produce a better mezcal, and to make more sustainable mezcal, with fair trade practices.
The second pillar is Terroir, that has to do with creating the best liquid, with the best sustainable credentials, with sustainable practices. So how do we plant the best agave? How do we take care of wild agave species? We can't harvest wild agave if we don't have a replanting program of that species. We have a lot of initiatives, the main are: we have planted more than 11 species of agave and more than 20 subvarieties, we plant without deforestation which is a very important initiative. We plant them organically using compost from our distillery.
So how do we make the best mezcal? By understanding how to make it more sustainable, and having scientific knowledge of the agave. We work with the UNAM, one of the top universities in Mexico to find new species of agaves such as the Chuparrosa, a species we brought to the market for the first time. It existed in communities and existed in small villages, but it has never been available in the market.
And then the third pillar is our love for the earth, love for the planet, is how do we make Mezcal the most sustainable liquid and the best horizontal growth with fair trade practices. We're the first mezcal that is carbon neutral, we are offsetting our footprint in CO2 by buying carbon bonds. We are also working with the World Wildlife Fund, the WWF. With initiatives like understanding how to use the water, we are planting around 6000 trees this year around communities, and we have done a lot of research on how to find new Maestras mezcaleras, and work with them, and other things.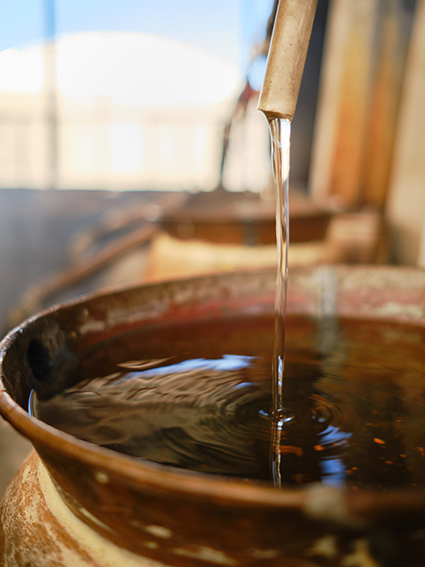 What differentiates us from other Mezcal brands?
We care a lot about how things are done, we're the first carbon neutral Mezcal, probably the brand that has planted the most varieties of agaves, we plant without deforesting, we are empowering a lot of people, we're always trying to do things better, not only buying Mezcal from a Maestro Mezcalero and saying that you help him.
I know Amaras is loved throughout Mexico, especially in Mexico City. How did you approach spreading the brand's name and why do you think you've been so successful?
I think the brand has been so successful because of many things. Quality has been very important. Authenticity has been very important and sharing our philosophy. It's a smooth product and we were one of the initial brands that offered a lower ABV product, making it easier for people to drink. Other factors include our presence at music events and our social media. But mainly we've been successful because of our quality and because we care a lot about everything that we do. And that's something we're very proud of.
A few years ago, you entered the US market. What kind of new challenges did that bring and is there any advice you'd give to other founders looking to bring their products to the US?
It's super complicated, if you want to enter the U.S. market, you have to have big pockets. You have to understand that there's going to be a big investment. There's a lot of competition, and the market is moving very quickly. The second is to understand how the distribution networks work, how to grow the brand, how the different states work, how the different wholesalers work. You have to do the proper research and invest heavily if you want to have a chance of succeeding in the United States. Having a U.S. partner, I think, can be very helpful if you're a foreigner because it's very different from other places.
So now you're 10 years in. How does it feel? Are you still excited?
It feels good. I'm very excited about the new liquids we're launching, and very excited about harvesting our own agaves. We will harvest our own Tepeztate this year, two years ago our first Tobalá, next year we're going to start harvesting a lot of different Americana species. I'm very happy about that. Our philosophy excites me more because what we're doing today and what's going to happen in five years time is going to be quite impressive. The programs that we have totally create this horizontal growth. We will empower people not just by training and giving them loans, but also by creating a lot of income for them. That excites me a lot. I think it's tough sometimes. It's not easy. There's a lot of stress. There's a lot of problems. There are a lot of things to solve. Sometimes I have anxiety in the night because we try to solve problems every day. So there's a mix of a lot of excitement of growth, but there's a lot of worry as well. Those feelings are what you feel as an entrepreneur, trying to become successful. It's very hard work and it's very challenging–from how to become a leader, how to solve problems, how to try to avoid certain risks. And you're carrying all the organization on your back, which is also very important. But that's the life of an entrepreneur. If you want to create it, you have to have this love and this craziness. But at the same time, you have to have the stomach for it and the strength to keep on going.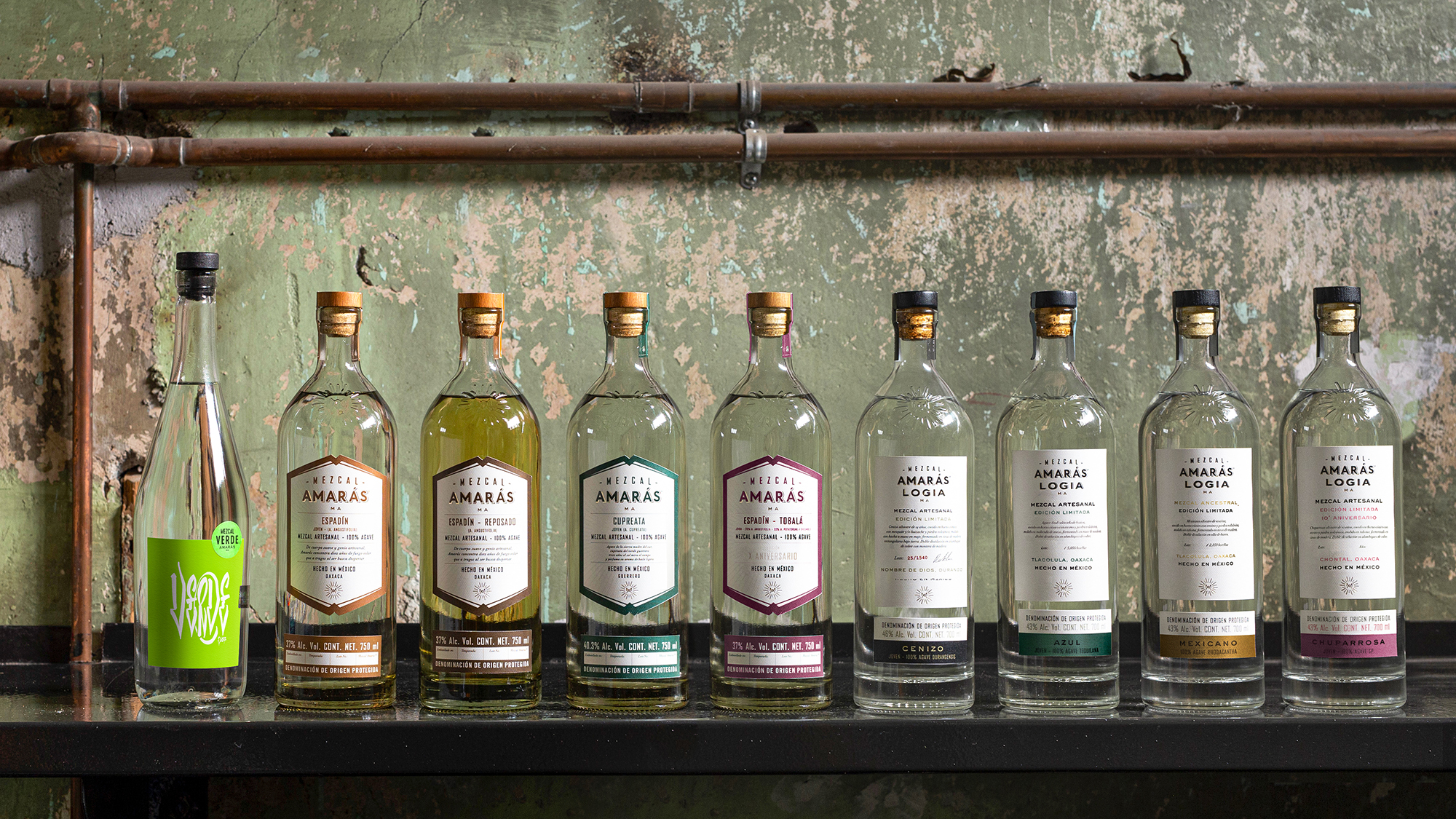 What's the one thing you wish you knew before diving head first into building a spirits company of your own?
I would have loved to have understood that it's a very capital-intensive business, that you need a lot of capital and it takes a decade to become successful. It's a very long term game. Some brands have cheated on it and have done it much faster. But from my understanding, if you want to build correctly, if you want to build a brand that is authentic, that has a very good quality and you want to do it well, it's a lot of time and a lot of capital. That's what I would have loved to know, and to understand also that the US is a complex market.
What's next for Mezcal Amaras?
The most important thing is the harvesting of our own wild agaves, that is coming. We are one of the few companies that have wild agaves that are actually being harvested. It's a very rare situation. So I'm very happy to have those liquids out there that are going to be key in differentiation for the brand. I'm very excited about our Logia range. I love the blue agave that we launched this year, the ancestral Mexicano agave made in ceramic pot steel. I think that is a great liquid. I'm excited about different, super rare, super scarce, super unique agaves that we're going to be launching that are going to be collectible. I'm very excited about speaking with the bigger markets in the U.S. with bigger budgets in order to position the mezcal. The most exciting for me is the brand Philosophy, I think in 5 years time, all the knowledge we have in how to become successful working in the mezcal world, in Oaxaca and in the different states, is coming to a point where understanding how to make business in communities is going to be key for growing the category in Mexico, but also for keeping the traditions alive, and also to give wealth to people, which I'm very honored for that. For me, the mezcal category is something that has to be taken care of, has to be done correctly, and has to be honored for the people that have created this category 400 years ago, we are working with master mezcalero and agaveros from the third, fourth, fifth generation. So I'm excited about protecting it. I'm excited about making it work, and I'm excited about showing how you can create a business that is super eco-friendly, super sustainable, and has a huge impact in terms of fair trade practices to show people that in Mexico, we can also create these beautiful companies that have an amazing impact for everybody that surrounds them. That's why I will always tell you Siempre Amarás, which means you will always love the future tense of love, where the name comes from, and by everyday, doing things better. I'm very excited to see the results in five years' time.