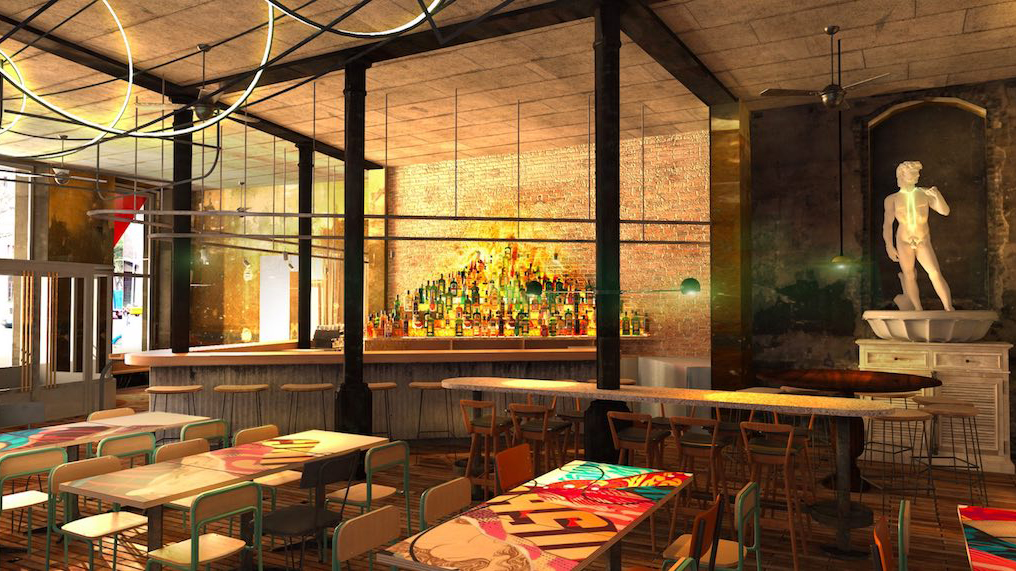 Located just blocks from Barcelona Zoo in El Born, Clubhaus provides a wild, eclectic space for everything from coffee and co-working to eating, drinking, and general good time shenanigans. The crowd seems to change by the hour with early morning workers followed by greasy food hunting lunchers that become happy hour sippers and late night revellers after the sun goes down. Monday through Friday the spaces opens at 930 am and it never closes before 230 am.
The space itself is made up of two main rooms – Show Room and Jungle Room – and is an explosion of graffiti and what one would hope life at a culture-oriented Berlin startup would be. There's a pool table, a ping pong table, karaoke, and mini-golf. The two floor bar and eatery is filled with tables large and small as well as long bar counters that make Clubhaus ideal for large groups.  
Mexican street food fills the Show Room menu, while bar food – wings, burgers, fish and chips – will keep you guzzling and partying into the late hours in Jungle Room. There are also a few deserts on the menu for those just looking to stop by for a quick sip and something sweet.
When it comes to drinks, Clubhaus offers a variety of popular beers and plays on classic cocktails that should keep its varied crowds happy. Heineken, Laguanitas, and Paulner are all available on tap and few others available by the bottle. Cocktails are mostly classics like Mojitos, Zombies, and Caipirinhas with clever twists. There are also three different boilermakers on the menu for those looking to turn things up a notch, and there are even a couple of glasses of wine for those just surveying the scene.
Clubhaus fills a variety of needs. Those looking for a colorful space to work in the morning with coffee and plenty of grub options will find it provides everything. Meanwhile, those looking to have a night out, but are not quite sure about the direction they want the evening to take, will love the variety of options provided by Clubhaus.
Find It Here:
Av. del Marquès de l'Argentera, 13
08003 Barcelona, Spain