Cognac Park Extra Grande Champagne is the top of the Distillerie Tessendier-owned brand's core range. Packaged in a decanter-style bottle with a glass stopper, you know you're in for something special that moment you lay your eyes on this Cognac.
The Park Extra Grande Champagne contains brandies ranging in age from 40 to 60 years. It is a blend made with ugni blanc grapes, all from Grande Champagne. First the Cognac is age for 12 months in new French Limousin oak barrels, then it is transferred to used casks.
A deep amber in color, the Extra Grande Champagne reveals a bouquet marked with aromas of coconut, passion fruit and nutmeg. The palate is creamy and rich with oak, sarsaparilla, and candied fruit. The finish finds dried figs and dates mixing with black pepper to deliver a cognac that has both power and finesse.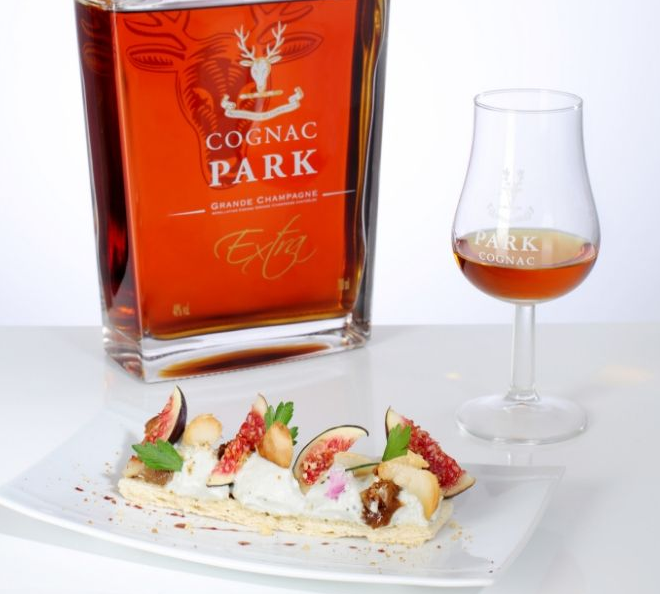 This is certainly a Brandy that deserves to be sipped neat. If you're looking to pair it with something, the house recommends prune marmalade, creamy roquefort cheese, and grilled almonds.
Established in 1880, Cognac Park is the premier brand produced by Distillerie Tessendier. Today, the distillery and vineyards are composed within an estate of more than 60 acres in the heart of one of the most exclusive growing areas of Cognac: The Borderies. The distillery is in its fourth generation of family ownership with brothers and Master Blenders Lilian and Jérôme Tessendier currently at the helm. One of the most innovative creators of the French spirit, the house ventures beyond classical frontiers, developing Cognacs with contemporary twists.
Cognac Park makes a variety of different Cognacs, including Park VS Carte Blanche, Park VSOP, Park Borderies, Park XO Grande Champagne, and Park XO Grande Champagne, which are all part of their core range.
Cognac Park Extra Grande Champagne Ratings: