Cognac Park XO Cigar Blend provides a richer, sweeter option for those looking to explore the brand's higher echelon Cognacs. While you don't need to smoke a cigar while sipping this tasty tipple, we certainly wouldn't suggest not having a couple puffs either.
Made using 100% ugni blanc grapes, the eaux de vie is composed of 70% Grande Champagne and 30% Petite Champagne. The Vieille Fine Champagne, as it's dubbed, is bottled at 40% ABV and is aged in new then used French Limousin Oak.
Light honey scents and hints of saffron open on the nose along with notes of gingerbread, vanilla, and cranberry. The palate features caramel sweetness and spice that is followed by notes of orange zest and bark. The finish is long, nutty, and drying.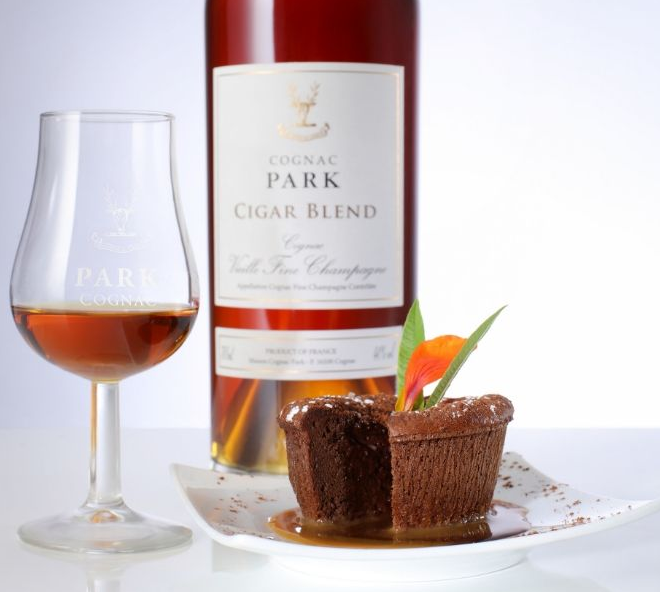 Cognac Park XO Cigar Blend should be enjoyed neat, possibly with a cigar in hand. If you're looking to pair it with some food, the House recommends, Moelleux dark chocolate manjari; Madagascar; with delicate flavours of Espelette peppers, caramel milk with fleur de sel.
Established in 1880, Cognac Park is the premier brand produced by Distillerie Tessendier. Today, the distillery and vineyards are composed within an estate of more than 60 acres in the heart of one of the most exclusive growing areas of Cognac: The Borderies. The distillery is in its fourth generation of family ownership with brothers and Master Blenders Lilian and Jérôme Tessendier currently at the helm. One of the most innovative creators of the French spirit, the house ventures beyond classical frontiers, developing Cognacs with contemporary twists.
Cognac Park makes a variety of different Cognacs, including VS Carte Blanche, Park VSOP, Park Borderies, Park XO Grande Champagne, and Park Extra Grande Champagne, which are all part of their core range.
Cognac Park XO Cigar Blend Ratings: