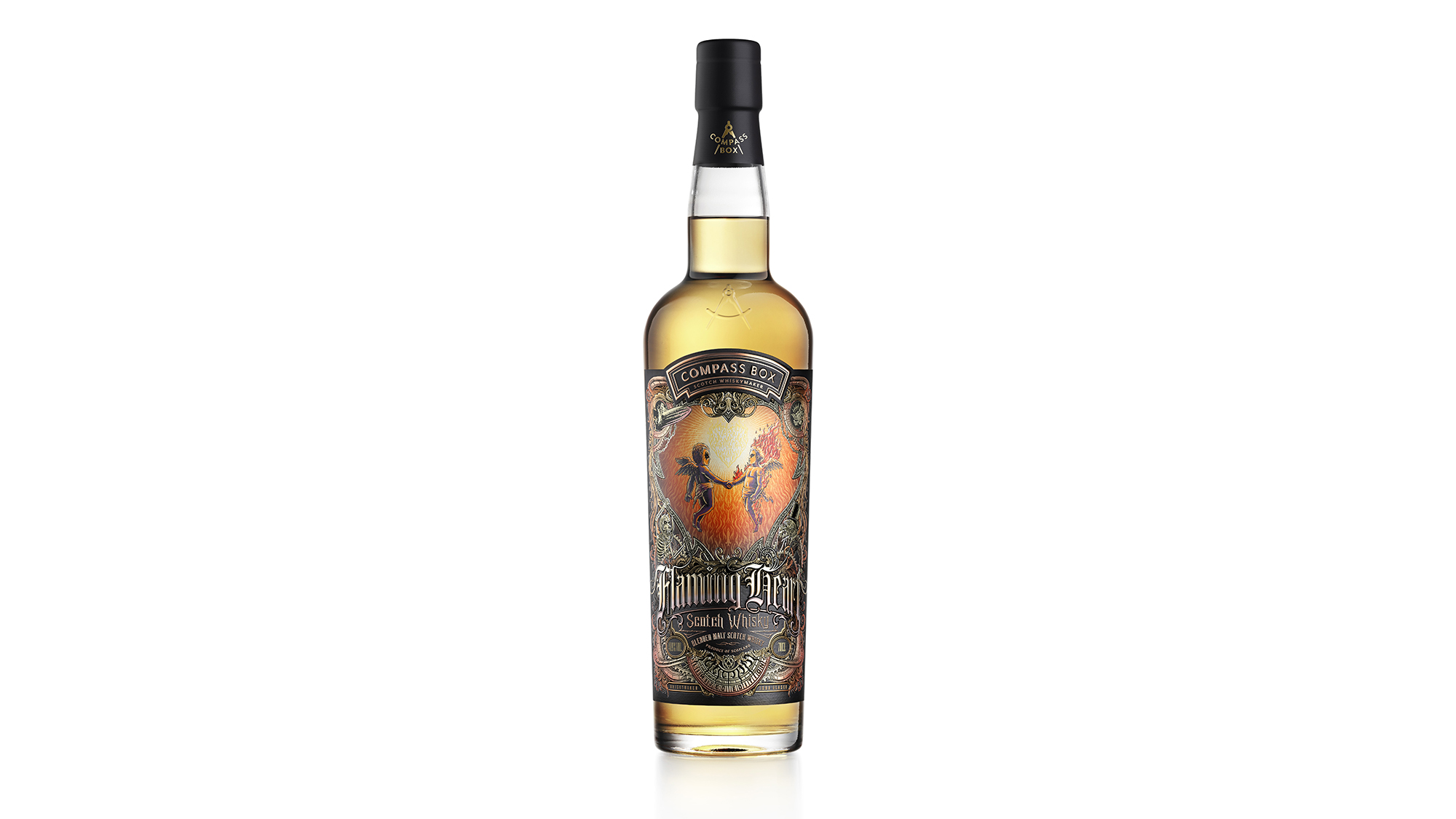 Compass Box has unveiled Flaming Heart 2022, the seventh release in the now annual series from the whisky bottlers. Inspired by a rock song and born of oak, smoke, and fire, just 9,606 bottles will be made available worldwide this September.
Each edition of Flaming Heart has a unique recipe with every version reflecting the whiskies the team had access to at the time. The series takes its name from a song by M. Ward, an American singer-songwriter and guitarist from Portland, Oregon. The concept was born in 2006 and the intention ever since had always been to bring big smoky malts into conversation with French oak's spicy richness, balancing these two components.
For the 2022 release, a new trio of whiskies from the Laphroaig, Talisker, and Caol Ila distilleries brings hearty and harmonious peatiness. Spice comes from a blend of Highland malt whiskies, further matured for at least five years in custom French oak barrels that have been given a heavy toast. To make matters even more unique, remnants from past Limited Editions have been included such as Peat Monster Arcana, Myths & Legends, and the 2018 edition of Flaming Heart.
Stranger & Stranger, the design agency behind the last four incarnations, created a beautiful framework for the label, drawing on source material from the world of heavy metal posters. The artwork layers references from iconic rock acts like Pink Floyd and Led Zeppelin.
"For the label of this seventh version, we have made the original rock music inspiration still more explicit," said James Saxon, lead whiskymaker for Flaming Heart. "We wanted something that could just as easily be used as the artwork for an LP, or as a tattoo. Oak, smoke and fire reunite once again, fusing pyrotechnics with deliciousness. As well as being the fruitiest Flaming Heart of recent years, we have brought in special remnant stocks of past releases for layers upon layers of smoke and French oak influence."
Bottled at 48.9% ABV, the Compass Box Flaming Heart 2022 is priced at £130 per bottle. For more information, head over to the brand's official website.
In May, Compass Box announced a new limited edition expression, The Circle, No. 2.