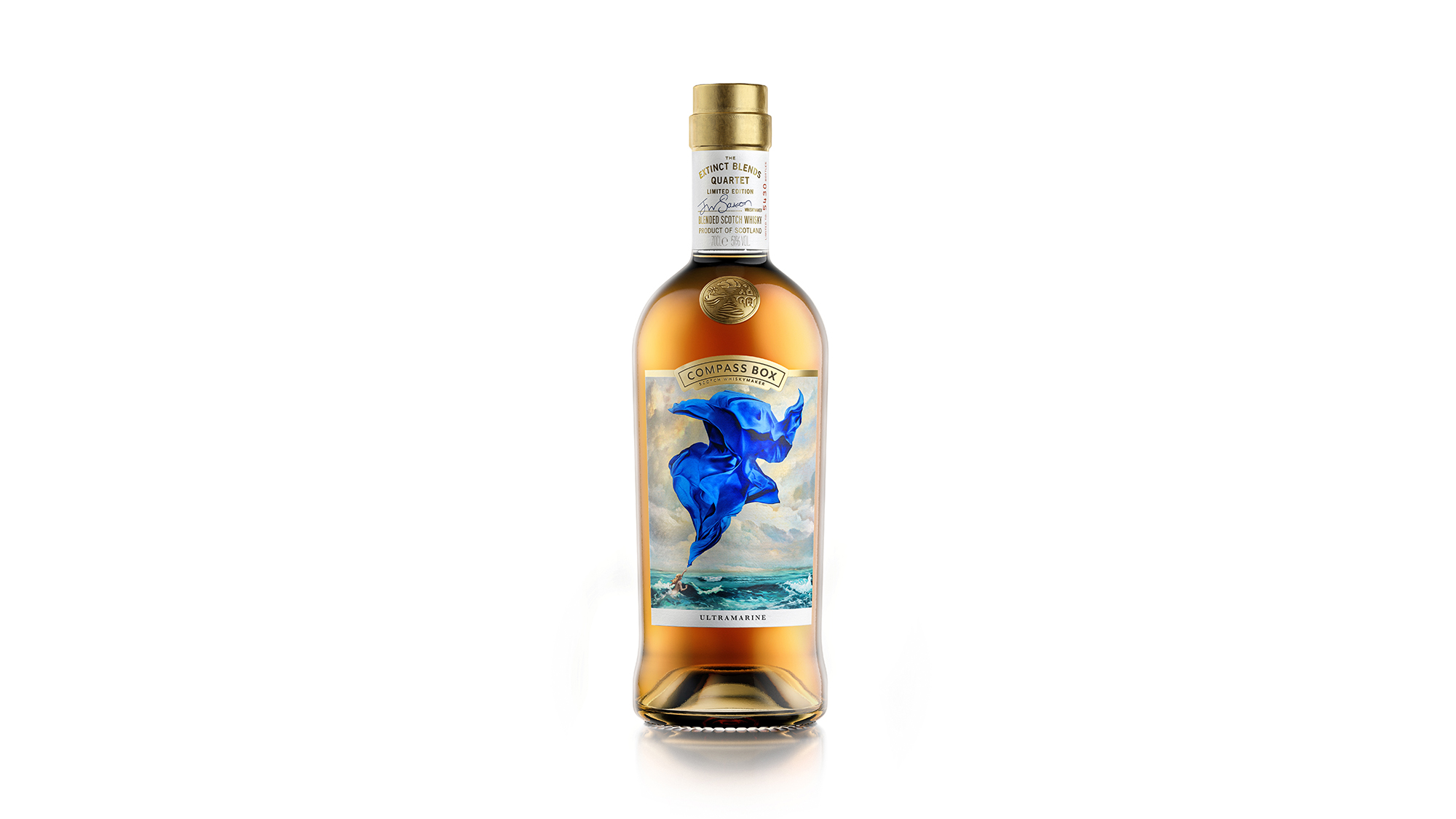 Compass Box has unveiled Ultramarine, a limited edition whisky that's the first in an ambitious and imaginative series called the Extinct Blends Quartet. The new collection pays homage to certain styles of Scotch from the past, with the first release taking its inspiration from a deluxe blended Scotch whisky first released in the late 1980s.
As well as arguing that certain 'vintages' of blended Scotch can be just as worthy of veneration as distilleries that were closed during the same periods, the Extinct Blend Quartet takes inspiration from characters and flavours that have vanished over the years. In the series, four very different expressions of blended Scotch will be produced using some of Compass Box's most precious parcels of whisky.
The first few batches of the blend on which Ultramarine is based drew from stocks of malt and grain whisky that had built up as part of Scotland's 'Whisky Loch' of the late '70s and early '80s. While still a fascinating product today, a compelling antique quality can be found in the earliest bottlings. It is this old-school style that has inspired the brand's whiskymakers.
To amass the weight of body and haunting smokiness required, Ultramarine uses well-aged malts and pre-blended parcels of Scotch whisky, both matured in Sherry casks, together with peated malts.
The whisky features prominent aromas of toffee, vanilla, and toasted oak, with impressions of a peaty malt kiln. Leathery dried mango builds following the first sip with peat, roasted pecan, and raisin. Proceedings tend in a nuttier, spicier, and smokier direction with time.
James Saxon, lead whiskymaker says, "As whiskymakers and blenders, we take umbrage that closed single malt distilleries attract all the adulation and explosive hammer prices at auction. A distillery is never entirely lost. As we see with Brora, Rosebank and Port Ellen, they can be revived – mash tuns can be refilled, stills heated up again. Blends, though, are the richest time capsules Scotch whisky has, reflecting the ideas and sensibilities of the teams of people that made them, and the styles of stocks available to the blenders from year to year. Ultramarine and the whiskies that will come after it are not recreations – that isn't possible. They are instead tributes, our way of reimagining the DNA of some great blends of the past."
Bottled at 51% ABV, Compass Box Ultramarine will be available on shelves beginning in October with 5,982 bottles available worldwide for the price of £295.
For more information, head over to the brand's official website.
This month, the whisky bottlers unveiled the 2022 edition of their Flaming Heart whisky.