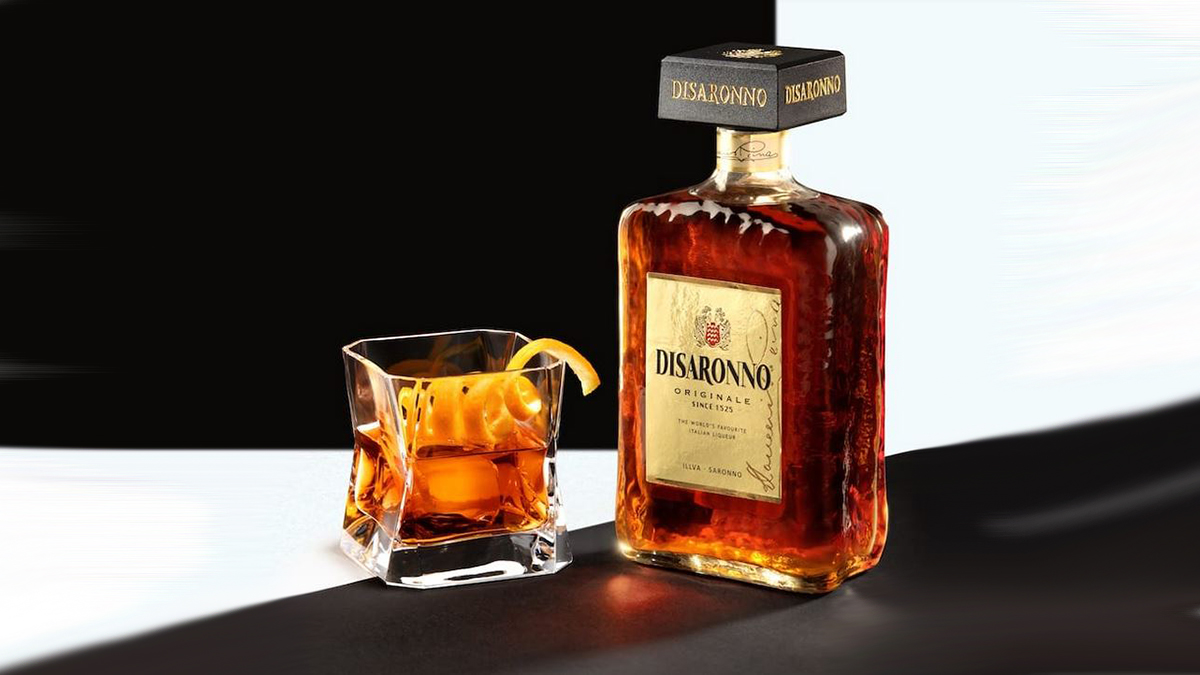 When you think of amaretto–the almond-flavored liqueur that originated in Saronno, Italy–Disaronno is pretty much the beginning and end of the conversation. While there are a variety of other brands, Disaronno is the drink's most recognizable flag bearer.
In fact, the brand is so ingrained in the history of the drink that it has basically built the legend behind it, which traces back to 1525 and involves a Saronno church, a pupil of Leonardo da Vinci, and a beautiful young widow.
In this week's Bottle Breakdown, we sat down with Global Advocacy and Trade Partnership Manager Simona Bianco to learn more about amaretto, the legend behind the beverage, the city from which it hails, and what makes Disaronno stand out from the crowd.
Spirited: Can you tell us about the first time you tried Disaronno and what surprised you about the liqueur as well as the surrounding setting?
Simona Bianco: I remember it very well. I was on a rooftop in Milan at the very beginning of the summer period. And I was offered a Disaronno Sour. Before that moment, I had always thought about Disaronno as a classic liquor, to sip on winter days. That occasion for me was a surprise, as the drink was incredibly tasty, refreshing and with that sweet & sour flavor that I adore. After so many years working in this industry and having tasted so many drinks with Disaronno, this is still among my favorites in the world.
Spirited: Disaronno hails from Saronno in Italy's Lombardy region. Can you tell us a bit about the town where the iconic amaretto comes from?
Simona Bianco: Saronno is a lively city with a rich cultural heritage. Saronno is actually best known for being the birthplace of Disaronno that literally means "from Saronno", so we take pride in putting a spotlight on the area.
Spirited: What exactly is amaretto and how is it made?
Simona Bianco: Amaretto actually means "a little bitter" in Italian. Originating from the city of Saronno, it's a sweet Italian liqueur typically made from apricot kernels, almonds and peach stones. The flavorings are steeped in distilled liquor for an extended period of time, then strained out. After the aromatics are strained out, sugar is added, often in a caramelized or burnt syrup.
Spirited: Disaronno (or Amaretto di Saronno as it was called till 2001) has been around for almost 500 years. Can you tell us a bit about the origins of the drink?
Simona Bianco: The warm, sophisticated taste of Disaronno has a lineage dating back to one of the most romantic and creative periods in Italian history – the Renaissance. In 1525, the artist Bernardino Luini, a brilliant pupil of Leonardo da Vinci – was commissioned to paint a fresco of the Madonna of the Miracles in Saronno (Madonna dei Miracoli in Saronno, where the Fresco is still displayed today). To portray the Madonna, he chose a beautiful local innkeeper as his muse. As a mark of her gratitude, she prepared a special gift for the artist, namely, a flask full of an amber liqueur, fragrant and delicate. That is how the legend of Disaronno arose: from a simple gesture of kindness and the unique handmade combination of secret ingredients.
Spirited: What makes Disaronno different from other amarettos out there?
Simona Bianco: Being that we are the original amaretto, Disaronno provides that authenticity that cannot be duplicated. The flavorful characteristics of bitter almonds, Madagascar vanilla and pure caramelized sugar enhance the aromatic and alcoholic complexity, giving Disaronno an extraordinary distinctive taste. The originale Disaronno can be recognized everywhere in the world thanks to its iconic bottle and squared cap. Very easy to spot in any bar back!
Spirited: For someone who has never had Disaronno before, how would you recommend enjoying it?
Simona Bianco: Disaronno is a very versatile liqueur. It works perfectly neat and on the rocks for a more classic tasting. For those more passionate about cocktails, the choice is very wide: from the classic Disaronno Sour to the Godfather (Disaronno and Scotch) to the incredible preparation contemporary top bartenders are able to create. It really depends on what you fancy and what part of the world you live in.
Spirited: What's your favorite way to enjoy Disaronno?
Simona Bianco: Disaronno Sour is definitely my favorite but I like being surprised by the creations of the top mixologists all around the world!
Spirited: Do you have any summer Disaronno cocktail recommendations we should know about?
Simona Bianco: During the warmer months, you can't go wrong with a Disaronno Fizz. The mixture of Disaronno and Q Mixers Club Soda makes for a refreshing treat that can be enjoyed all summer long. Very easy to prepare at home for a summer dinner with friends or a barbeque with the family.
Spirited: In 2020, Disaronno released its first variation, Disaronno Velvet. Can you tell us a bit about the new liqueur and how it is best enjoyed?
Simona Bianco: Disaronno Velvet is incredibly smooth and boasts the floral character of almonds with nuances of chocolates and vanilla. Blending the unique flavor of Disaronno Originale and the richness of a velvety cream, Disaronno Velvet is best served over ice, or to add a touch of Italian elegance to your favorite cream cocktails. Our latest release in terms of cocktails is the Velvet Batida where you mix Disaronno Velvet with coconut water and ice. Incredibly refreshing and perfect for the upcoming summertime!