Vintage dated Scotch spent the last several years–or decades–out of fashion, but recently, thanks to various special releases and limited-edition collections, its managed to claw its way back into the mainstream, for the rich and luxurious that is. The Dalmore, one of the main whisky brands behind the comeback, continues to bask in its return, most recently with the launch of two limited edition vintages from 2003 and 2007.
Created by master whisky maker Gregg Glass and master distiller Richard Paterson OBE, The Dalmore 2003 Vintage and The Dalmore 2007 join the Highland Scotch whisky producer's aptly named VIntage Collection. Once a year, The Dalmore whisky makers visit the distillery to reacquaint themselves with their rare casks laid to mature in their historic warehouses, on the banks of the Cromarty Firth in the Scottish Highlands. This the time when Glass and Paterson decide on which vintages will join the distinguished collection.
The Dalmore 2003 Vintage was first matured in ex-Bourbon American oak casks, then enhanced through a carefully balanced recipe of hand-selected casks; Rivesaltes sweet wine casks, rare Matusalem and Amoroso sherry casks and small-batch Bourbon barrels. On the nose, it offers Manuka honey, dark toffee, and aged vanilla-pods. The palate delivers warm honey, maple syrup, and spiced dark fruits. The finish finds notes of antique honey, old English marmalade, and sweet spice.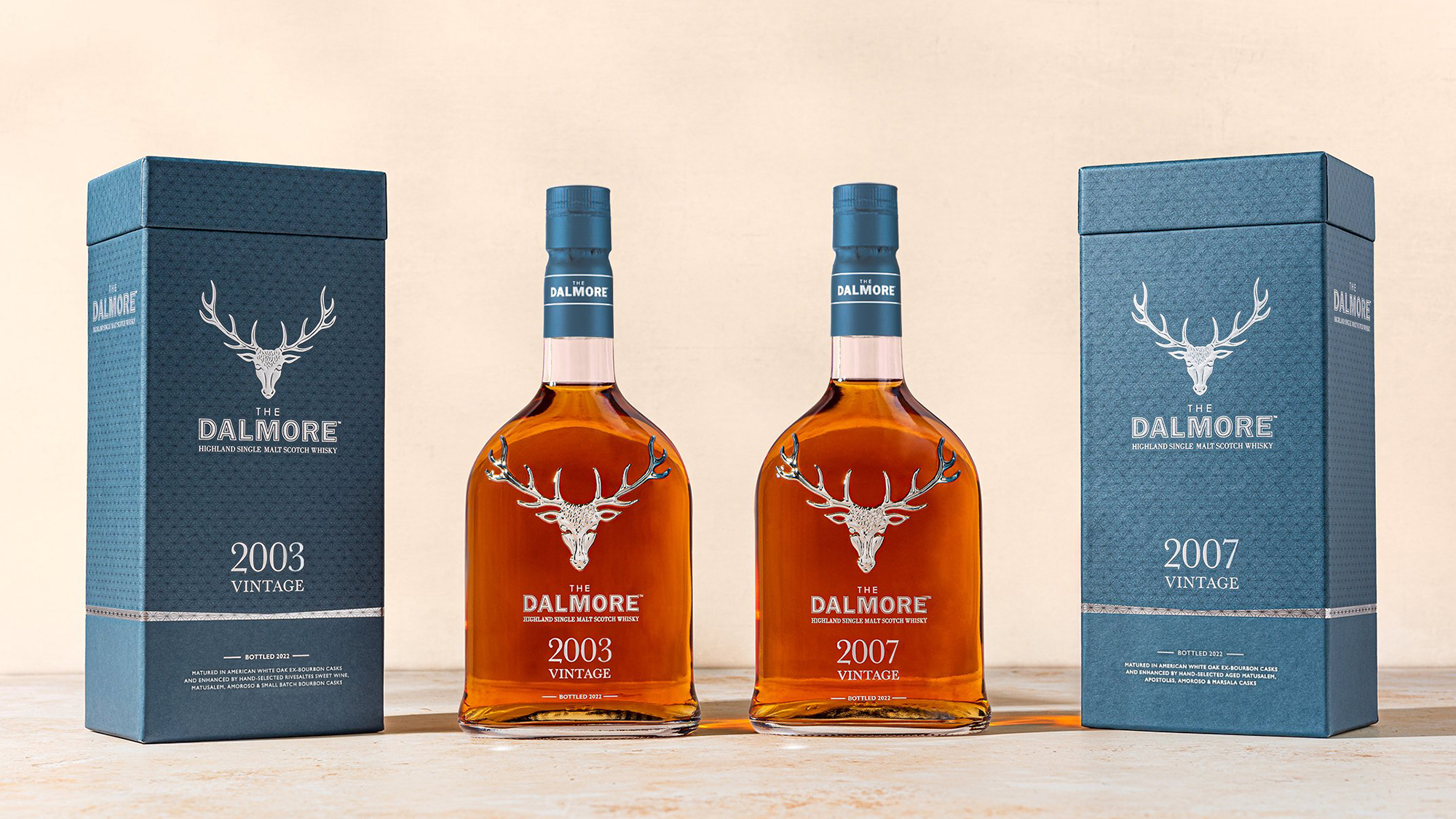 The Dalmore 2007 Vintage initially matured in ex-Bourbon American white oak barrels, then a harmony of rare-hand-selected aged casks – Matusalem, Apostoles and Amoroso sherry, alongside sweet Marsala wine barrels. On the nose, it offers honey fresh baked brioche and ice ginger cake. The palate finds orange blossom honey, spices. and mandarins. The finish delivers notes of patisserie sugars, ginger snaps, and cinnamon.
Part of the brand's Vintage collection, The Dalmore 2003 Vintage and The Dalmore 2007 Vintage were Created by master whisky maker Gregg Glass and master distiller Richard Paterson OBE.
"The time we take each November at The Dalmore is a true highlight of my year," said Glass. "At The Dalmore, every cask is special, but when it comes to a Dalmore Vintage, we assess rare casks by hand, reacquainting ourselves with the character of each whisky. For a whisky to become a Dalmore vintage we are looking for a distinctive characteristic that distinguishes that single malt above all else that year, a whisky with true potential to shine."
Bottled at 46.9% ABV, the Dalmore 2003 vintage is priced at £350 (US$420) per bottle. The 2007 vintage sits at 46.5% ABV and costs £150 (US$180). They will be available beginning in December in select outlets globally, including Harvey Nichols, Master of Malt, Selfridges, The Whisky Exchange, and The Whisky Shop.
For more information, head over to The Dalmore's official website.
In October, the brand unveiled the Dalmore Luminary Series, while in June it added a 21 Year Old Scotch to its Principal Collection.