Over the past 15 years, Downtown Los Angeles has gone from post-sunset ghost town to one of the city's hippest neighborhoods. With more than 70 bars pouring drinks across 4.73 square miles, there is no shortage of places to choose from.
DTLA deserves exploration and with that in mind, we set out across the area and sipped drinks from South Park to Chinatown to the Arts District and everywhere in between. Here is our list of the Best Bars in Downtown Los Angeles.


Alameda Supper Club
CLOSED
Neighborhood: Central Industrial District
Sitting opposite its sister all-day restaurant Tartine Bianco, dinner-only Alameda Supper Club serves up an array of elegant pastas, salads, and fresh oysters alongside lip-smacking cocktails.


Apotheke LA
Neighborhood: Chinatown
Featuring an impressive range of ingredients and flavors, Apotheke LA pays tribute to the roots of the cocktail, while also pushing the boundaries of cocktail creation.


Bar Clacson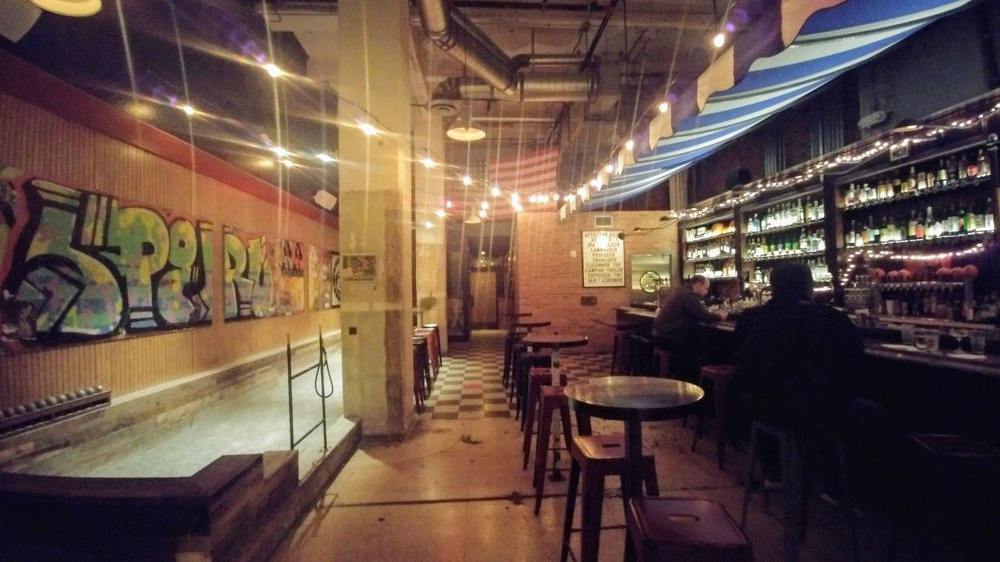 Neighborhood: Historic Core
Saddled between The Slipper Clutch and E Stretto, Bar Clacson offers the subtle sensibilities of a Western Mediterranean street cafe alongside some of the neighborhood's best cocktails.


Bar Franca
Neighborhood: Historic Core
It's an intimate space that feels like somewhere you accidentally stumbled into after making a wrong turn down an alley. Bar Franca has that kind of romance. For those looking for something stirred or shaken, a thoughtfully created cocktail menu provides both new and classic options.


DAMA
Neighborhood: Fashion District
DAMA breathes with 1950s Cuban romance, a time when socialites and celebrities flocked to the Caribbean nation. Rich food is offered alongside classic, yet imaginative cocktails, making this Fashion District bar and eatery pure delight. You get the feeling that Charles H. Baker would have sipped cocktails here after a beachfront dinner with Errol Flynn.


Eat Drink Americano
Neighborhood: Arts District
The space is bright, the portions large, and the beverages well poured. The entrance is hidden a few paces down an alley, making Eat Drink Americano a mellow spot to hold up while avoiding the neighborhood's weekend crowds.


Here & Now
Neighborhood: Arts District
Here & Now sparkles at happy hour and during late nights, when it is known as the Arts District's go-to spot for a night cap. It's a bar that truly delights in both craft and interaction that never fails to leave you buoyed.


The Mermaid
Neighborhood: Little Tokyo
Offering bright, tropical cocktails alongside easy-to-snack-on bites, The Mermaid's dark, laid back setting provides an escape from the hustle and bustle of Downtown Los Angeles. Dodger games play on tv, while the bar's namesake aquatic creatures flirt through portholes, it's truly an inclusive place for all.


Mikkeller Bar
Neighborhood: South Park
The Copenhagen microbrewery's Los Angeles locale serves up cold beer and contiental dishes. Pouring some of the best brews this side of the Atlantic, Mikkeller continues to set the standard when looking for suds in DTLA.


Rudolph's Bar & Tea
Neighborhood: South Park
RBT takes the art of cocktail plating to new heights, all while infusing each offering with tea. It's the kind of place the Queen would sip gin in a blue and white porcelain cup with little biscuits on the side.


Wolf & Crane
Neighborhood: Little Tokyo
Japanese Whisky lovers and cocktail enthusiasts rejoice at this Little Tokyo hot spot. Located in Downtown Los Angeles, Wolf & Crane pours an array of drinks, shots, and beers that bring the elegance of the bar's favorite spirit to new inductees and aficionados.


The Wolves
Neighborhood: Historic Core
The Wolves feels like it's from another century, yet the cocktails are some of the most modern and inspired in town. It is a high water mark for Downtown Los Angeles's already impressive bar scene.