Eden Mill Love Gin is the most famous of the St. Andrews distillery's products. More renowned than their stellar, award-winning Original Gin, their light blush Pink Gin has been turning heads since its introduction in 2015. It might not have been the first Pink Gin on the market, but it certainly helped start the revolution.
Love Gin perfectly fits the Modern Gin category, marrying traditional botanicals such as juniper berries, coriander, and angelica with more exotic elements, including rose petal, hibiscus, elderberry, goji berry, raspberry leaf, and rhubarb root. Bottled at 42% ABV, there's even a little bit of thorn to this rose.
Love Gin is rich and floral. On the nose, imbibers will find fragrant and floral rose petals with berry notes. The lightly sweet palate features strawberries and vanilla. The finish is sharp, sweet and fruity.
For those looking to mix up a cocktail with the Gin, Eden Mill recommends simply mixing it with Fentimans Rose Lemonade or make an elderflower and raspberry play on a Gin & Tonic: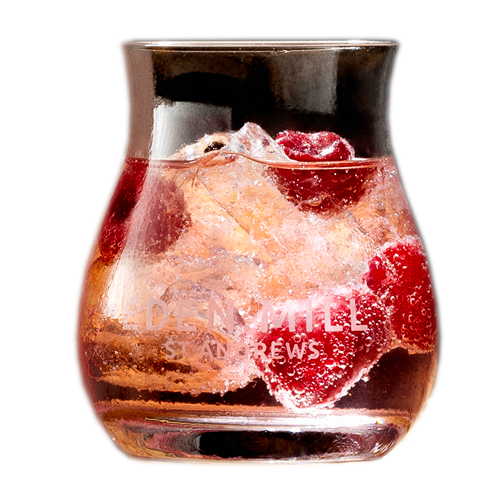 Love Gin And Elderflower Tonic
1.5 oz Eden Mill Love Gin
Elderflower Tonic
Frozen Raspberries
Fill a tulip glass with ice and frozen strawberries. Pour in Gin. Then add elderflower tonic to taste.
Eden mill is best known for their variety of Gins, which include everything from the Original and Oak expressions to Hop and a botanically rich Golf variety as well as a number of limited edition offerings. They also produce a Single Malt Whisky and a number of numbered hip flasks. They also have Ready To Drink cocktails if that is more your drift. For those more interested in beer, the combo brewery and distillery makes eight different varieties, including an IPA and a Red Ale.
Eden Mill Love Gin Ratings: