An Exclusive Blend Crafted From Three Barrels, Extra Añejo Joins El Tequileño's Portfolio of Premium Tequilas
El Tequileño tequila has unveiled its most exclusive and refined expression to date – El Tequileño Extra Añejo. Made with tequila that has been aged for three to four years in American Oak and new French Oak, this ultra-premium spirit promises to become a favorite flavor for lovers of the brand.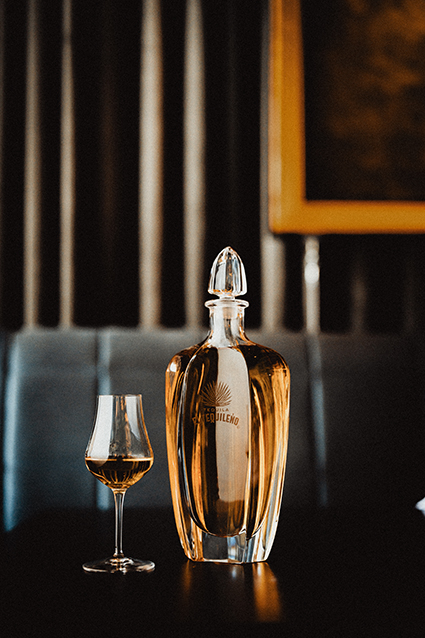 Established in 1959 by Don Jorge Salles Cuervo, whose dedication to craft and quality produced a range of exquisite, award-winning tequilas, El Tequileño became known as "Mexico's Best Kept Secret"
Harvested from the premium growing region of Los Altos de Jalisco and mineral rich water from El Volcan de Tequila, and using 100 percent Blue Agave, Don Jorge Salles redefined expectations of the tequila category with his craft blancos and reposados, including the world's first and only Reposado Rare, which is matured in an American Oak Pipón for six years. This knowledge, prowess of tequila-making, curious nature and innovative spirit has been passed down through generations of the Salles Family, and now informs the brand's third-generation Master Distiller Jorge Antonio (Tony) Salles.
Crafted with the same techniques established over sixty years ago, El Tequileño Extra Añejo is the latest innovation from the mind of Tony Salles and his father Gran Tequilero Juan Antonio Salles. Each barrel was selected for their incredible depth, robustness, and velvet finish. The result is a tequila that is lush and creamy, with a slight earthiness on which sits notes of rich cooked agave, burnt orange, toasted oak, vanilla and walnut.
Speaking on El Tequileño Extra Añejo Tony Salles said:
"The journey of this blend began with my grandfather, Don Jorge Salles Cuervo. In everything we craft at El Tequileño, we remember the principles that he set for our tequila. We begin with only the finest mature agave from Los Altos de Jalisco, carefully crafted to produce the best possible tequila. Our special Extra Añejo blend was a collaboration between my father and me. Three barrels of tequila, matured in French and American oak, were hand-selected for their unique flavor and character. These were carefully blended to create an Extra Añejo tequila with rich flavor and complexity."
On the brand's most exclusive release, Gran Tequilero Juan Antonio Salles explained, "Each of the barrels used in our Extra Añejo is a perfect combination of rich agave flavor enhanced by the nuances from the oak in which they were matured. When combined, we created the perfect marriage of French and American oak, beautifully complementing the distinct El Tequileño style. We are incredibly proud to share this exceptional creation with you."
El Tequileño Extra Añejo is bottled at 40% ABV and is encased in a custom-made crystal Bastiaan Decanter by Pavisa Group, a premium glassmaker and long-time partner of El Tequileño. The Extra Añejo is available in select national and local retailers for a suggested retail price of $800.00. For more information about El Tequileño, visit the brand's official website or follow along on their social @El_Tequileno.