Emma Watson has launched her very own gin, Renais. Created by with her brother Alex Watson, the spirit is described as a "bold and vibrant gin inspired by the people, produce and provenance of Burgundy France."
More specifically, Emma Watson expects Renais gin to capture "the terroir of Chablis," with "its craft and culture provid[ing] inspiration and depth of flavor." The spirit is cultivated in France and distilled in England. Salvaged grape skins are collected after pressing for wine to create our base spirit, helping minimize waste. This is blended with Kimmeridgian stone and Grand Cru grapes to provide that classic Chablis minerality. In addition, natural ingredients including juniper, grains of paradise, linden flowers, and acacia honey grown by the brand's partner producers help to complete the flavor profile.
If you're thinking this is just another celebrity spirit with no real hands on effort or knowledge, think again. Alex acts as the company CEO and he was previously the on-trade customer marketing manager at Diageo. He led the brand's production process
Renais suggests enjoying the gin over ice or mixed in cocktails. The brand specifically mentions that it works well in classics like Martinis and Negronis, as well as in G&Ts. As for its signature cocktails, "The Emma", check out the recipe below: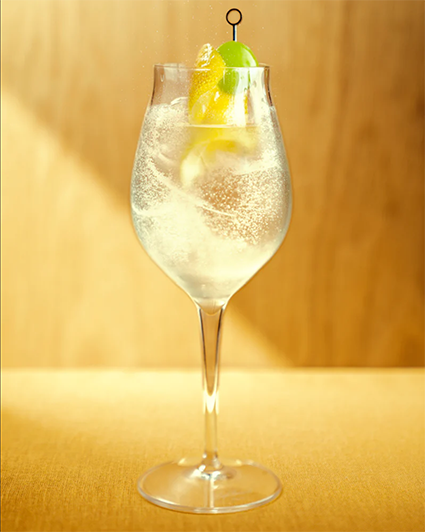 The Emma
Ingredients:
30ml Renais Gin
10ml Domaine de Watson Chablis
20ml Elderflower syrup
20ml fresh lemon juice
2 dashes Suze gentian liqueur
80ml soda water
Fill a large wine glass to the brim with large chunks of clear, good quality ice. Add all ingredients and give a gentle stir with a long spoon to incorporate ingredients but not to kill the bubbles.
Emma and Alex Watson launched Renais gin with sustainability in mind. The brand uses multiple sustainability initiatives in its production process, including solar-powered stills at the distillery, and biodegradable mushroom packaging from the Magical Mushroom Company. The remaining carbon emissions are offset through the support of wind farm initiatives in India via Climate Partner, making Renais a certified carbon-neutral product after evaluating the entire production process.
Renais launches its first batch of just 4,000 bottles this month with a second batch expected to arrive in June. It will be available via the brand's official website for £45 ($56 USD) per bottle and can be ordered at Scarfes Bar at Rosewood London come June.