Espolòn has added a Cristalino tequila to its portfolio. The clear, aged expression was of the last passion projects of Maestro Tequilero Cirilo Oropeza before his passing in 2020.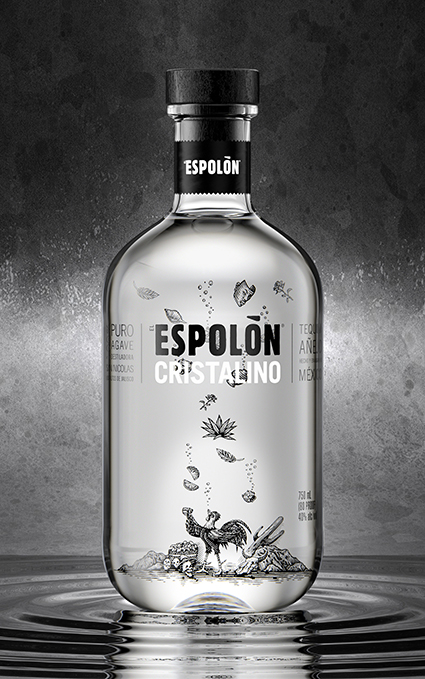 Made from 100% Blue Weber Agave and water from the natural well underneath the brand's distillery in Los Altos de Jalisco, Espolòn Cristalino is as clear and complex as the Crystalline waters from the cenotes in Mexico, which inspired the liquid.
Espolòn Cristalino was developed using a combination of traditional and modern techniques; a true representation of late Maestro Tequilero Cirilo Oropeza's tequila-making philosophy. Featuring a blend of their Añejo and a touch of extra Añejo, the tequila is minimally filtered through charcoal. The result is a Cristalino with bold tasting notes of caramelized agave and honey followed by a fruity, oaky finish for an unparalleled and unforgettable taste. It is recommended to be enjoyed neat.
This new expression was years in the making and a culmination of Cirilo's more than 50 years of artisanship in tequila-making. The Espolòn team unanimously decided that Cirilo's original formula was superior to every other version tested – a true testament and tribute to his passion and experience, delivering maximum taste through minimum filtration, delivering on Cirilo's mission in crafting this expression.
"Espolòn's Cristalino is a testament to our late founder, Maestro Cirilo, who has proven that a truly authentic tequila experience is achievable only through time and passion," said Sean Yelle, Senior Category Marketing Director at Campari Group USA. "A project years in the making, our Cristalino was created using both traditional and modern techniques, resulting in a one-of-a-kind liquid that celebrates Espolòn's rich heritage and Cirilo's trailblazing spirit."
The Espolòn Cristalino bottle is crystal clear, allowing drinkers to see through to an illustration featuring the brand's iconic rooster, Ramon. The illustrated scene celebrates the ancient Mayan gifting ritual of offering objects into the cenotes. This design honors the rituals that inspired the liquid and continues Espolòn's tradition of telling Mexican stories through design.
Bottled at 40% ABV, Espolòn Cristalino will be available nationwide in limited quantities for $59.99 per 750ml bottle.