Adam Handling's Eve Bar has launched its new zero-waste menu, Evolve. Bar Director Josh Linfitt and Head Bartender Mike Redman created the new menu, which further explores the synergy between Eve's bar and the kitchen upstairs with a menu  that uses the by-products of restaurant dishes to create both bar snacks and cocktails.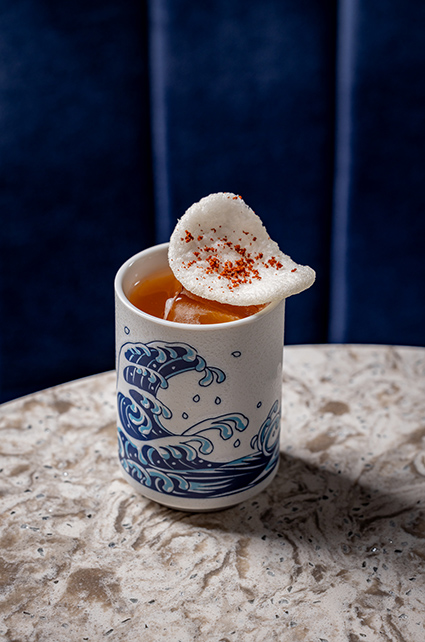 Unlike many cocktail menus–where the food element is an afterthought–at Eve Bar it's a vital component of the creative and sustainable process. Eve Bar uses parts of ingredients that can no longer be utilised on main dishes to create bar food and cocktails that push the boundaries of mixology and champion sustainability. The new menu takes by-products from the restaurant to create snacks such as 'Duck egg custard, Parmesan rind; 'Hash browns, Parmesan, black truffle'; and 'BBQ'd boneless chicken wings'. From there, anything that can't be used for food is channeled through Eve's cocktail lab to transform 'waste' into extraordinary cocktails.
Evolve implements six different techniques including distillation, clarification, infusion, carbonation, fermentation, and freezing. Each technique illustrates the myriad of ways in which they can transform food into inspiring drinks. The team infuses cherry blossom into Noilly Prat dry Vermouth to create Perfect Three Cherries, Eve's take on a Manhattan, while discarded peach stones are slow-roasted and made into an aromatic peach stone tincture using the Lab rotavapor and centrifuge, to add a floral note to the classic Vesper. The Mojito is also given a futuristic takeover by using liquid nitrogen to blister mint stems, at -138°C, which are then smashed into tiny pieces to maximise flavour.
Evolve minimises food waste by giving ingredients a second life. In the Orchard Campfire, crab apples grown at the Adam Handling Pub – 'The Loch & the Tyne' – are preserved using a lacto-fermenting technique; while in The Truffle Hunter, English truffle butter is washed through Brandy then chilled to create a textured infusion, which is then mixed with distilled fennel tops, house bitters and Whiskey. The Social Butterfly takes surplus chocolate from the 'white chocolate & citrus dessert' at Frog, which is distilled in the Lab rotavapor then mixed with Sapling Vodka, Orange Vermouth, Taittinger Champagne and Eve's secret 'hyper melon' recipe, which utilises all parts of the melon.
Other examples from the new menu include: Coffee Slayer (The Balvenie Doublewood 12YO, Discarded Cascara Vermouth, Waste Coffee & Cacao Husk Bitters, Mr Black Coffee Liqueur), Drifting (Two Drifters Overproof Spiced Pineapple Rum, Toki Blended Japanese Whisky, Whole Grapefruit, Passion Fruit, La Yuzu, Sake), and Firecracker (Corte Vetusto Espadin Mezcal, Casamigos Blanco Tequila, Eve Bar's Kimchi, Smoked Salt, Pink Pepper).
Eve Bar is situated in London's Covent Garden underneath Michelin-starred Frog by Adam Handling. For more information or to make a reservation, head over to the bar's official website.