When it comes to innovative cocktails in London, few spaces push the envelope quite like Eve Bar and now the iconic drinks palace has unveiled its latest menu, entitled Technique. Hidden underneath Michelin-starred Frog by Adam Handling, Eve Bar's in-house cocktail lab works with the restaurant upstairs to create a palpable link between bar and kitchen, utilising parts of ingredients that can't be used in dishes on the restaurant menu to create delicious, zero-waste cocktails. This signature production process forms the inspiration for Eve Bar's new menu, which officially launched to the public on 13th April 2023.
Created by a team headed up by Bar Manager Matt Fitzgerald and Senior Bartender Ellie Ireland, the Eve Bar technique menu emphasises bar's ethos, pushing the boundaries of mixology with a commitment to sustainability and zero-waste. Fitzgerald (The Savoy, Palmer & Co – Sydney, Saxon and Parole – New York), brings over 15 years of global experience to his role as Bar Manager and has already made an impact at Eve. An emerging talent in London's bar scene, Senior Bartender Ellie Ireland injects drive and energy into the team, and her playful style of cocktails has influenced the new menu. Having recently undergone a refurbishment alongside Frog, Eve Bar is stepping into a new era, with a new menu to mark its transition.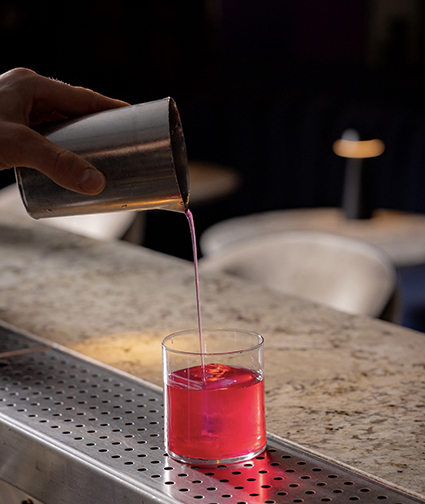 Technique is a menu broken down into different sections showcasing five different techniques, all with a touch of theatre, including carbonation, clarification, distillation, fermentation, and freezing. Each technique is demonstrated through three signature cocktails, illustrating the myriad of ways in which they can transform a drink. The menu has been created in Eve's cocktail lab that serves as one of the bar's focal points. A hub for passion and invention, it's here that the team has been able to transform vegetable waste from the kitchen into spicy kimchi and develop creations such as the Bone Yard Martini. For this cocktail, the team dehydrates venison bones after they've been used in the kitchen for adding flavour to stock. The bones are then blended and redistilled with vodka to create an umami flavour-bomb.
Alongside the exploration of these five techniques, the Eve Bar Technique menu focuses on incorporating British flavours and ingredients, whilst minimising waste. Developed with the Frog kitchen and local suppliers in mind, the menu highlights the synergy between Eve Bar and Frog restaurant, with each cocktail giving new life to a leftover ingredient from upstairs. Examples of this include 'Why Waste Good Coffee', which uses coffee grounds to create a Kombucha; and Kentucky Husk, which unlocks the flavour potential of pistachio shells and passion fruit husks. Make Curds Not Whey is another example, which uses the trim of heritage beetroot and curds from whey sauce on the Frog menu.
Other examples from the menu include:
Fully Discarded – Hazelnut distilled Discarded vodka, Martini bitters, Suze, red grape and apple shrub
Chicken Butter Old Fashioned – Chicken butter washed truffle Michter's Sour Mash, Metaxa 12 Stars, poppy seed Peychaud's bitters, Morveren Cornish absinthe
Inside Out – Hapusa Gin, salted Limoncello, Takamaka Coco coconut rum liqueur, lemon balm ice cream
"Having access to a Michelin-starred kitchen is a huge advantage when it comes to learning and discovering new flavour profiles and techniques, to elevate the team's knowledge but, most importantly, to enhance the guest experience," says Bar Manager Matt Fitzgerald. "This new menu is really focusing on the theatrics and storytelling element for the guests, which complements the experience that they're offering in Frog restaurant upstairs."
Chef / Owner Adam Handling comments, "The great thing about all my venues is our constant hunger for evolution. Eve Bar's progression from when I first created it to what it is now is incredible and that's because it has grown with the team and their sheer desire for perfection. My goal is to make Eve bar one of the World's 50 best bars, there's no hiding that fact. The synergy between bar and kitchen has become even closer, with transferable techniques and waste management in the design and creation of the new bar menu. This, paired with Matt's knowledge and incredible skillset and the hard work of our driven team, makes me really excited for the direction in which Eve is going.
Eve Bar is located at 34-35 Southampton Street, London, WC2E 7HG. For more information or to make a reservation, head over to the bar's official website.
In February 2022, Eve Bar launched London's first NFT Cocktail Menu Collection. The exclusive collection consisted of 13 pieces, created in collaboration with a local artist and bartenders. The bar's first nero-waste cocktail menu was unveiled in November of 2021.