Located inside the historic Far East Building at the heart of Little Tokyo, Far Bar serves up a large selection of craft beers, classic cocktails, Whiskey flights, and Asian fusion bar grub. There are essentially three spaces within the property: a large cafe area upfront with a full bar and plenty of televisions; a dark, semi-hidden back bar with a couple high-tops; and the brick-lined outdoor dining section.
There is historic significance to the 1896 Beaux Arts-style building where Far Bar now resides. Back in 1935, it was known as the Far East Cafe and was an acknowledged community hub that served up chop suey. During the World War II internment of Japanese Americans, the building's basement stored belongings of those from the neighborhood who were wrongly imprisoned. Before that, the alley was filled with chickens. More recently,Bruce Lee famously dined in one of its booths. And in 1994, it was severely damaged by the Northridge Earthquake.
It wasn't until 2006 that the space finally became Far Bar. Now, it is the largest distributor of Japanese craft beer in Southern California, and pours over 500 different whiskies. Their Japanese Whisky selection is one of the best in Los Angeles, and they deliver a number of classic cocktails for anyone looking for a bit of a change from the usual beer or straight spirit.
Far Bar is best well-known for their burgers and also serves up fusion delights such as wasabi fries. There are also a number of sushi options as well as rice and noodle dishes.
Happy hour offers a plethora of deals, including sliders, gyoza, and street tacos. Drink options, meanwhile, finds a $9 whiskey flight as well as a variety $8 cocktails.
Far Bar is a bustling neighborhood spot, and, therefore, a perfect place to catch a game while enjoying a vast array of whiskey alongside some tasty bar grub.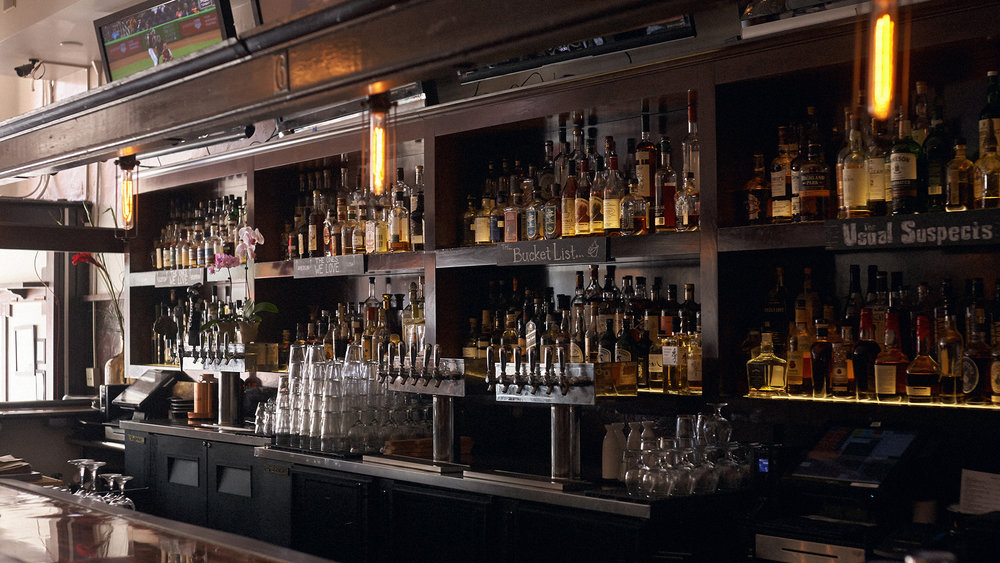 Find It Here:
347 E 1st St.
Los Angeles, CA 90012