Last year, Nicole Austin–Distiller at George Dickel's Cascade Hollow Distilling Co.–and Todd Leopold–Founder and Master Distiller at Leopold Bros Distillery–announced they'd collaborated on a limited-edition rye whiskey. It circulated the various award shows, picked up some impressive hardware, and then zoomed off the shelves before most were able to get their hands on it. And that was it, or so we thought. Now, the two heralded brands have announced they're bringing back the acclaimed George Dickel x Leopold Bros Collaboration Blend.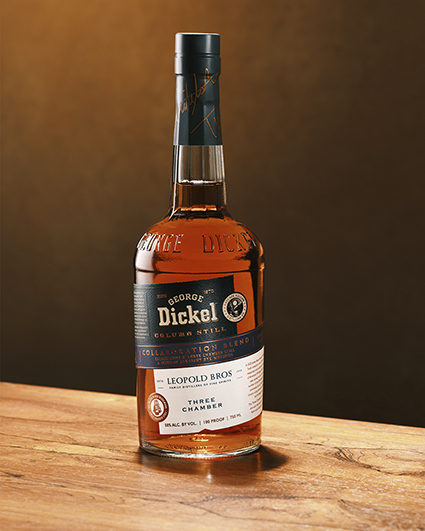 The whiskey blends Leopold Bros' Three Chamber Rye with George Dickel's column still rye produced at Cascade Hollow Distilling Co. The union between column distilled rye and Three Chamber distilled rye turns back the hands of time, returning to an era that saw heavy-bodied rye whisky served at bars and saloons throughout America.
"From sharing a sample of our trademark Three Chamber Rye with Nicole Austin in 2021 to the creation of our rare rye release, this continued partnership with George Dickel has been nothing short of amazing," said Todd Leopold. "With the return of our take on the historic American style, we look to inspire the resurgence of rare rye whisky and the recreation of classic cocktails."
"The George Dickel x Leopold Bros Collaboration Blend was founded on our friendship and mutual admiration for each other as distillers. This is such a meaningful product to us both, and we have been overwhelmed by the initial reception," added Austin. "Working with Todd and his team to create this blend is a once-in-a-career moment for me. I'm particularly excited we're able to give whisky drinkers another chance to taste a piece of history while establishing a long-term partnership between George Dickel and Leopold Bros."
The George Dickel x Leopold Bros Collaboration Blend initially boasts a floral nose of lavender, elderflower and rose balanced by sweet hints of maple syrup, marshmallow, and cocoa. On the palate, rosewater, blackberries, caramel, lavender, fig, and citrus are present followed by a finish combining earl gray, honey, and cocoa. The brands recommend enjoying the whiskey neat or in a classic cocktail like the Manhattan or Whiskey Sour.
Bottled at 50% ABV, the George Dickel x Leopold Bros Collaboration will be available beginning the month in select markets across the US for $109.99. For more information, head over to George Dickel's official website.