Glen Scotia has unveiled its Malts Festival 2023 release. The limited-edition bottling celebrates the Campbeltown Malts Festival (23-24th May 2023), an annual event hosted in the distillery's hometown to commemorate the region's rich whisky making history.
The Glen Scotia Malts Festival 2023 is an 11-Year-Old lightly peated single malt that has been finished for 12 months in white port casks. On the nose, it offers warming spiced stone fruit, stewed white peach, and cloves with a fresh lemongrass and a slight mineral element The palate finds molasses, caramel sweetness with prune and fig notes, a waxed wood and sandalwood spice. The finish is described as long and fragrant.
In a first for Glen Scotia, the packaging of the latest release will be embossed with a bespoke QR code giving those unable to make the trip to the 'Victorian Whisky Capital' a chance to transport themselves into the heart of the distillery for a unique new digital experience, the Glen Scotia Whisky Experiment.
Led by award-winning spirits writer, TV presenter, and OurWhisky Founder, Becky Paskin, the virtual video experiment, shot in the dunnage warehouse and around the town, takes viewers on a sensory exploration, intentionally manipulating sight, colour, and sound, as Becky guides audiences to pour a dram and consider how its flavour is influenced by visuals and music in the experience. She is joined by Glen Scotia master distiller and distillery manager, Iain McAlister, as the pair take a walk through the distinctive Campbeltown landscape.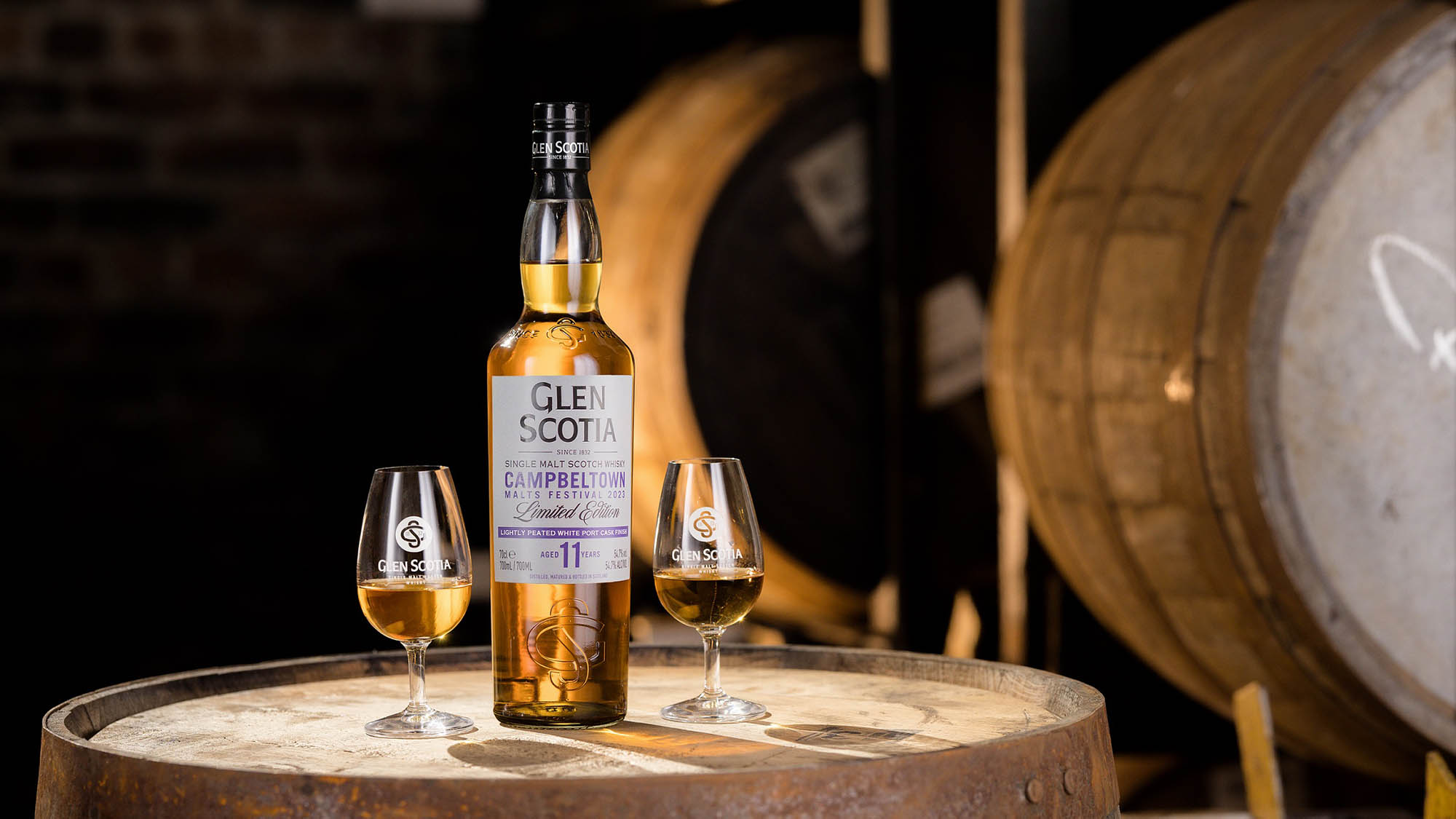 The project follows Becky and Iain's Whisky Experiment in-person at last year's Malts Festival, as Glen Scotia continues to seek new ways to bring Campbeltown to audiences around the world.
"As our fanbase continues to grow around the world, we wanted to find a way to give those who might not be able to join us at the Malts Festival this year a rich experience of our home," says McAlister. "The Whisky Experiment is just that, and provides a fascinating approach to whisky tasting, as Becky encourages us to reconsider what's in our glass again and again, as the environment transforms in front of us. I love that it can be done time and time again with any Glen Scotia dram, wherever you are in the world.
"This year's Festival Release is another superb, limited-edition that showcases the scope of what Glen Scotia can offer; the white port cask finish provides something interesting and different for us, while still maintaining that wonderful fruity, robust, and subtly saline Campbeltown signature profile."
Paskin added: "We had such a brilliant time at last year's Festival bringing to life the sights and sounds of Campbeltown through the medium of whisky, and we wanted to share this wonderful, sensorial experience with everyone.
"The idea behind the Glen Scotia Whisky Experiment is guided by the way our sense of taste is dictated by the environment we're in; so, what we taste in our glass will be affected by our setting, and Campbeltown is a fantastic place to recreate.
"This is a chance to rip up the rule book on traditional whisky tasting notes, have an open mind, and find new possibilities, which is the most exciting part – drams can be completely re-imagined."
Bottled at 54.7% ABV, the Glen Scotia Malts Festival 2023 release is available to purchase online and in specialist retailers around the world for £65.
For more information on this year's event, head over to the brand's official festival page.
In January, Glen Scotia unveiled a 21-year-old single malt. The Campbeltown distillery will only release 2,500 bottles per year of the Scotch.