GlenAllachie spent 2022 celebrating Master Distiller Billy Walker and his 50th anniversary in the whisky industry. As the year turns towards its close, the brand is getting back to its roots with the launch of the third iteration of one of its oldest core range expressions: The GlenAllachie 21-year-old Cask Strength Batch 3 Single Malt Scotch Whisky.
Limited to just 2,400 bottles globally, Batch 3 follows in the footsteps of highly sought-after previous installments of the annual expression. The small-batch Scotch marries single malt matured in three vintage Pedro Ximénez Sherry puncheons. Each cask was personally selected and blended by Walker.
Chosen from the Speyside-based distillery's inventory of over 50,000 casks held on-site, the Spanish Sherry casks have imparted bold and complex flavor attributes, joining the distinctive heather honey character of The GlenAllachie's house style. The antique walnut-hued liquid delivers "black grapes, fresh espresso, brandy butter and stem ginger, leading to indulgent dark chocolate fondant".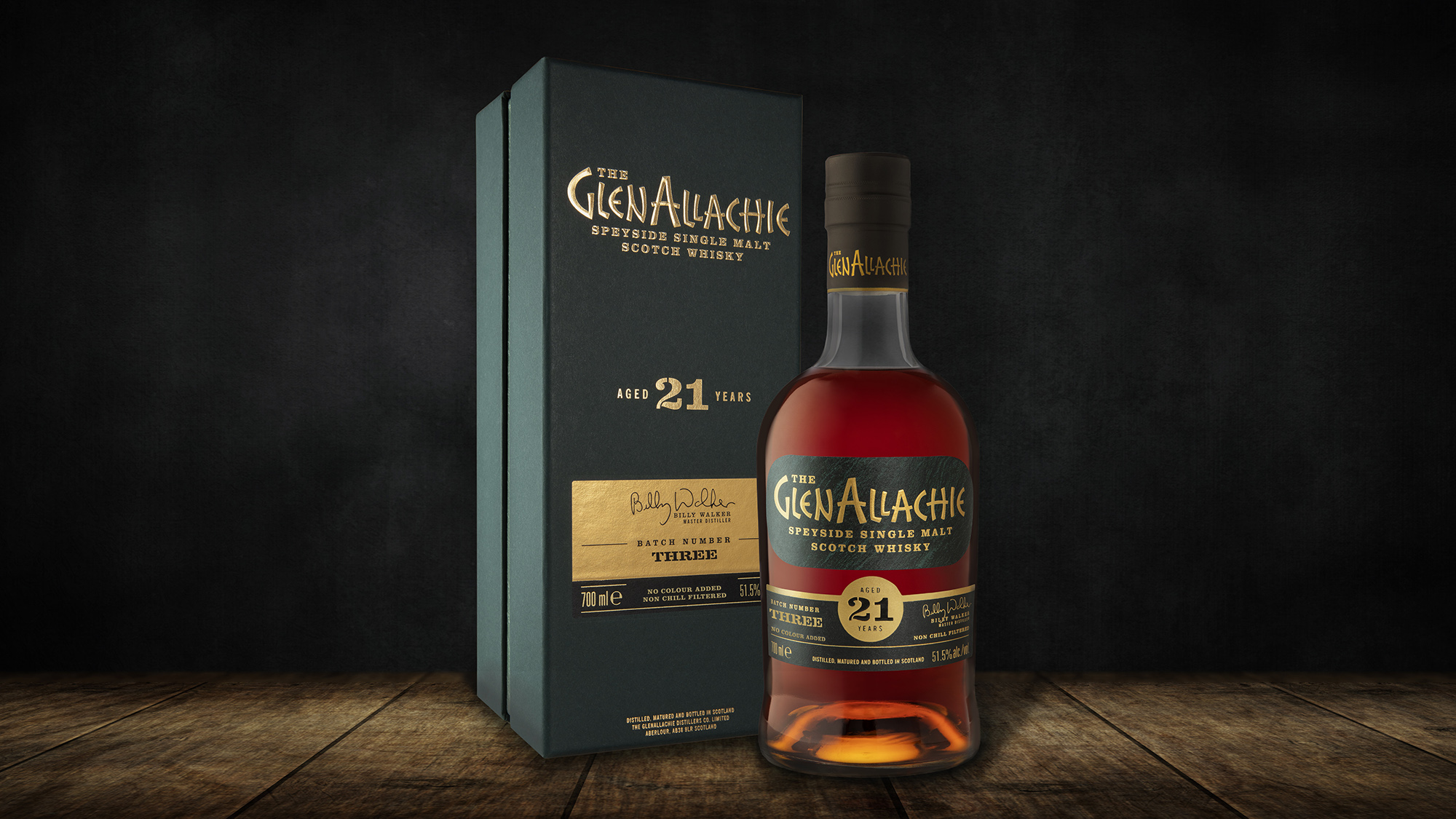 Encased in a luxurious suedette-lined pine green box with gold foil detailing, the whisky was bottled at its natural cask strength of 51.5% ABV, with no added color and without undergoing chill filtration.
"Whisky is a waiting game, and after years of careful planning, I never tire of the anticipation; it's pure excitement," said Walker. "Each and every cask at the distillery is regularly monitored to ensure we bottle the very best whisky available for each expression. This is what led me to pick these three richly seasoned Sherry puncheons to create this new batch of our 21-year-old. The outcome is a multifaceted drinking experience that exudes sheer elegance. A whisky that I will sip and savour at the end of this milestone year."
The launch coincides with the release of the next batch of The GlenAllachie's 10-year-old Cask Strength offering: Batch 8. Arriving at a punchy 57.2% ABV, the spirit boasts "intense waves of cinnamon spice, comforting mocha, honeycomb and candied walnuts".
The GlenAllachie 21-year-old Cask Strength Batch 3 is priced at £275, while the 10-year-old Cask Strength Batch 8 arrives at £65. Both will become increasingly available over the coming weeks from specialist retailers worldwide.
For more information, head over to the brand's official website.
In September, GlenAllachie unveiled the last bottling in its Past, Present & Future Series, The GlenAllachie Billy Walker 50th Anniversary Future Edition 4-year-old Peated Single Malt Scotch Whisky.