The GlenAllachie Distillery just unveiled its latest bit of whisky inspiration, the The GlenAllachie 2012 Vintage Cuvée Wine Cask Finish. The 9-year-old Scotch marries single malt finished in casks that previously held four types of premium European red wine: Languedoc, Recioto Della Valpolicella and two undisclosed Premier Cru Classés.
In the wine world, the French word "Cuvée" refers to a blend that typically comprises more than one variety of grape. The Speyside-based distillery applied the description to its whisky "by combining single malt matured in wine casks from multiple wineries."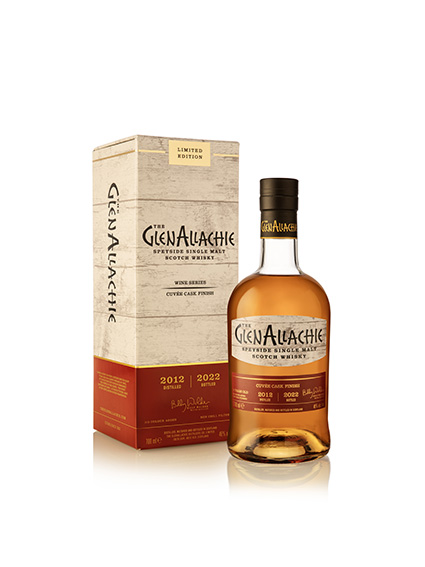 After primary maturation in American oak ex-Bourbon barrels, the spirit underwent over 20 months of additional aging in the various wine barriques within the distillery's on-site warehouses. The casks were obtained from four fine wineries located in renowned regions of France and Italy by master distiller Billy Walker.
After Walker determined the finishing period had delivered optimum influence, the whisky was blended to form the Cuvée Wine Cask Finish.
The Languedoc casks are said to impart notes of "red fruits, sweet spices and garden herbs"; whilst the Recioto Della Valpolicella, produced in Verona, Italy, contributes "ripe cherries, coconut shavings, liquorice and raspberry coulis"; and the Premier Cru Classé wood brings "blackcurrant, espresso coffee and wild truffle" to the table.
"As an impassioned wine enthusiast, devising a Cuvée has been nothing short of a dream project," said Walker. "I'm fortunate to have longstanding relationships with premium wine producers across Europe which has opened doors for us to create a whisky with intricate charm.
"As a blender at heart, identifying wine styles that would sit well together and capture distinctive qualities presented an enjoyable challenge. They say, 'never mix grape and grain', but I say this marriage is a match made in heaven."
Bottled at 48% ABV, the GlenAllachie 2012 Vintage Cuvée Wine Cask Finish is priced at £53.99 and will become increasingly available over the coming weeks from global specialist retailers.
For more information, head over to the distillery's official website.