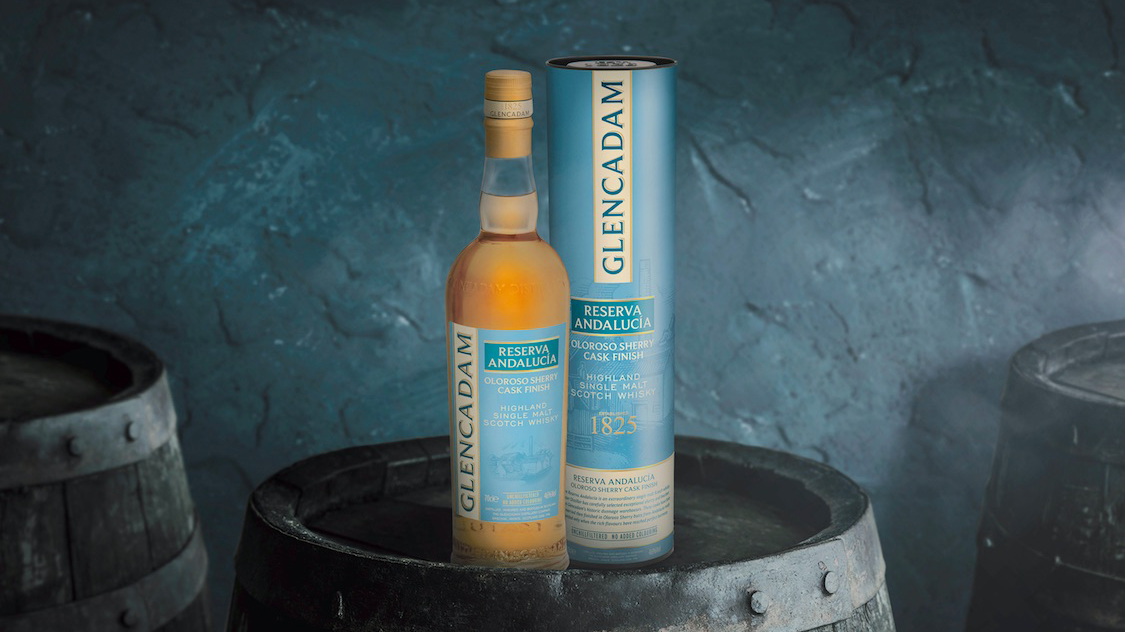 Glencadam has launched Reserva Andalucia single malt Whisky. The new Scotch pays homage to the relationship between the Highlands distillery and the famous Sherry region of Spain, Jerez in Andalucia.
To create Glencadam Reserva Andalucia, the Whisky is first aged in ex-Sherry and ex-Bourbon casks from the ancient dunnage warehouses at the distillery. Then, Glencadam Master Distiller Robert Fleming selects a number of these, marries them together and then finishes the Scotch in "exceptional Oloroso Sherry butts, which Robert had personally chosen from some of the finest sherry bodegas in Andalucia."
Bottled at 46% ABV, the resulting non-age statement Whisky is a "rich and sherry-forward expression, where the famous fruitiness of the Glencadam spirit is balanced with sultana and sweet-spice notes, that come from the Oloroso cask maturation."
According to the distillery, the nose features "initial aromas of ripe soft fruits, soft nougat and oaky vanilla with a background of freshly made fudge." The palate is described as "smooth and creamy with sultanas, orchard fruits and toffee apple sweetness." The finish is "long lasting and silky smooth with honey, muscovado sugar and green tea lingering on the tongue."
Glencadam Reserva Andalucia is currently available in the United Kingdom for £37.95 ($50 USD) via The Whisky Exchange and is set to receive a global release this month.
Earlier this year, the Glencadam Reserva Andalucia picked up a gold medal at the Scotch Whisky Masters 2020. The Glencadam 21 Year Old old received gold.
Glencadam is best known for its blended Whiskies, but has been releasing single malt expressions for over a decade now. Originally founded in 1825, the Highland's distillery was continuously in operation until 2000, when it was mothballed by former owners Allied Domecq. Angus Dundee plc reopened the distillery in 2003. It's Whiskies are available in a range of official bottlings aged 10 to 21 years, as a component of Ballantine's and Stewart's Cream of the Barley blended whiskies, Angus Dundee's own blended and vatted whiskies, and in a number of other blended brands.