Glengoyne is celebrating the contrast and harmony created by the interplay of its sherry and bourbon casks with the launch of a new 15 Year Old Highland Single Malt Scotch whisky. The dram will join the Highland distiller's core collection.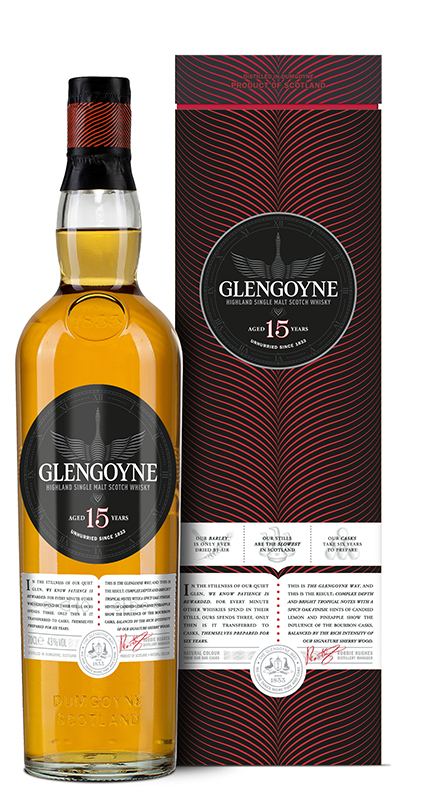 The Glengoyne 15 Year Old is wholly matured in first fill bourbon and sherry casks to deliver sweet dark orchard fruits from the former and oaky spice and vanilla from the latter. The result is a complex dram that's recognisably Glengoyne – but seen from a different perspective.
The whisky has a natural light amber hue and a rich bouquet of flavors. The nose offers malt flour, fresh hay, dried fruits, citrus, and Rosehip. The palate is clean, with a gentle sweetness and a hint of tropical fruit. Cinnamon, vanilla, and apple combine to evoke memories of a freshly baked apple pie. A pleasant dry finish is complemented by gentle spice and lingering oak.
"Glengoyne's spirit spends three times as long in its stills than other whiskies, and this creates a distinctively light, smooth and fruity spirit style," said Katy Muggeridge, Brand Director at Ian Macleod Distillers. "For the 15 Year Old, we wanted to showcase Glengoyne's signature style brought to maturity in absolute balance from the combination of both bourbon and sherry casks. The first fill maturation gives complex depth, bright tropical notes, and a spicy oak finish whilst the refill casks allow the fruity Glengoyne house style to shine through. It's an exciting and intriguing Glengoyne dram, with a unique flavour profile."
Bottled at 43% ABV, the Glengoyne 15 Year Old is priced at £90 and available to buy direct from the brand's official website, as well as specialist retailers.
In May, Glengoyne created "The Offline Edition".