Following a meticulous renovation project, late night destination Gothic Bar has now opened in King's Cross. The London bar sits alongside the recently reopened Midland Grand Dining Room.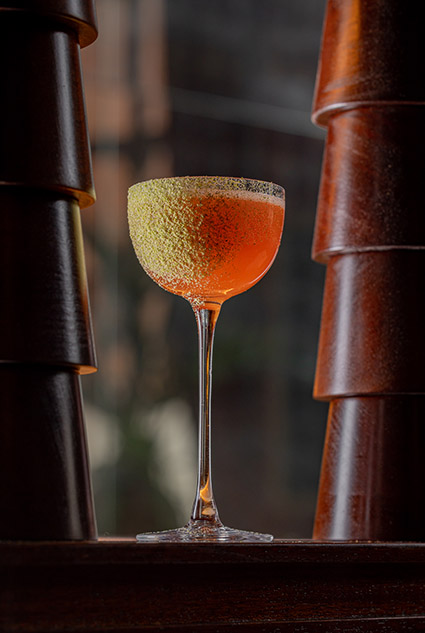 Located in the original entrance to the Victorian hotel, Gothic Bar's cocktail selection was created by Jack Porter (Booking Office 1869, Mezzanine at The Stratford, Library Bar at The Ned). With an intimate and opulent design by Toro, it sees the team's interpretation of a classic cocktail bar, complete with a hand-picked selection of absinthe, resurrected for a modern audience. Opening from 12pm daily, with weekend hours extending to 2am, the bar fulfills the team's drive of creating a late-night hotspot within the cultural hub which is King's Cross, as seen in its curated late programming which includes readings, salons, and live music.
Named in honour of the building's Gothic Revival style, Gothic Bar features a cocktail list centred around the flavours of Eau De Vie–a pure, clear, and unaged brandy, distilled in fruit. This perfumed and flavourful spirit allows for an expression of intense fruit essence, creating characterful and balanced cocktails. The menu is split into two; 'The Gothic Signatures' which encompasses eight drinks and sits alongside three 'Grand Signatures', which embody the wider team's ambitions for the bar. Particular drink highlights include the Eau de Martini (with guests encouraged to choose their own Eau De Vie) and the seasonally-changing Grand Royale (champagne, strawberry trilogy, absinthe). This is complemented by Powell's bar menu, which has French influences whilst also featuring a number of classic bar snacks including his burger, "The Grand"' cheeseburger au poivre, as well as Salt & pepper fried quail and a Wild mushroom & truffle croque madame. 
Gothic Bar is located on Euston Road, London NW1 2AR. Bookings can be made by visiting the official website.