Last year, Great Jones Distilling Co opened up as Manhattan's first and only whiskey distillery since Prohibition, and now it's bringing Basquiat artwork back to Great Jones Street, just down the block from the site of his apartment and art studio in Noho. The full collection includes the release of three exclusive bottles featuring Basquiat artwork, "Basquiat's New York" tasting room and the opening of a specialty pop-up "The Basquiat Bar," at the Great Jones Distillery, and a capsule collection of specialty merchandise.
The art deco-inspired Great Jones Distilling Co bottles feature Basquiat's iconic "Pez Dispenser" Dinosaur graphic; his "Untitled, 1982" (Skull); and his "Untitled, 1982 (Crown)". The first two bottles – Great Jones x Jean Michel Basquiat Dinosaur Edition, Great Jones x Jean Michel Basquiat Skull Edition – contain 4-year-old Great Jones Straight Bourbon. The third bottle – Great Jones x Jean Michel Basquiat Pineau de Charentes Wine Cask-Finished Bourbon Distillery Exclusive – with Basquiat's iconic crown is an entirely new expression, a 7-year-old Pineau de Charentes Wine Cask-Finished Bourbon bottled at 91 proof, available exclusively at the Great Jones Distillery in Noho.  The project also includes a curated collection of merchandise designed and produced by Rome Pays Off.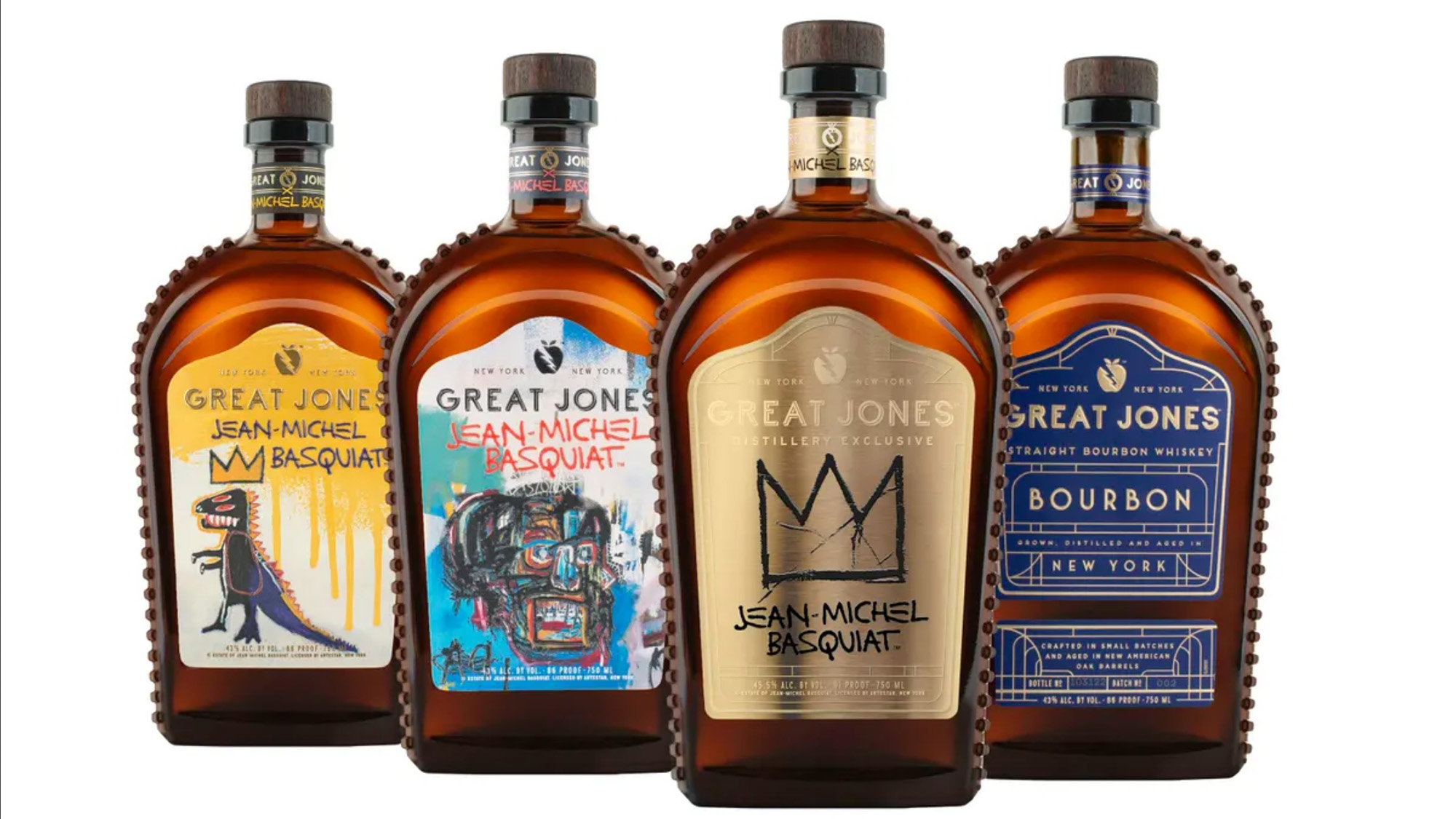 The Great Jones speakeasy, which was previously home to its seasonal Whiskey Wonderland, has transformed into The Basquiat Bar. A throwback to Basquiat's New York and one of his favorite watering holes, The Mudd Club, the space highlights photos of Basquiat and friends, and two borrowed original Basquiat prints from Pace Editions. The Basquiat Bar will be open Thursday, Friday and Saturday evenings from 6 till 10PM reservation-only at Resy, serving a menu of Basquiat-inspired small bites and signature cocktails like The J.M.B featuring Great Jones Straight Bourbon, red bitter aperitivo, molasses, fresh pineapple juice, and lime.
The final element to the distillery experience is Basquiat's New York, a downtown New York-inspired tasting room housed in the distillery's Barrel Room. Guests will partake in the whiskey tasting portion of the tour surrounded by oversized Basquiat imagery and nostalgic items from 1980's New York. The "Distilling New York x Basquiat – VIP Tour" will include a tasting of the Distillery Exclusive cask-finished whiskey and one cocktail at The Basquiat Bar. All Great Jones "Distilling New York" and "Distilling New York x Basquiat – VIP Tour" tours will end in the new Barrel Room space. Other Basquiat-inspired moments at the distillery include a specialty cocktail class (every Wednesday and Saturday) and a bespoke cocktail served at The Tasting Room.
"As a Bourbon from New York City – distilled on the same street that Jean-Michel Basquiat called home – we are proud to celebrate the legacy of such an iconic New Yorker," says Lander Otegui, Senior Vice President of Marketing at Proximo Spirits. "As we look to establish ourselves as a neighbor and fixture on the famous Great Jones Alley, we're inspired by the artists and tastemakers who impacted the culture of New York City in such a dynamic way. This collection offers consumers a piece of New York history, marrying art and whiskey, within the growing Bourbon category."
This partnership has been created in collaboration with Artestar, a global licensing agency and creative consultancy representing high-profile artists, photographers, designers, and creatives.
For more information, head over to the brand's official website.