It's that time of the year again where ghouls and goblins try to put a scare into the cooling air. In exciting news, it's the first Halloween in a while that'll see many of us get together to celebrate and probably have a couple cocktails.
For us, a couple good drinks can be the difference between a good party and a great. That's why we've put together a list of some of our favorite Halloween cocktails that are sure to scare some life into the spookiest day of the year.
Halloween cocktails:
Mezcal Necro-ni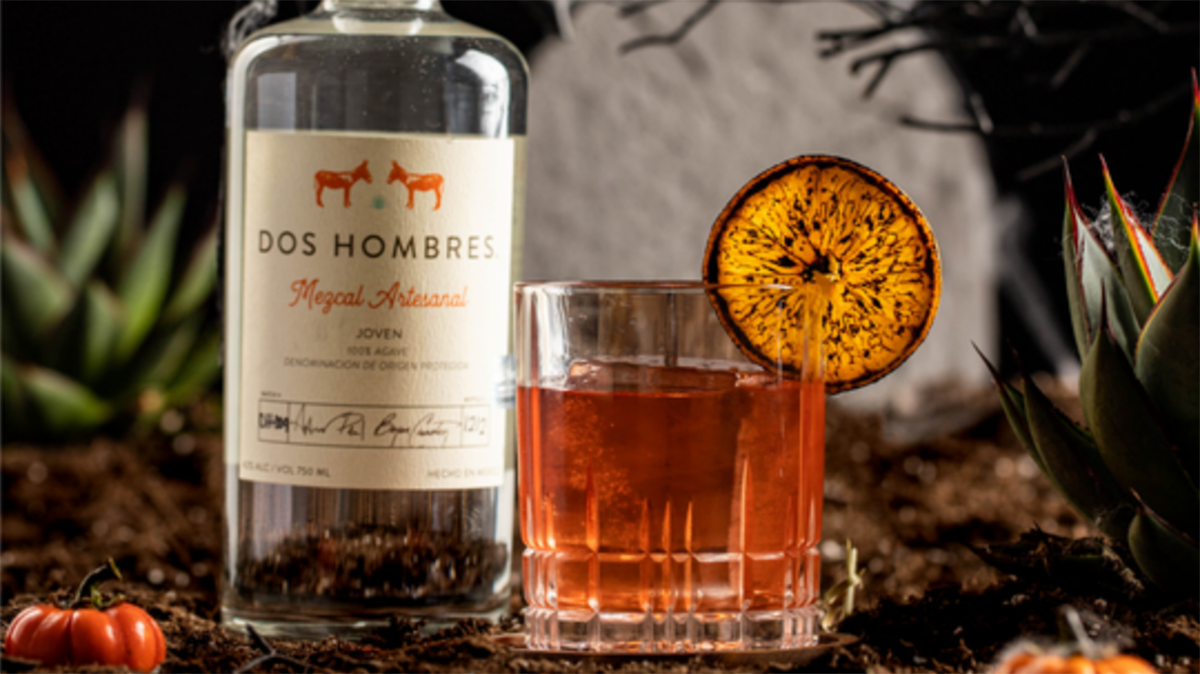 Ingredients:
1.5oz. Dos Hombres Mezcal
1 Smoked Orange Wheel
1/4oz. Simple Syrup
1oz. Campari
2 Dashes Cayenne Pepper
3/4oz. Sweet Vermouth
Add all ingredients into a mixing tin with ice. Shake and strain into a rocks glass. Enjoy!

Backwards Ghost For Hire – created by TheResidentMixologist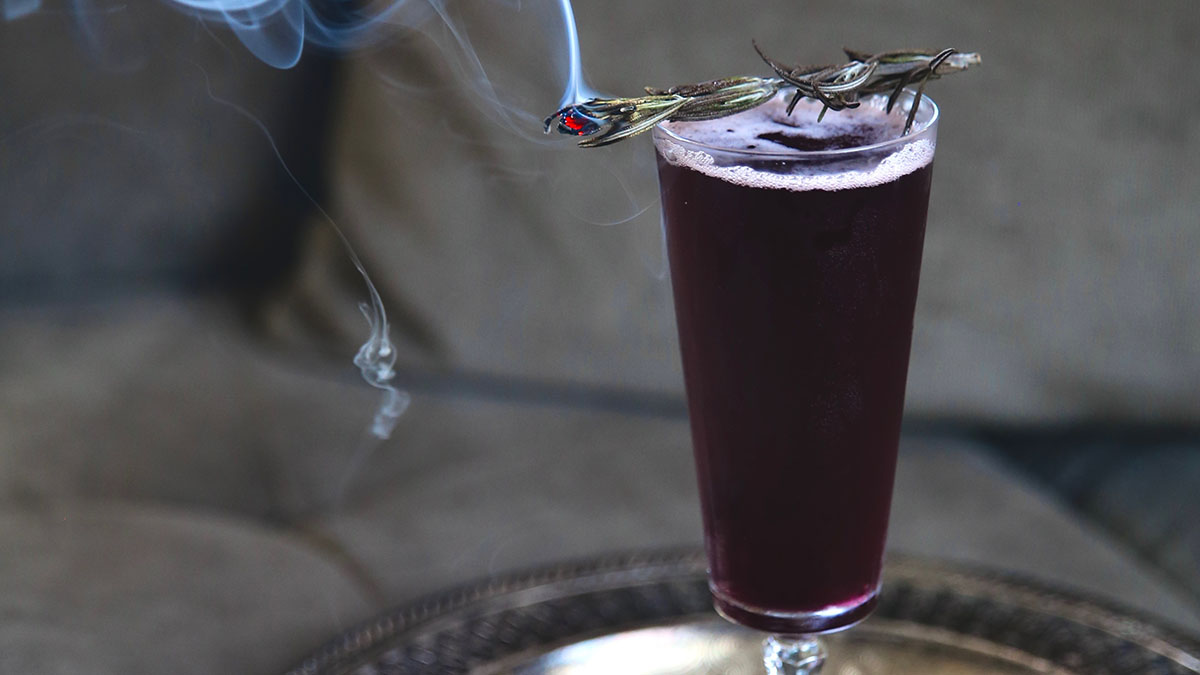 Ingredients:
½ oz bourbon + ½ oz scotch infused with butterfly pea flower
⅓ oz Campari
½ oz homemade rosemary simple syrup
3 oz BABE Red with Bubbles
Shake everything but the wine with ice briefly and strain into a champagne flute. Top with the sparkling red wine. Garnish with smoking rosemary.

Strawberry BOO-sil Paloma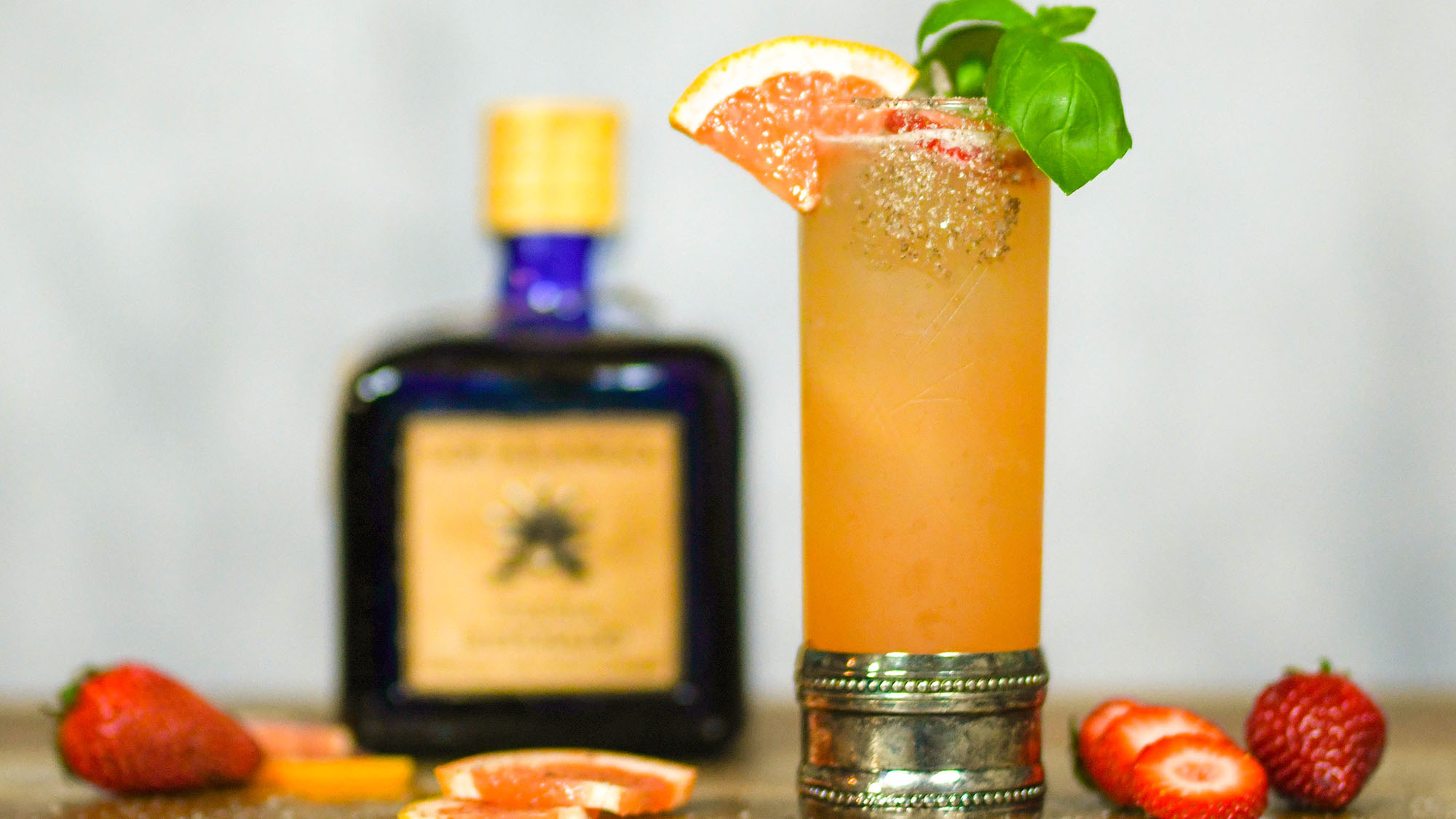 Ingredients:
2 ounces Los Arango Reposado
1 ounce grapefruit juice
½ ounce agave syrup
2 chopped strawberries
5 basil leaves
Soda to top
Smoked sea salt for rim
Rim your glass with smoked sea salt. Combine all ingredients except soda in a cocktail shaker with ice. Shake to chill and combine ingredients. Fine strain into a high-ball glass over fresh ice. Top with soda Garnish & Enjoy!

Seagram's Very Bloody Mary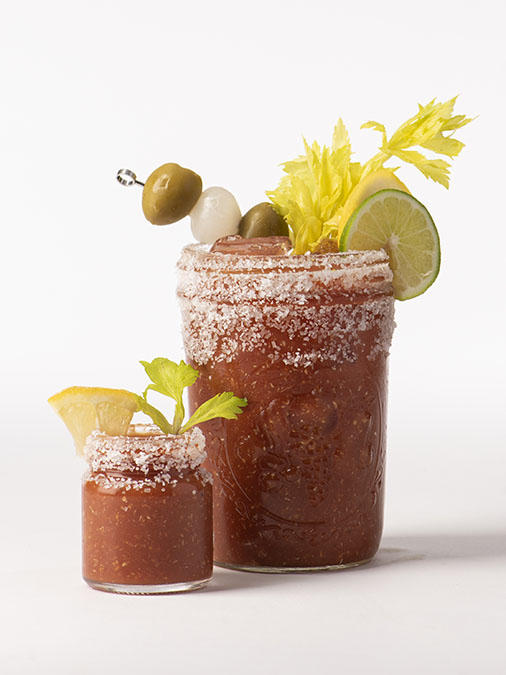 Ingredients:
2 oz. Seagram's 80 Proof Vodka
4 Dashes Worcestershire Sauce
1⁄2 oz. Olive Juice
1⁄4 oz. Balsamic Vinegar
1-2 Dashes Tabasco
1⁄2 oz. Tomato Juice
1⁄2 oz. Lemon Juice
1⁄2 tsp. Horseradish
Black Pepper
Garlic Powder
Rim a pint glass or mason jar with salt and fill the glass with ice. Combine all ingredients in the glass over the ice and stir with a cocktail spoon. Garnish with a celery stalk, skewered cocktail olives & onions, lime and lemon rounds.

Tanteo Tequila Panadero Margarita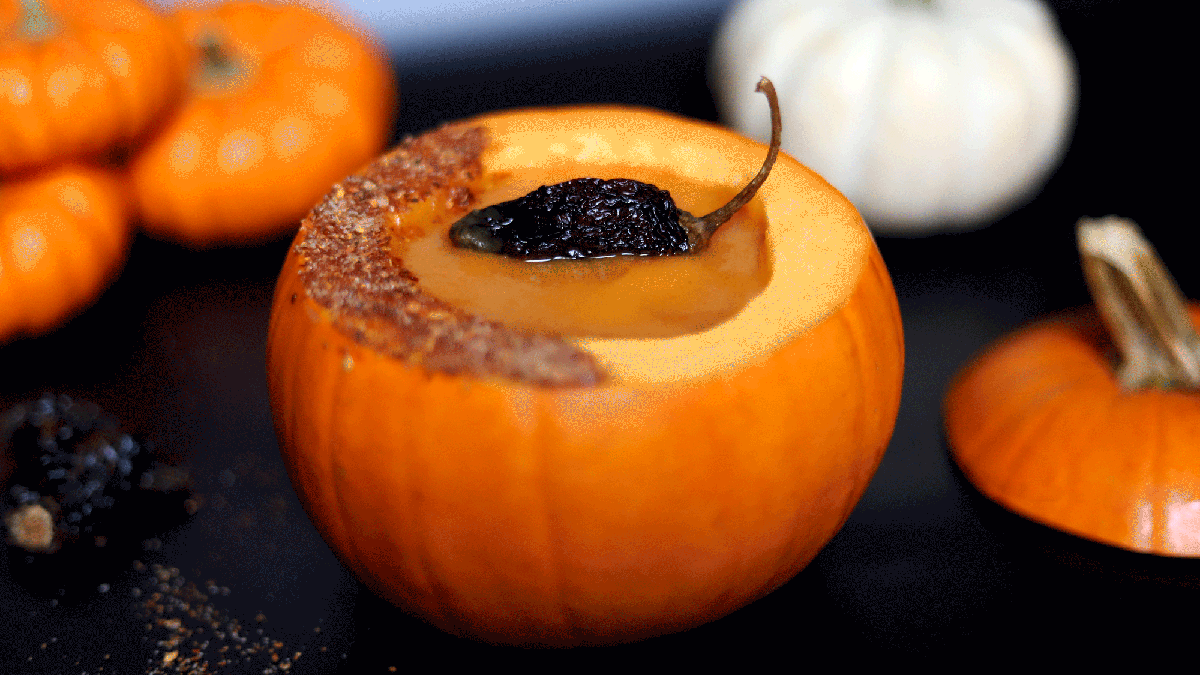 Ingredients:
2 oz Tanteo Chipotle Tequila
1 oz Fresh lemon juice
¾ oz Light agave Nectar
1 oz Pumpkin Puree
Combine ingredients in a shaker with ice. Shake well and strain into a hollowed mini-pumpkin. Garnish with freshly ground nutmeg and cinnamon.

Avaline Red Bloody Spritz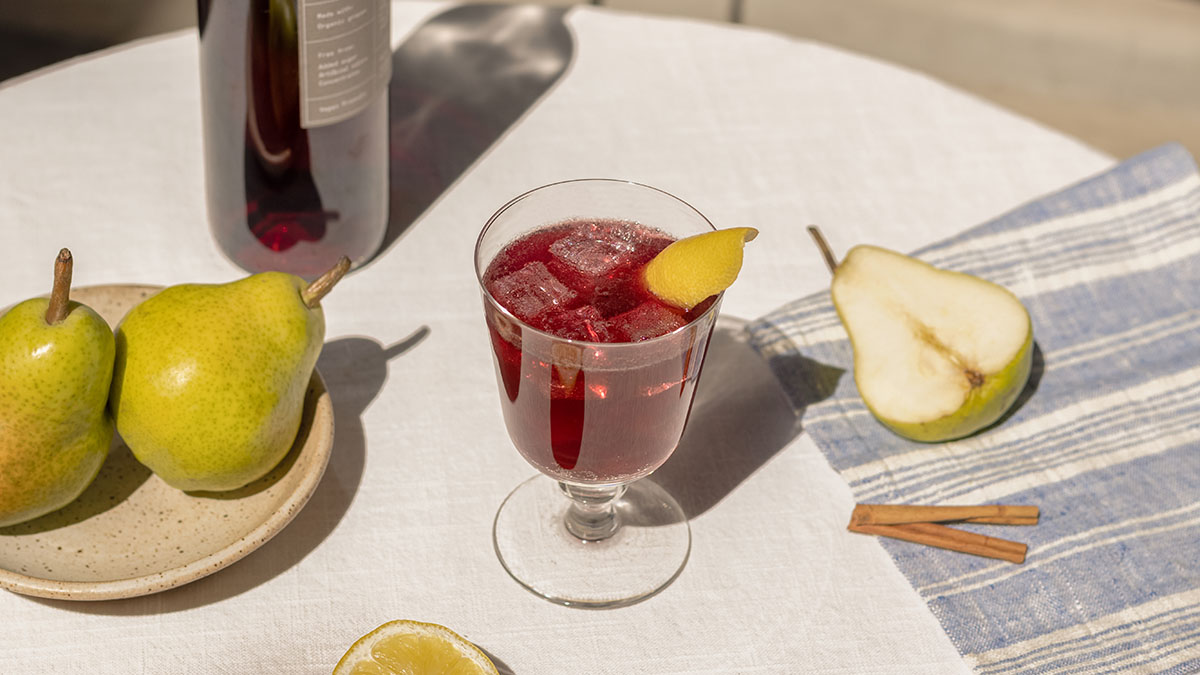 Ingredients:
3 oz Avaline Red
¼ pear, muddled
1 pinch of cinnamon
A twist of lemon
Sparkling water
In a glass, muddle ¼ of a pear with a pinch of cinnamon. Add 3 oz of Avaline Red (or however much you're in the mood for!). Strain into your favorite wine glass and add a few ice cubes. Top with sparkling water, and garnish with a refreshing twist of lemon. Enjoy with the late afternoon sun and a gentle autumn breeze.

Smoked Spectra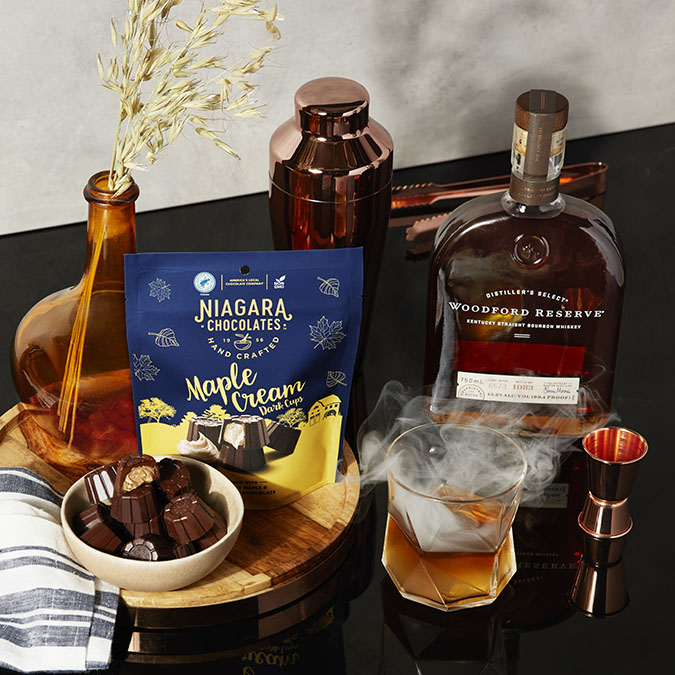 Ingredients:
2 oz. Woodford Reserve Kentucky Straight Bourbon
2 oz. Crème de Cacao
2 dashes Aromatic Bitters
3 drops Woodford Reserve Chocolate Bitters
Stir & garnish with Niagara Chocolates Dark Maple Cup of Roasted Caramel Peanut Clusters

Cardamom Kiss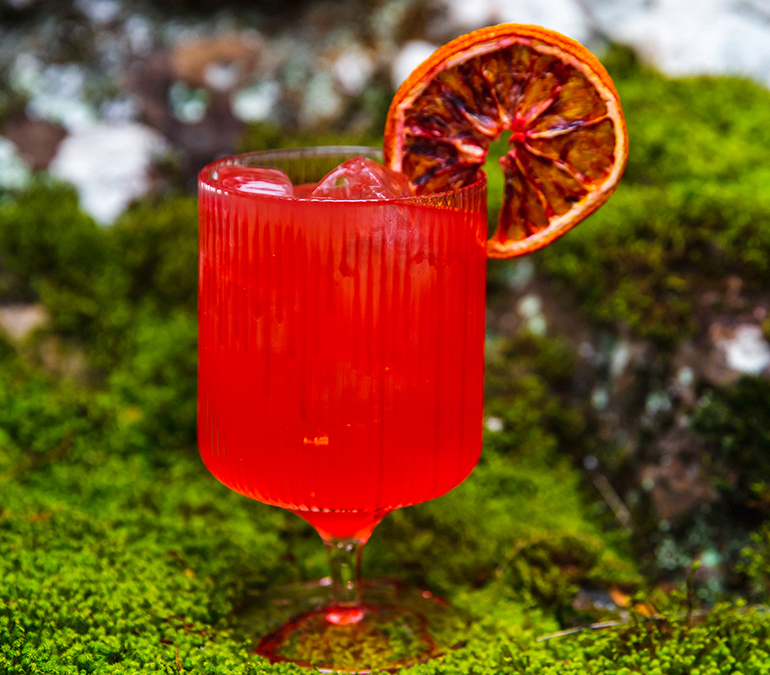 Ingredients:
2 oz Plymouth Gin
3/4 oz pH Cardamom Syrup
4 oz fresh blood orange juice
Splash of Ruffino Prosecco
Method:
To prepare your glass, pour pH Dark Cherry Grenadine Syrup onto a plate. Swirl glass top and tilt glass up, allowing the syrup to run down the glass. Stir gin, syrup, and juice on ice. Strain onto fresh ice into prepared "bloody" glass. Top with Prosecco and garnish with a dehydrated blood orange slice.

Hornitos Potion De Muerto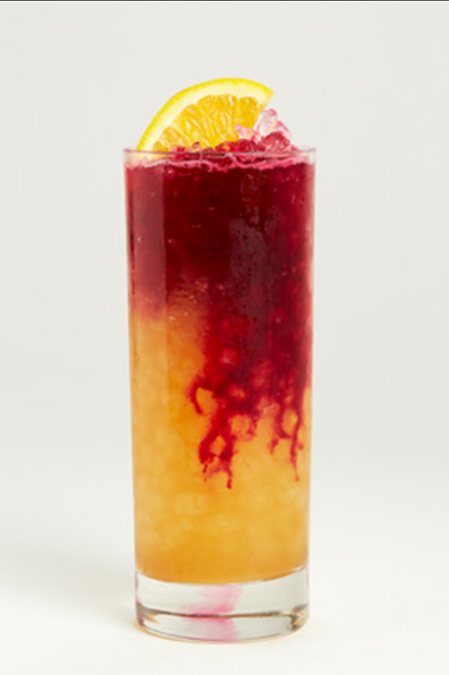 Ingredients:
2 parts Hornitos® Black Barrel® Tequila
¾ part orange juice
¾ part lemon juice
¾ part agave
2 dashes orange bitters
½ part beet juice
Serve in a tall glass over crushed ice with a beet juice float – the beet juice will slowly float down the glass through the crushed ice, making it look like blood dropping down. Garnish with an orange slice.

Fall Harvest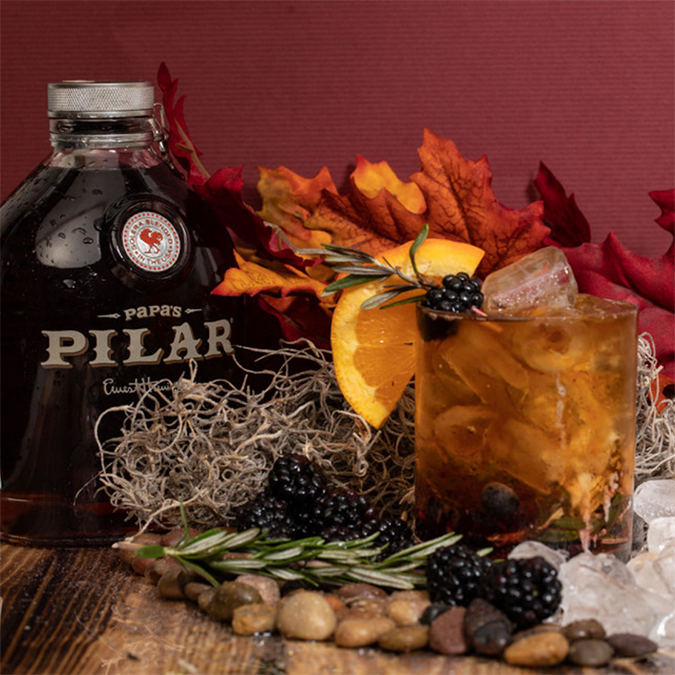 Ingredients:
2 oz Papa's Pilar Dark Rum
0.5 oz Licor43
0.5 oz Simple syrup
4 blackberries
4 blueberries
Rosemary
Ginger beer
Add blackberries, blueberries and simple syrup to an old fashioned glass. Muddle fruit. Add Papa's Pilar Dark Rum and Licor43 to the muddled fruit. Use a bar spoon and stir ingredients together. Add ice to fill the glass and top with ginger beer. Garnish with a blackberry skewered with a sprig of rosemary.

Autumn Leaves – Created by Mixologist Susie Hoyt of The Silver Dollar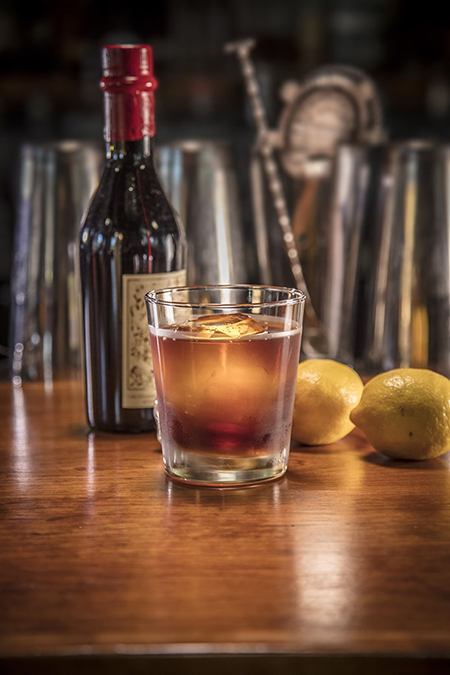 Ingredients:
1.25 oz Four Roses Single Barrel
0.5 oz ramazzotti amaro
0.25 ox carpano antica
1 dash of angostura bitters
Add all ingredients into a mixing glass and stir. Pour into a double old fashioned glass over fresh ice. Garnish with light lemon oil and discard the peel.

All Treats, No Tricks – Created by Mixologist Kristin Hawker of Atlanta, GA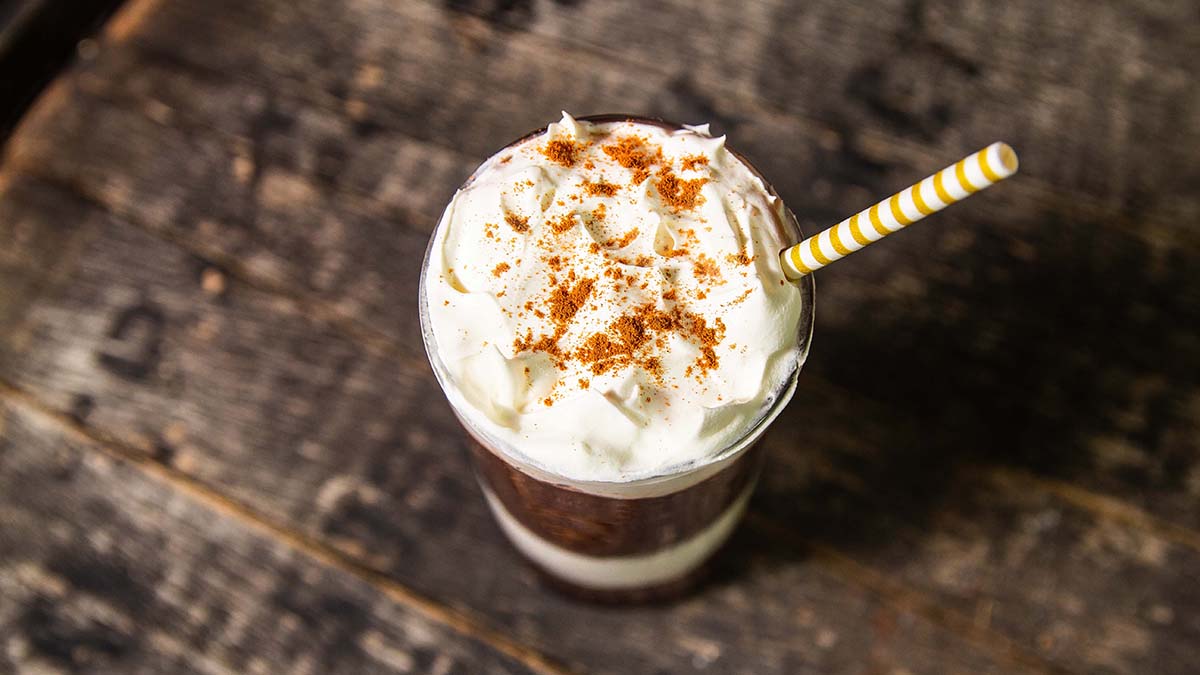 Ingredients:
1.5 oz Uncle Nearest 1884
1oz Kahlua Coffee Liqueur
1.5 oz espresso
1.5 oz milk of choice
1 oz simple syrup
Cinnamon, as garnish
Fill a Collins glass with ice to ¾ full. Pour Kahlua first, followed by milk of choice. Do not stir as to create a layered effect. In a shaker add espresso, Uncle Nearest 1884, simple syrup and ice. Shake 8-10 times. Strain on top of other ingredients already on ice in the Collins glass. Do not stir. Top with cinnamon as garnish.