The Bob Dylan whiskey portfolio just expanded into the wheated bourbon world with the releases of Heaven's Door Bootleg Series Volume IV. The fourth edition in the series features an 11-Year-Old wheated bourbon finished in Islay Scotch Casks, bottled at 111 proof.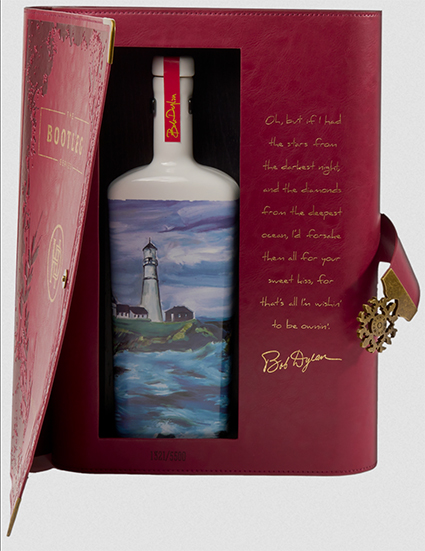 On the nose, the whiskey offers aromas of toasted marshmallow, sandalwood, sugar plums, marzipan, and creamed corn. The palate delivers flavors of winter campfire, mesquite barbecue, leather, piped tobacco, cedar, and bone marrow.
The bourbon is presented in a handmade ceramic bottle featuring an oil painting by Bob Dylan titled Lighthouse in Maine (2017) from the second installment of "The Beaten Path" collection. The oil painting celebrates Dylan's own well-traveled path and invites viewers to accompany him as he criss-crosses the USA through the backstreets, alleyways, and country roads. Each bottle is housed inside an individually numbered, bespoke leather journal with a unique design that nods to the wheated bourbon.
Nicknamed "Whisky Island," Islay is one of the five producing regions of Scotland whose identity is protected by law. Islay whiskies are known for being the most robust in flavor, with a renowned dry and peaty smokiness. Heaven's Door secondarily ages their mature wheated bourbon for almost a year in seasoned Scotch casks to impart the unique characteristics of peat, resulting in a dram that's reminiscent of toasting marshmallows over a campfire, per the brand.
Bootleg Vol. IV is best enjoyed neat, on the rocks or with a splash of water and features the following characteristics:
Arriving at 55.5% ABV, Heaven's Door Bootleg Series Volume IV is priced at $499.99 per bottle and it is now available at the brand's official website as well as select retailers nationwide.
The 2021 Bootleg Series release featured a cask strength 13-year-old Kentucky bourbon, finished in Vino de Naranja Casks. The inaugural release, The Bootleg Series (Vol I), received The Chairman's Trophy and was named to the Top 100 Spirits at the Ultimate Spirits Challenge 2020. Volume II was awarded Finished Bourbon of the Year at the 2021 New York International Spirits Competition and was a 2021 Ultimate Spirits Challenge Finalist, earning 94 points.