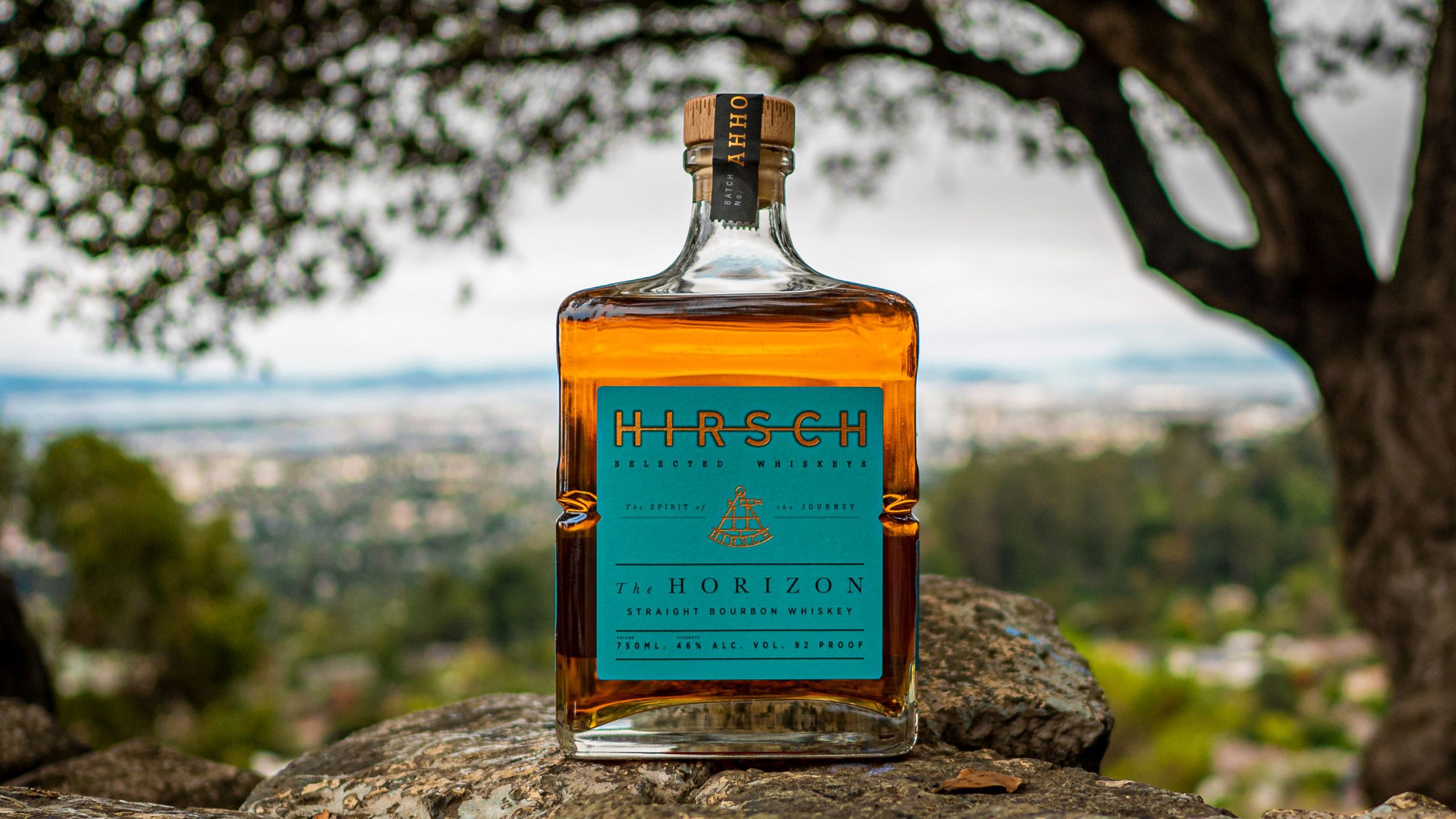 Hirsch The Horizon is a bourbon for any occasion. Launched in summer 2020, the new whiskey plays on the brand's adventure-seeking ethos and passion for quality to deliver an offering that is as approachable as it is elegant. Luis Rivas Ball, Brand Lead – American Whiskey's at Hotaling & Co, sees it as "the ideal whiskey to be enjoyed any day."
Made from two types of mashbill, a classic bourbon and a high-rye, the blending of the two creates vanilla and caramel notes with a slight spice. It can be enjoyed neat, on the rocks, or as the base for a great cocktail such as a modified Old Fashion or a Highball.
In this week's Bottle Breakdown, we sat down with Ball to discuss Hirsch The Horizon, the ethos behind the brand, and what makes the bourbon so unique.
Spirited Zine: Just to start, can you tell us about your first experience drinking whiskey? How does that experience impact the way you view Hirsch The Horizon?
Luis Rivas Ball: At a young adult age, I fell in love with Scotch whiskies, always on the rocks and sometimes a highball. Then, I fell in love with bourbons many years ago. My experiences with whisk(e)y taught me how to appreciate complexity in its simplest form. When I tasted HIRSCH The Horizon, it felt just perfect. The Horizon is a very smooth whiskey that opens nicely with every sip, while not being too overpowering. It is the ideal whiskey to be enjoyed any day and for any occasion.
SZ: There's this idea of adventure that seems to be behind The Horizon. Where does that concept come from and how did you translate it into a whiskey?
LRB: The story of founder, A.H. Hirsch is fascinating and is ultimately the inspiration behind the Chase Your Horizon campaign. Formerly a banker from Chicago, Hirsch commissioned 400 barrels back in 1974, and set the gold standard of Bourbon. A.H. Hirsch Reserve 16-year-old is considered a superb bourbon; there was even a book written about his well-regarded whiskey. During and after Hirsch's banking career, he dedicated his spare time to philanthropy and his passion for whiskey. Hirsch was a true trailblazer, visionary who founded a small distillery in a remote town called Schaefferstown in Pennsylvania. Today, the HIRSCH brand aims to celebrate those who dare to take a new path and discover new passions, just as A.H. Hirsch did.
SZ: Bourbon continues to grow in popularity across the globe, but there are more and more options out there for consumers. What makes Hirsch The Horizon different from other offerings in the market?
LRB: HIRSCH is a completely new take on American whiskey with bold packaging as opposed to a traditional take. We are committed to sourcing quality whiskey surprising consumers with outstanding whiskey (Our bourbon has already been awarded Best Non-Kentucky Whiskey by World Whiskies Awards)! Additionally, fueled by commitment to transparency, each bottle has a grid on the back showing our mashbill within each new batch. Lastly, the message behind our brand also allows us to connect emotionally with millions of like-minded trailblazers, inspiring others to chase their adventures, sharing special moments with others, while enjoying quality whiskey.
SZ: Hirsch The Horizon is a blend of two straight bourbons. Can you tell us a bit about the mashbills and how each whiskey impacts the final flavors?
LRB: HIRSCH The Horizon consists of two types of mashbill, a classic bourbon mashbill and a high-rye. The blending of the two creates delicious vanilla and caramel notes, yet with a slight spice from the high-rye mashbill. The result is an approachable and well-balanced whiskey.
SZ: The blending process always seems like one that's part science, part intuition. How was the final flavor profile for Hirsch The Horizon settled on?
LRB: To the nose, Hirsch The Horizon is pleasant with vanilla notes. The taste is very smooth opening with just the right amount of sweetness from the caramel and brown sugar notes, with a finish of spice and hints of cinnamon.
SZ: How would you describe this whiskey's character without using any flavors or aromas?
LRB: Summed up, the character is approachable and elegant.
SZ: How do you recommend enjoying the whiskey? Are there any cocktails that we should be making with it?
LRB: It is great to be enjoyed neat or on the rocks. You can also start with a modified Old Fashion and Maraschinos Cherries or Highballs are another great option!
SZ: When is the best time to enjoy Hirsch The Horizon and is there anything we should be pairing with it?
LRB: I love enjoying Hirsch around the firepit chatting with friends about the next adventure, in a cabin lost somewhere in the woods reading a great book, or as the weather warms up, grilling some nice fish or steak! Can't beat that.
SZ: What's next for Hirsch? Will we be seeing any additions to the core range or limited-edition releases in the near future?
LRB: Absolutely! This year we are releasing "very limited" Straight Bourbon Single Barrel whiskeys from Bardstown, Kentucky. These small batches are ready and will be a different profile from The Horizon, for those trailblazers who love higher proof whiskeys!