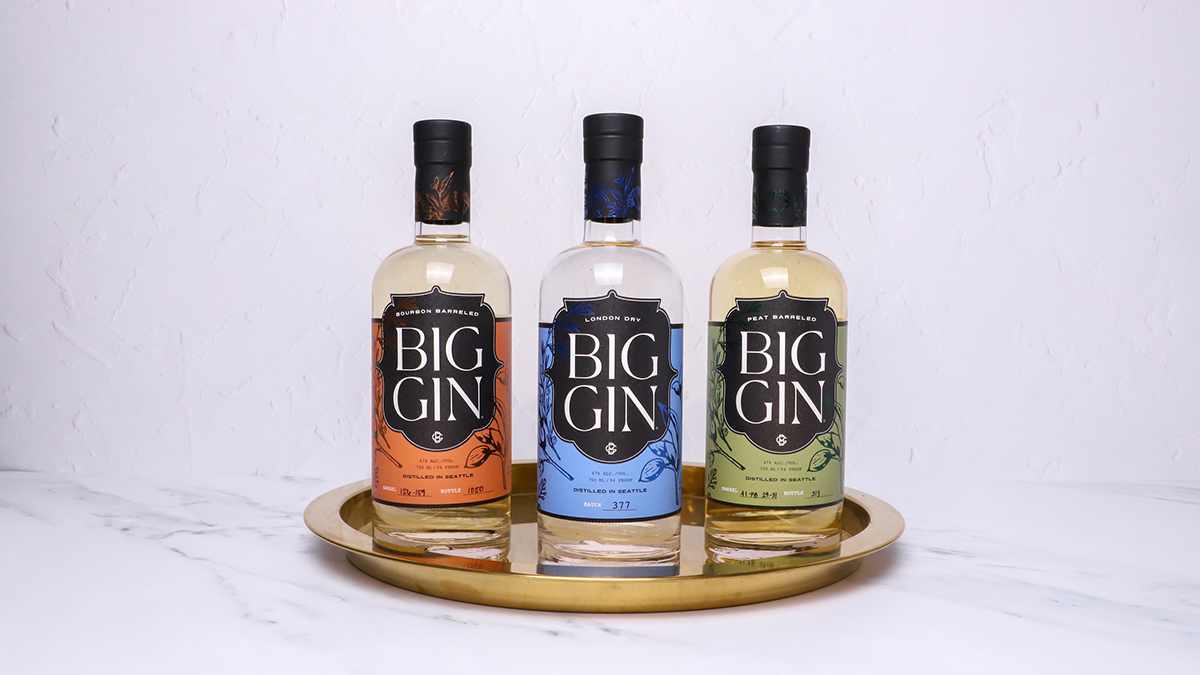 Hood River Distillers has relaunched Big Gin. Handcrafted in Seattle, Washington, in the shipyards of Ballard, the Gin comes in three expressions: London Dry, Bourbon Barreled, and Peat Barreled, as well as limited single barrel releases. It remains the same liquid formulation and make process, but now arrives with a new look.
"Big Gin has always been a high-quality gin, handcrafted in Seattle. Now, we're shifting gears to become part of the conversation and shared experience around gin and gin drinkers," said Marketing Brand Manager, Korrie Dodge. "This rebrand infuses contemporary elements with visual distinction and brings us closer to who we want to be in order to invite a younger, more diverse audience to the table."
In partnership with Owen Jones, Big Gin is showing up with a new brand look and feel, refreshed logo and updated color palette. Like the diverse landscape of the Pacific Northwest, each expression has its own color scheme. The blue of London Dry resembles the deep blue tones of a juniper berry, while the Peat Barreled label features a mossy green that pays homage to the colors of the region. The brown Bourbon Barreled tones also reflect the land and the woodsy notes that are found in the expression. In addition to the new package, the brand will roll out the "Gin As You Wish" campaign in the coming months.
Distilled in three 100-gallon American-made Vendome pot stills, the Gin offers a juniper-forward taste that is derived from a balance of nine botanicals: juniper, coriander, bitter orange peel, grains of paradise, angelica, cassia, orris, cardamom, and a shrub native to the cool temperate rainforest of south-eastern Australia, Tasmanian pepperberry.
"Given the time we are in, it's time to tell a new story about Big Gin. It's always been a no fuss, trusted bartender's go-to, and now it can be your go-to at home," said Head Distiller, Alex Myers. "With Big Gin, you're getting a complex, balanced, citrusy, savory spirit that pairs well with almost anything, and you're supporting a local Pacific Northwest company."
Big Gin was created in 2012 by third-generation distiller, Ben Capdevielle and his partner Holly Robinson. Their goal was to create a domestic line of gin that embraced the bold taste of juniper and the botanicals that embody the spirit. Hood River Distillers acquired the brand in 2016, and in 2017 the brand opened its tasting room in the Ballard shipyards of Seattle.
The suggested retail price for the portfolio of offerings ranges from $26.95 to $39.99, depending on the expression and state it's purchased in. It is available for purchase at the Tasting Room in Seattle, the Hood River Distillers Tasting Room in Hood River, Oregon as well as retailers across the country. For more information on where to purchase the spirits, head over to the official website.