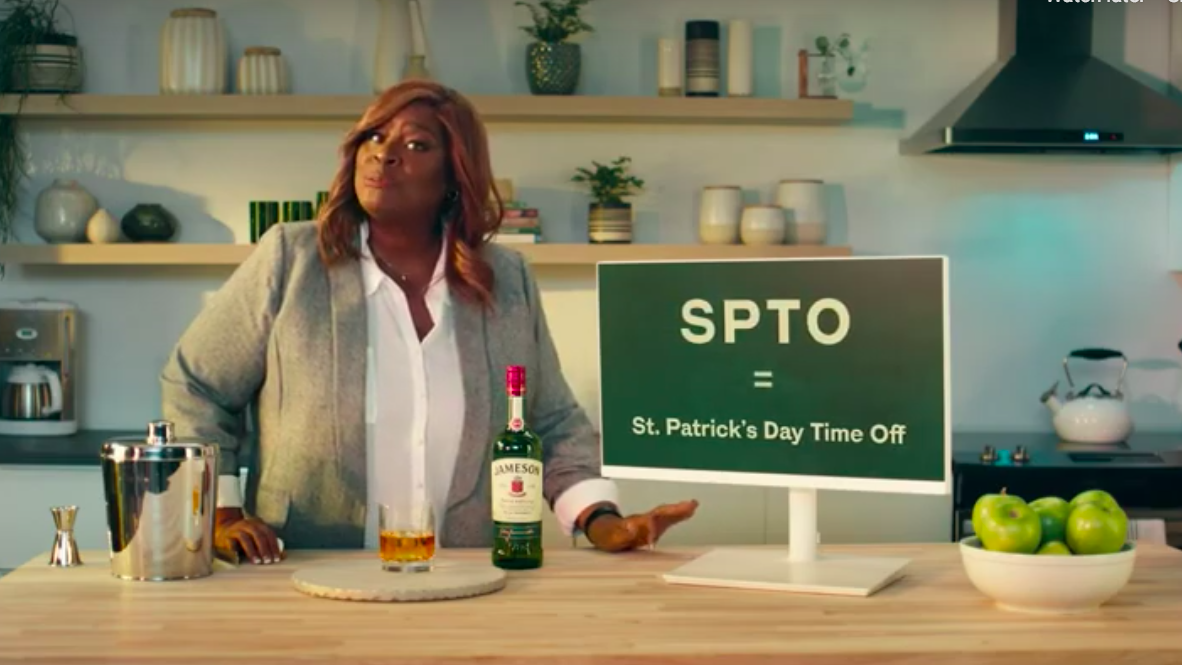 Jameson has announced that it will pay fans to take off on St Patrick's Day, as part of its new SPTO campaign. To get the word out, the iconic Irish Whiskey brand has teamed up with Retta Sirleaf (Good Girls) and Joe Lo Truglio (Brooklyn Nine-Nine). In total, Jameson will pay 1,000 people to take time off so they can celebrate the Irish holiday.
Last year, for the first time in more than 250 years, St Patrick's Day celebrations were cancelled. Things will once again be quiet this year, and yet consumers' days are longer and busier than ever. Therefore, Jameson is on a mission to get everyone to take a much-needed break on March 17 by taking a SPTO – St Patrick's Time Off.
The Irish Whiskey brand believes "we need the spirit of St Patrick's Day now more than ever," and is "dedicating the next 30 days to get people to take a #JamesonSPTO and will even cover the cost of the March 17 festivities for 1,000 fans bold enough to take one." On top of the PTO, winners will also get $50 in their name go to the Restaurant Worker's Community Foundation, a $50,000 contribution on top of $150,000 the brand is donating to the advocacy and nonprofit.
To prepare fans for St Patrick's Day 2021, the brand will be rolling out cocktail recipes over the next month, along with celebrity endorsements.
The brand has also released a variety of new visuals to support the new campaign, including a Retta Sirleaf led cocktail creation demonstration:
Last month, Jameson announced it was partnering with Sofar Sounds to support struggling musicians through its Seen & Heard digital music series. The free virtual series from the Irish Whiskey brand and music events company looks to highlight and support musicians in what has been a challenging year for the live music industry.
Back in September, Jameson teamed up with Eight Degrees Brewing to release a stout barrel-finished expression of Jameson Crested Irish Whiskey, known as Jameson Crested Finished in Black Ball Metric Stout Barrels.