Tasmania's Lark Distillery has unveiled its 2022 Christmas Cask whisky. The seasonal release was made in partnership with the Australian whisky brand's neighbors.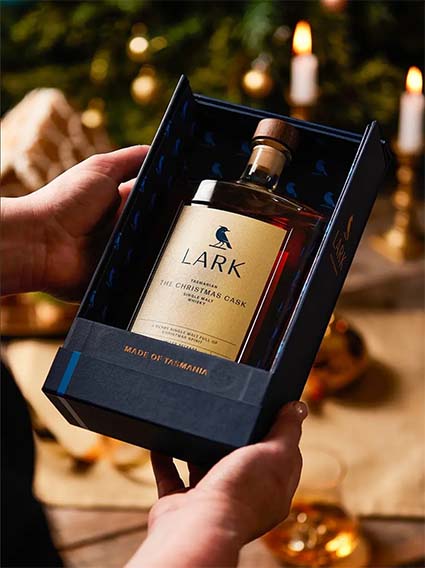 The Lark Christmas Cask starts with Frogmore Creek's delicious red wine barrels, seasoned with local Patisserie Jean Pascal's famous fruit mince pie jus, then filled with the distillery's Tasmanian Single Malt Whisky. The bottling is crafted under the careful hand of Head Distiller, Chris Thomson.
On the nose, vanilla custard swirls through brown sugar baked apples, lladen with traditional Christmas spices of clove, nutmeg, and cinnamon. The palate finds butter toffee sauce poured over comforting plum pudding, alongisde freshly baked gingerbread twinkles. The finish is long, rich, and heartwarming.
Last year, the Christmas Cask took home the award for Australia best whisky of 2021.
Bottled at 44% ABV, the Christmas Cask is priced at $250 per 500ml bottle. For more information, head over to the brand's official website.
Earlier this month, Lark released its Rare Cask Tokay 100, which was aged in wine barrels from 1922.