The Macallan has teamed up with Stella and Mary McCartney for the third edition of The Harmony Collection, Amber Meadow and Green Meadow. A first for the famed daughters of Paul, the partnership with The Macallan marks a creative union of the McCartney sisters.
The Macallan Harmony Collection Amber Meadow and Green Meadow are two distinctive expressions inspired by the McCartney sisters' love of Scotland, which stems from their memories in the Scottish countryside, and "honors the lands of Scotland that connect all those who have stood upon them for generations," according to the press release.
To create the limited-edition whiskies, The Macallan Whisky Mastery Team utilized a combination of sherry seasoned oak and bourbon casks, inspired by natural Scottish grasslands. "There is so much to discover with The Macallan Harmony Collection Amber Meadow," said Whisky Maker Steven Bremner. "It is a single malt redolent of warm meadows and mature barley fields, with a rich, citrus scented finish. The 100% natural summer evening color derived from our exceptional sherry seasoned oak and bourbon casks reflects the richness of the flavor which awaits. On the nose fresh citrus fruits and honeysuckle are complemented by hints of vanilla, coconut and ripe barley fields. On tasting, notes of oak, lemon, melon are prominent, accompanied by flavors of classic scone and almond with green tea, before giving way to a rich and sweet long finish."
The Macallan Harmony Collection Green Meadow, meanwhile, delivers aromas of fresh orange and lemon, wild primrose, petrichor, honeydew melon, and bluebells. The palate finds rich lemon, barley sugars, creamy vanilla, almonds, and fresh oak. The finish is described as sweet, fragrant, long, and creamy.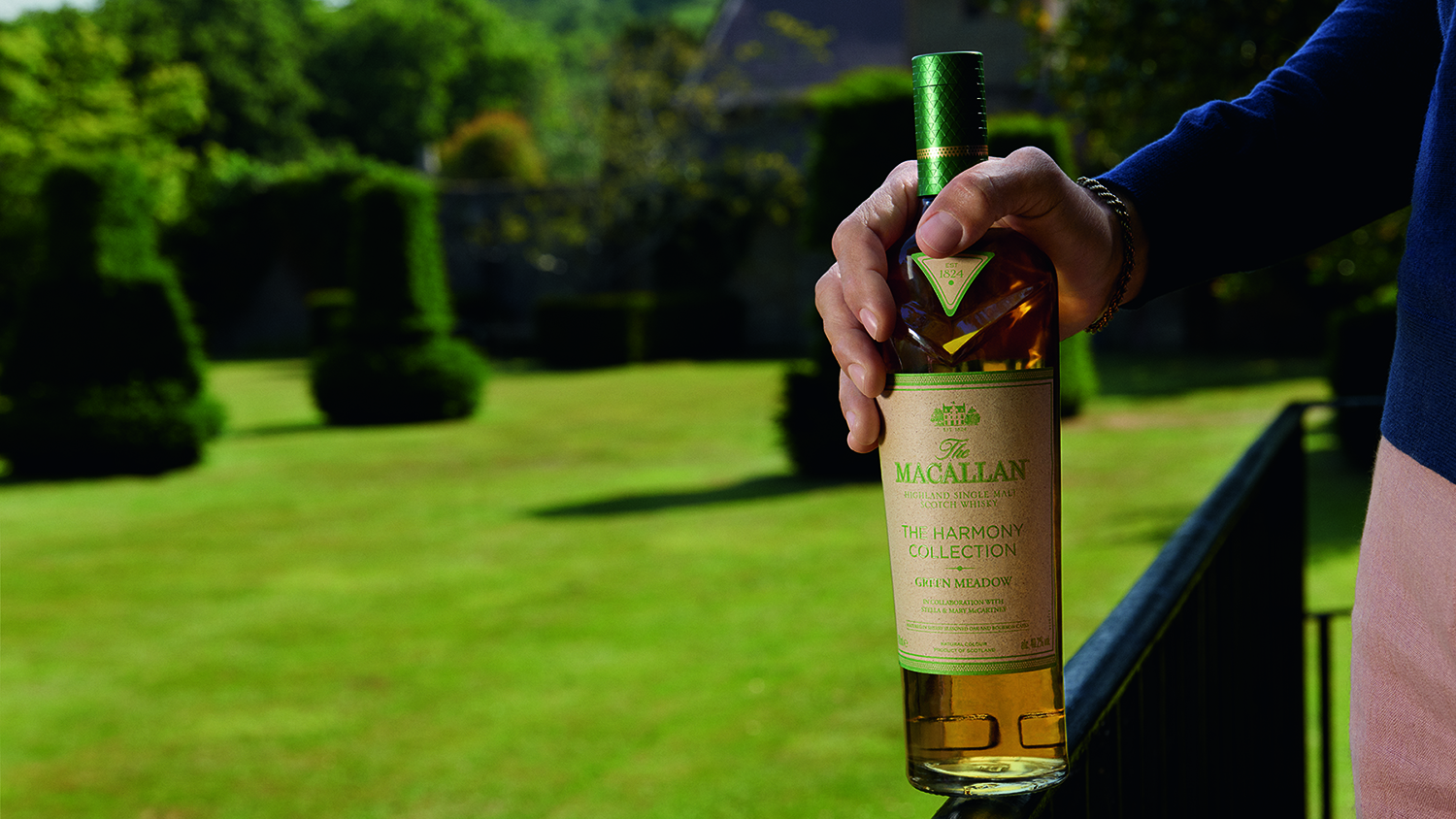 The packaging of each release features photography of The Macallan Estate captured by Mary McCartney, while the presentation boxes and bottle labels have been made using discarded meadow cuttings embracing the re-use of natural materials to create beauty from resources at the end of their lives.
As part of the partnership, The Macallan with the McCartney sisters embarked on a journey inspired by nature to create Together: A Collection for The Macallan by Stella and Mary McCartney, which introduces a limited-edition Collection of 11 lifestyle pieces designed by the sisters and skillfully realized by master artisans and craftspeople.
The Collection showcases a curated selection of bespoke pieces including handmade glassware in vibrant shades that are colored using natural minerals, an ombre ceramic flask encased in an apple leather alternative sleeve, a pair of brass ice stamps with meticulously hand-painted ceramic handles using a green and amber ombre color blend, and a brass napkin weight in the shape of an acorn, as a tribute to the exceptional oak casks which mature the whisky.
Together: A Collection for The Macallan by Stella and Mary McCartney includes – 
Pair of Glass Tumblers
Glass Water Jug
Glass Ice Bucket and Brass Tongs
Ceramic Flask with Apple Leather Alternative Sleeve
Pair of Ice Stamps in Apple Leather Alternative and Wooden Presentation Box
Set of Three Ceramic Bowls
Set of Six Ceramic Coasters
Brass Napkin Weight
Brass Tray with Apple Leather Alternative Inlay
Lambswool Blanket
Pair of Limited-Edition Brass Framed Prints, Photography by Mary McCartney of The Macallan Estate
Having worked with The Macallan previously, Mary McCartney said: "This range wouldn't be what it is if we weren't able to spend that time with The Macallan. I felt really proud to bring my little sister with me to The Macallan Estate on Speyside, as I knew Stella would fall in love with this just as much as I did. We feel really lucky to be launching our first collaboration and making this range of pieces with The Macallan."
Stella McCartney added: "We all – The Macallan, Mary and I – wanted to create a collection that celebrated the highest quality of materials and incredible craftsmanship that would be fitting of the shared values between us all. We envisaged pieces that were limited, yet would work together as a family. The idea was to have it live in your home, stand out, and of course be of the highest quality."
Jaume Ferras, Global Creative Director, commented: "Together: A Collection for The Macallan by Stella and Mary McCartney is unlike anything The Macallan has ever introduced, showcasing how we continue to innovate and challenge ourselves, yet the respect for nature reflected by Stella and Mary's beautiful designs is at the heart of our brand and has been for almost 200 years."
Together is exclusively sold as a complete set available in limited numbers around the world starting on October 11, 2023, with availability in the US in early December 2023.
Bottled at 44.2% ABV, The Macallan Harmony Collection Amber Meadow will be available at The Macallan Estate Bar, The Macallan Online Boutique and in premium retailers, bars and restaurants around the world from October 2023, with availability in the US from early December 2023 for $210. Bottled at 40.2% ABV, Green Meadow will be available in The Macallan Airport Boutiques and key airports around the world from October 2023 for $185.
For more information, head over to the brand's official website.
Earlier this month, The Macallan unveiled the latest edition to its famed Fine & Rare Collection, Fine & Rare 1997. In August, the brand launched the Colour Collection exclusively in global travel retail.