Orphan Barrel has unveiled Castle's Curse 14 Year Old Single Malt Scotch Whisky from the shuttered Teaninich Distillery. The whisky is the latest addition to the Orphan Barrel collection of nearly forgotten whiskies and the second Single Malt Scotch Whisky to be featured.
Orphan Barrel Castle's Curse comes from selected casks, matured in European oak. Offering a unique balance of age and flavor, the whisky offers a nose with aromas of tangerine, poached pear, sweet confectionery, and dried herbs, while its palate alludes to vanilla, red apple, and mint.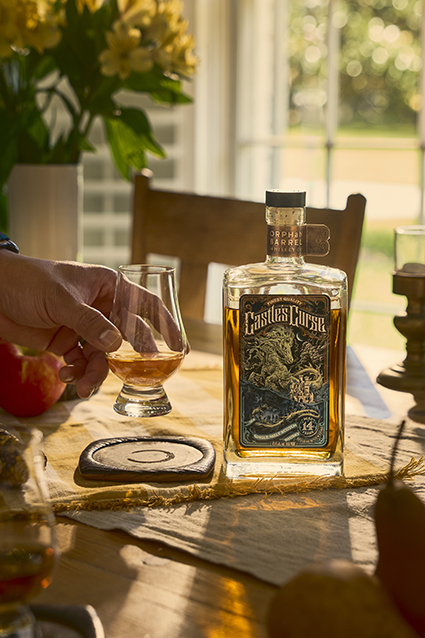 The brand recommends enjoying the Scotch neat, on the rocks or with a few drops of water added to the liquid to bring those rich aromatics to the nose as you sip, paying true homage to the legendary Kelpie who inspired the whisky.
Founded in 1817, the Teaninich Distillery established itself as a leader in whisky distilling and cutting-edge technology. Located in the Northern Highlands of Scotland, overlooking the shores of the Cromarty Firth, the land is known for its aquatic wildlife and beautiful scenery. Castle's Curse is named after the legend of the Scottish Kelpie, a supernatural, shape-shifting aquatic spirit or "water-horse" that is said to haunt the local waters. The Kelpie creature depicted on the label symbolizes water's crucial role in the creation of whisky and Scotland's rich history of cultivating the land for barley. This limited edition whisky and caricature are a tribute to traditional Scottish culture and the distillery's' heritage story.
The limited-edition bottling is available at select spirits retailers across the US for the price of $175 per 750ml bottle. For more information on the new release, head over to the brand's official website.
Previous Orphan Barrel releases include Scarlet Shade rye, Fable & Folly Kentucky whiskey, Muckety-Muck Scotch, and Copper Tongue bourbon.